Is there something you can do about those student loans? If you owe money for school, you are not alone. The amount of money owed for college currently exceeds 1.2 trillion dollars with lots of people in debt. One way to improve your situation is to look at the various options for federal student loan forgiveness — that means you don't have to pay any more of the money back. It will take some time, but you can get student loan help if you need it.
List of Student Loan Forgiveness Programs You Can Apply For
In this article:
What are Some Federal Student Loan Forgiveness Plans?
Although there are some programs that allow you to stop making loan payments, they don't apply to everyone. Some common programs include:
Total permanent disability discharge
Teacher Loan Forgiveness
Public Service Loan Forgiveness
Income-Driven Repayment Plans
Military College Loan Repayment Program
Most of these forgive the full amount that you might owe. The student loan forgiveness for teachers only pays some of it, and there is a limit to how much the military will pay for student loans — that stops at US $65,000.
Obama Student Loan Forgiveness
President Obama developed a student loan forgiveness plan that says if you regularly pay for 20 to 25 years, you won't have to pay any more. That is good news for those who can afford their monthly payments.
If you're struggling to pay, though, the best option is to find a plan that works within your income. The federal government offers several income-based programs that help people make payments on time, so they can get loan forgiveness.
Student Loan Forgiveness for Teachers
Anyone that goes into teaching can benefit from a loan forgiveness plan. They can get early loan forgiveness and reduce the amount they owe, as well. There are some conditions, though. The teacher must:
Work in low-income schools
Work for at least five years
Not fail to pay on their loans
The amount forgiven on the loan is nontaxable, but PLUS loans do not qualify.
Student Loan Forgiveness for Public Service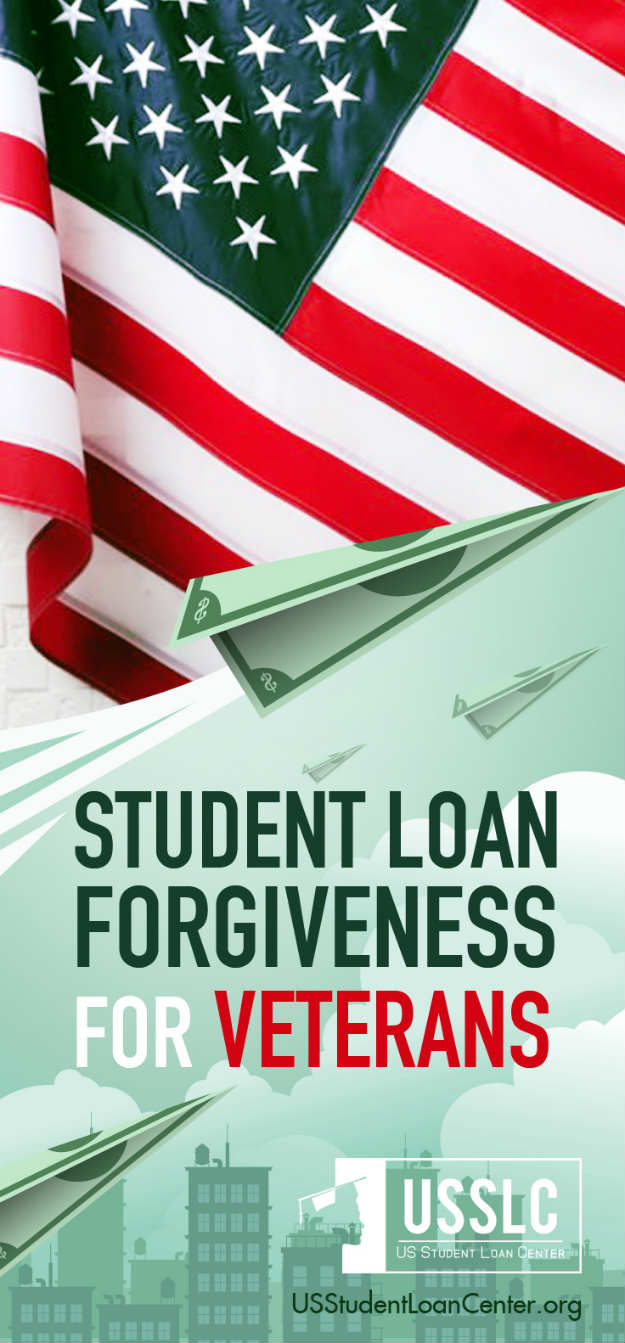 If you work in public services like for the government or a non-profit group, you might be able to get student loan forgiveness, too. To qualify, you must make payments for 10 years and be in the direct loan program.
Student Loan Forgiveness for Nurses and Other Professions
Nursing is just one of a number of jobs that offer loan forgiveness if you qualify. If you work as a nurse in a rural area, you can get other benefits, too. There are also forgiveness programs for those who work in:
Law enforcement
Firefighters
Attorneys if they qualify
Speech pathologists with a Master's degree
Librarians if they qualify
Certain kinds of teachers like those who work in preschools
You must work full-time at these jobs and there may be other requirements for each, too.
Student Loan Forgiveness for Disability
If you become disabled enough that you can't work, you can apply for student loan forgiveness. To qualify, you must:
Be permanently disabled
Get social security payments for disability
Have proof from a doctor that you are disabled
If you do get your loan forgiveness, you will not be able to even get another student loan. The amount that is forgiven may also be tax deductible.
Planning to apply for a Student loan forgiveness program? Watch this video from The Dave Ramsey Show and find out if it's a good idea to apply for it!
Different states offer special kinds of student loan forgiveness plans, so it is important to check around to see what your options are to get out of debt. Although there are lots of plans available, often the smartest choice is to apply for an income-based repayment plan. When you do, your payments are set up to fit within your budget. For some people, like disabled individuals, that means they would owe nothing. Is there a way for you to get out from under that student loan debt? That answer is yes, but it might not be a student loan forgiveness plan. If you do qualify, though, then you could get the entire debt forgiven.
Other than a student loan forgiveness program, do you know other ways to pay for student loans? Share your two cents with us in the comment section below! 
Up Next: How To Stop Student Loans From Taking Your Taxes
(Visited 1 times, 1 visits today)