Many people have wanted student loan forgiveness for military spouses to become a reality for a long time. Some have wished for a disabled veterans spouse student loan forgiveness.
All of it makes perfect sense. Shouldering the responsibility of raising a family by yourself while your partner doing a military service is no easy feat.
Yet, there is a long way to go before this comes true. In the meantime, here are some ways to help you with your student loans as a military spouse.
What is Student Loan Forgiveness for Military Spouses?
The Truth of the Matter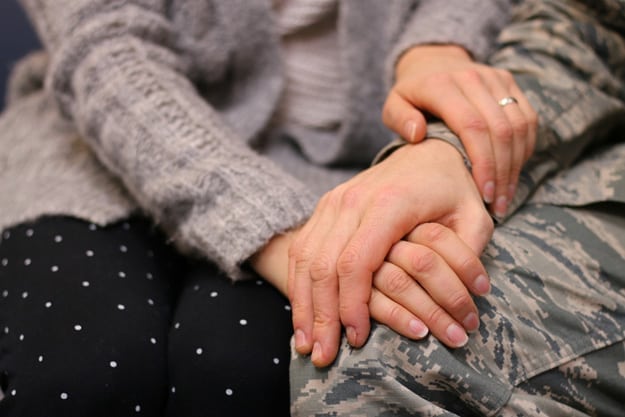 If you're married to someone who serves in our armed forces, you know that it's not an easy job. During deployments, you have to balance all of your normal tasks along with those that your partner is usually in charge of. You may be asked to move frequently, which can disrupt your line of work, your family, and your friendships. But just as your spouse is sacrificing in the name of our country, so are you! So you may be wondering if there are any student loan forgiveness programs for military spouses.
The short answer is no, there are not any programs dedicated to student loan forgiveness for military spouses. However, there are a variety of options you can pursue to help with your outstanding student loans.
Being a military spouse offers unique challenges, and you shouldn't have to worry about student loan debt on top of everything else being thrown your way.
(NOTE: Want to find out how you can qualify for Student Loan Forgiveness as a Military Spouse? Get the ultimate guide to qualifying for student loan forgiveness and know within just a few minutes if you can benefit from having $1,000's shaved off your loan balance. Learn more and get the free guide here.)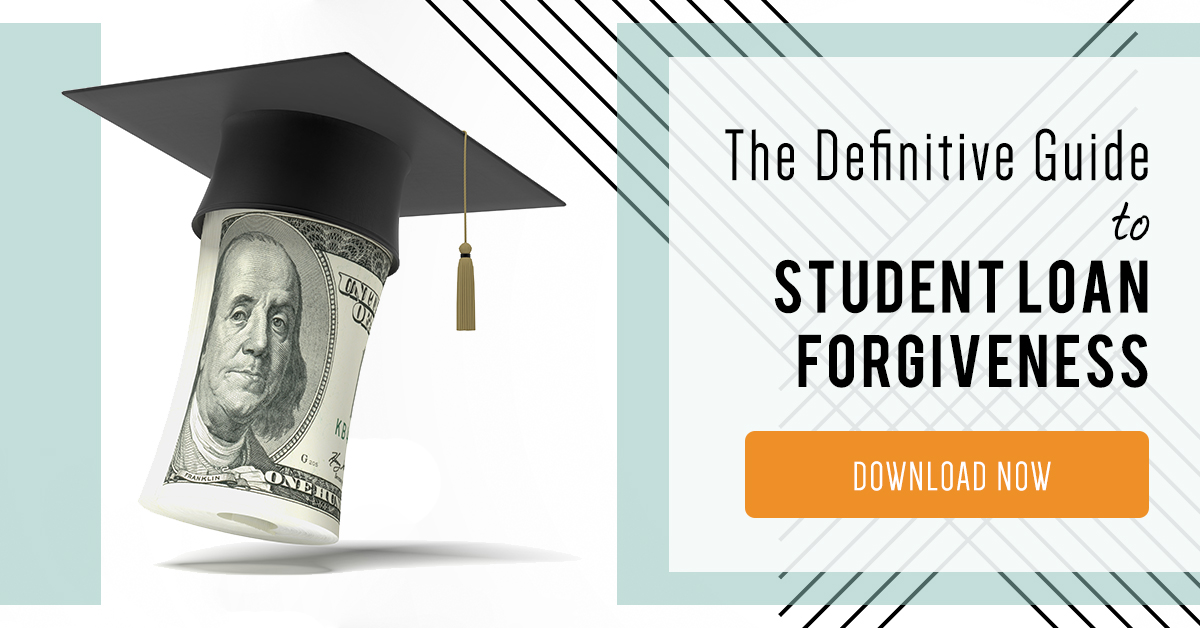 RELATED: Student Loan Forgiveness for Military
Tuition Assistance
If you are considering going to or going back to school, there are a few options to help you pay for future tuition costs – although these will not help with existing student loan debt.
The Department of Defense's My Career Advancement Account (MyCAA)  Scholarship Program is a workforce development program that provides up to $4,000 in tuition assistance to eligible military spouses who wish to pursue certain associate degrees, certifications, or licenses for in-demand portable careers.
Your spouse's Post-9/11 GI Bill also allows service members to assign all or some of their unused benefits to a spouse or dependent children. This can help you pay for tuition, housing, books, and supplies.
Student Loan Forgiveness for Military Spouses: Other Ways to Help with Student Loans

If you've already taken out federal student loans, there are a few ways that you can make your payments more manageable, and even have a portion of the balance forgiven.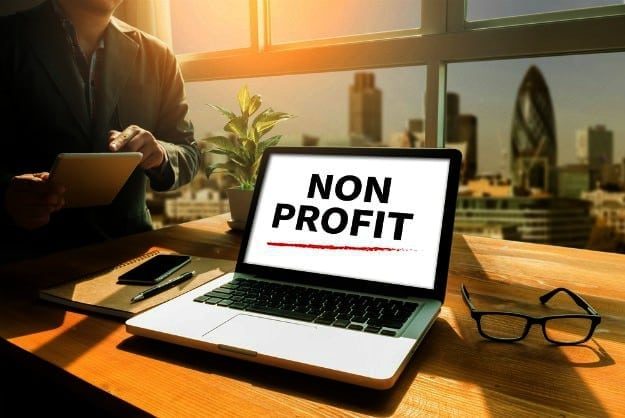 In order to qualify for PSLF, you must be employed by a U.S. federal, state, local, or tribal government or not-for-profit organization that is tax-exempt under Section 501(c)(3) of the Internal Revenue Code, and work for them at least 30 hours per week. You may be surprised at how many jobs qualify for PSLF – because it's not your job function that matters, just who you work for.
Qualifying employers are:
Government organizations
Non-profit organizations
Not-for-profit organizations which (1) are not tax-exempt under Internal Revenue Code Section 501(c)(3) and (2) do not provide a qualifying public service as their primary function
The PSLF Program forgives the remaining balance on your Direct Loans after you have made 120 qualifying monthly payments under a qualifying repayment plan while working full-time for a qualifying employer.
In order for your 120 payments to qualify for PSLF, you must be on a qualifying repayment plan and pay every single payment in full and on-time. There is no requirement for these qualifying payments to be consecutive. If you switch employers, your previous payments will still be counted towards PSLF.
Qualifying payments are:
Under qualifying repayment plans (namely, income-based repayment and pay-as-you-earn plans)
Full payment, as stated the bill
Paid no later than 15 days after the due date
Paid after Oct. 1, 2007
One important detail about PSLF is that you must complete and submit the Public Service Loan Forgiveness: Employment Certification Form (ECF) every single year. You must also submit an ECF form if you change employers.
Another great perk of the PSLF program is that the forgiven amount is not considered taxable income. So after making payments for 10 years, your debt is forgiven free and clear.
PSLF Loans are serviced by FedLoan Servicing. If your ECF is approved, your loans will automatically be transferred to FedLoan.
In order to submit your ECF, send the completed ECF form with your employer's certification to FedLoan Servicing. You may mail the form to this address:
U.S. Department of Education
FedLoan Servicing
P.O. Box 69184
Harrisburg, PA 17106-9184
You may also fax your PSLF application or ECF to 717-720-1628.
If FedLoan Servicing is already your servicer, you may upload your PSLF application or Employment Certification Form on their website.
2. Servicemembers Civil Relief Act (SCRA)
The Servicemembers' Civil Relief Act (SCRA) provides for the temporary suspension of judicial and administrative proceedings and transactions that may adversely affect service members during their military service – allowing those that are deploying to be focused on the work at hand.
Along with other functions, the SCRA allows for forbearance and reduced interest on certain obligations incurred prior to military service, including rental agreements, security deposits, prepaid rent, evictions, installment contracts, credit card interest rates, mortgage interest rates, mortgage foreclosures, civil judicial proceedings, automobile leases, life insurance, health insurance and income tax payments. The SCRA applies to all members of the United States military on active duty.
The SCRA also provides certain benefits and protections to service member dependents, and, in certain instances, to those who cosigned a loan for, or took out a loan with, a service member. The SCRA's benefits and protections include a six percent interest rate cap on financial obligations that were incurred prior to military service. On August 14, 2008, President Bush signed into law the Higher Education Opportunity Act to make federally guaranteed student loans protected under the SCRA.
That means if you took out your student loans with your military spouse, you can request a 6% interest rate – and may be refunded the amount you overpaid.
In order to take advantage of an SCRA-mandated 6 percent loan rate, you must show that you have been "materially affected" by reason of military service. In most cases, you will need to provide a copy of your spouse's active duty orders to gain relief under the Act. It's a good idea to talk to an Armed Forces Legal Assistance Attorney before you seek protection under SCRA. Use the Armed Forces Legal Services Locator to find legal assistance near you.
Not all military spouses will qualify for the student loan forgiveness plan options that are out there. If you are one of them, you can also look into a federal repayment plan that will lower your monthly payment. Revised Pay As You Earn Repayment Plan (REPAYE), the Pay As You Earn Repayment Plan (PAYE), the Income-Based Repayment Plan (IBR), and the Income-Contingent Repayment Plan (ICR) will all base your payment off of your income.
On all of these plans, you will be eligible for forgiveness on the balance of the loan once you have completed the terms (typically 20 or 25 years of payments). However, the forgiven amount can be treated as taxable income in the year that it is forgiven.
You can speak to your student loan servicer to find out what your new payment would be on an income-driven repayment plan.
Refinancing requires you to turn your federal student loans into private student loans – which may not be the right choice for everyone. Federal student loans come with many benefits and protections, including access to forgiveness programs and a variety of repayment plans.
But if you have good credit, solid employment, and a few other factors, you may find out that you can qualify for a lower interest rate and/or a shorter repayment period with a private lender. At a minimum, you may be able to lower your monthly payments by extending your repayment terms.
You may also benefit from combining your federal and private student loans into one monthly payment.
You can shop around online to view offers from private student lenders.
Military Spouse Education and Career Opportunities (SECO)
As a military spouse, it can be easy to prioritize the career of your service member over your own career. However, if you are passionate about finding a portable and fulfilling career, the DoD SECO Program offers education and career guidance opportunities.
SECO offers information, tools, and resources to support career exploration, education, training, licensing, employment readiness and career connections.
You can take advantage of the SECO Program through:
Are you in the Air Force? Watch this video from Kyle Gott and find out how you can pay off your student loan debt!
Student loan debt is already daunting. With the added weight of being a spouse of a military man on active duty, the tasks sometimes seem insurmountable.
While there may not be one dedicated student loan forgiveness program for military spouses, there are options out there to lower your monthly payments and have some balances forgiven. You can also advance your education and career to make student loan debt a thing of your past.
There can be instances where looking for a financial aid can make you feel like finding a needle in a haystack, and wishing for a loan forgiveness program for military spouses can only happen when pigs fly. Still, there is nothing you cannot conquer with a little bit of resourcefulness.
If you qualify, you can request a loan forbearance or deferment. There may be no direct solutions, but the combined support from various sources is enough. Without even noticing, you will slowly free yourself from student loan debt while helping raise a family.
(NOTE: Want to find out how you can qualify for Student Loan Forgiveness as a Military Spouse? Get the ultimate guide to qualifying for student loan forgiveness and know within just a few minutes if you can benefit from having $1,000's shaved off your loan balance. Learn more and get the free guide here.)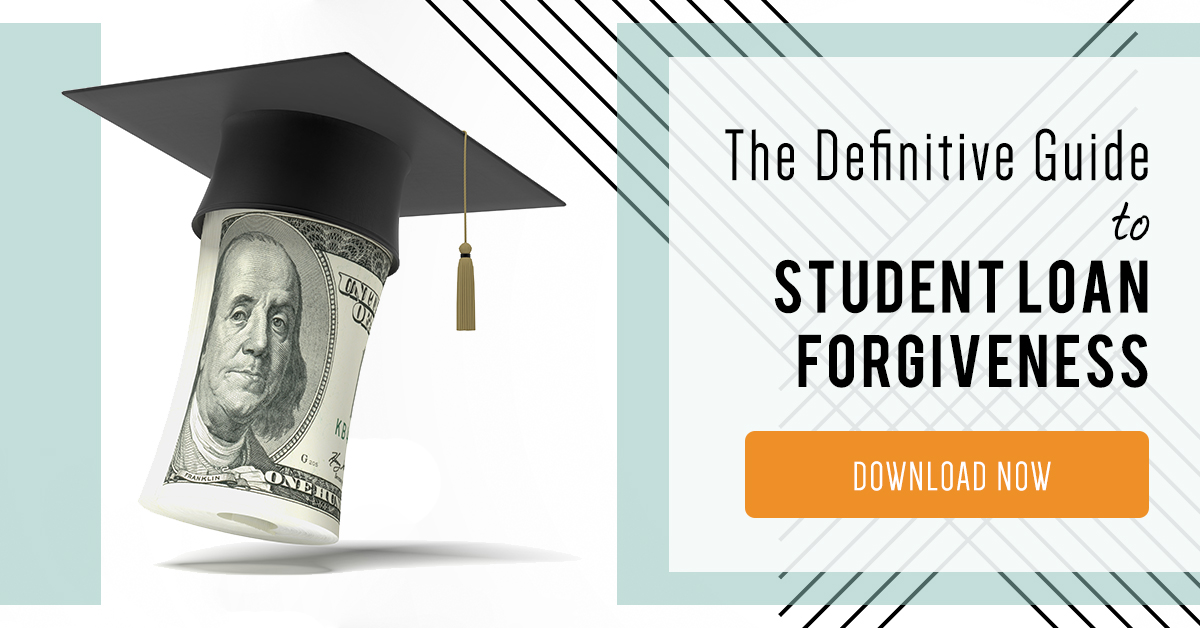 What do you think about student loan forgiveness for military spouses? Let us know in the comments below.
Up Next: Careers That Forgive Student Loans
Editor's Note – This post was originally published on August 23, 2017, and has been updated for quality and relevancy.