We work with and speak to thousands of student loan borrowers every single day.
We talk with recent undergrads, post grads, current students, parents, friends, siblings, grandparents. You name it! If they have student loans, chances are we've talked to them. And we've helped them make good decisions about their debt. 
After all this time, we've started to notice a pattern in the conversations…
…everyone seems to have one thing in common: They don't like being in student loan debt (imagine that!).
It doesn't take a rocket scientist to realize that being in large amounts of student loan debt can seriously suck.
We've been told that borrowers can't buy a house, or even a new car because of their student loans. A lot of times it may just feel like they'll be trapped in debt forever…
Borrowers hate being in debt. But we've realized something that they hate even more: paying their debt.
They hate being in debt because they hate having to pay their debt month… after month…after month… 
Mostly because people want to spend their money on things they actually care about. Totally understandable.
We have first hand experience in hearing from our clients about the things they'd rather be spending their money on. Some would like to put it towards their car payment, others want to save for retirement. There's always that vacation someone is dying to go on. Or the urge to splurge on a cute pair of shoes. Or maybe they want to put it towards everyday things, like their kids, rent, or groceries.
…and to be honest, who wouldn't rather be doing that?
Too many student loan borrowers still need guidance on how to best pay off student loan debt. Once they do that, they can start spending their hard earned money on the things they actually want to be spending it on.
So, we're going give you that guidance right here, right now…
Let's stop focusing on the negative aspects of being in debt. We're going to focus on getting you out of debt in the easiest and fastest ways we know how to.
So, let's get started.
Here are the top 3 ways to pay off your student loan debt.
The first way to pay down your student loans is by far the easiest.
1. Enter the USSLC Holiday Giveaway Before Time Runs Out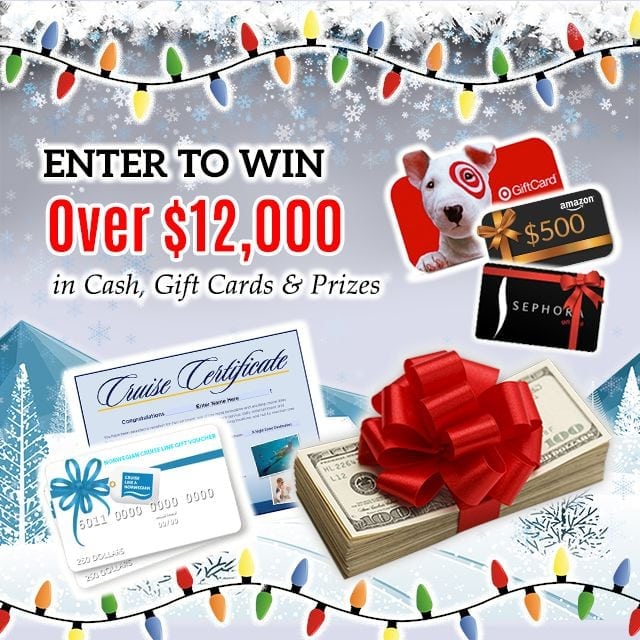 The USSLC Holiday Giveaway is a contest sponsored by us, US Student Loan Center, where we will give out over $12,000 in cash and prizes. 
There will be a total of 14 winners and the prizes include:
$3,500 in cold, hard cash
Amazon Gift Cards for $1,000
Gift Card To Sephora for $1,000 (helloooo, makeover!)
Target Gift Card for $1,000
$500 in Cruise Vouchers (say "Adios" to your responsibilities)
12.p Inch Apple Ipad Pro
$500 for some new shoes at DSW
$1,000 In Gas Cards (that's going nearly all of 2017 without having to personally pay for your gas)
Fly Away with $500 In Airline Tickets
Brand new set of Caphalon Pots and Pans for your kitchen (don't worry, they're the non-stick kind!)
$500 To Dick's Sporting Goods
$500 To Bed, Bath and Beyond
You don't need to do anything but enter right here, which is why I say it is hands down the EASIEST way to pay down your student loans.
It takes less than 60 seconds to complete your entry. Which makes it absolutely the FASTEST way to have your loans paid down.
Because what better way to pay off your student loans than to have someone else pay them off for you?!
It's really that simple.
It will probably take you more effort and more time to continue reading the rest of this post than to just go right now and enter to win.
Be warned though…
The contest is only going on for few more weeks. Once we hit the deadline, that's it; it's over, done, finito! And the opportunity to take advantage of this opportunity to pay down your student loans will be lost.
So do it right now before you put your phone down or walk away from your computer and you forget. Before life gets in the way, take the 60 seconds right now to enter to win. It's 1,000% worth taking the chance and time.
Enter the USSLC Holiday Giveaway right here.
Ever wish there was a magical way to *poof* make your student loans disappear? This is the most obvious (and legal) way to make that happen 😉
2. Move back in with mom and dad and cut your expenses after graduation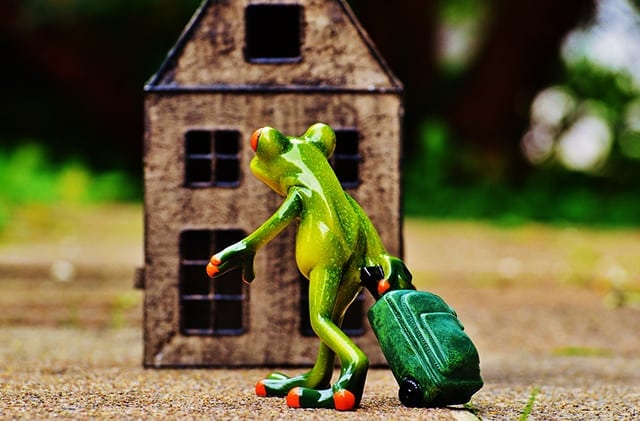 I know. I'm not crazy about it either…
It may not be ideal, especially as an accomplished graduate who is supposed to be considered all-independent in the eyes of society now that you're done with school. But, if your parents are willing to let you move back in after you graduate and give you some support while you pay down your loan balance, 100% take them up on it.
Living with mom and dad will cut out rent, water, air, and electric fees, cable, any HOA fees, probably even groceries, and a whole bunch of other miscellaneous expenses that come along with moving into an apartment, condo, or house on your own.
Even if your parents do charge you some sort of rent for moving back in, it's more than likely only a few hundred dollars versus the $1,000 rent bill you'd be paying every month. Whatever they may charge you, guaranteed it will be less than what you'd be paying otherwise.
Sure, mom and dad may want you to be independent, but they also want to see you succeed and want what's best for you. They won't want to see you struggling to pay off student loan debt. And if your parents are anything like mine, they love you, and would be willing to help you out by letting you move back home.
On top of moving back home, get yourself a job.
Even if it's not the one you really want to stick with for the next 5 to 10 years or make a career out of.
Getting a job, any job, will give you an income.
You can still search for that "dream" job of yours while you hold down a different position. Just start getting a paycheck as soon as you can. While living at home with mom and dad, you should ideally take that entire paycheck you get, or as much as humanly possible, and put it towards your student loan balance.
Every penny you throw at your student loan balance will make a difference and get you out of debt faster.
You should also be cutting out any extra expenses you can. From living at home, you won't have much, if any, "living" expenses. So, now it's time to cut back where you find some of life's greatest pleasures. That means eating out less, cutting out shopping sprees, or delaying your post graduation travel plans. It means skipping the manicure this month and passing up the more expensive pair of shoes. You're going to have to tell your friends "no" when they want to go do that really fun but pricey thing. You'll probably have to Redbox a movie for $1 instead of going to the movie theater and spending $15.
You're not going to be able to spend your paycheck on the things you want and only get the things you need. Getting your first real paycheck as a new grad can be really exciting. So it's not going to be easy, you may not like it, and it may not be much fun…But self control and self discipline are so important for the whole "move home with mom and dad" idea to even work.
After all, if you move home with your parents to live for free yet spend all your money on fun non-essentials anyway, what's really the point? Get a job, Suck it up, and aggressively attack your loan balance as if your life depended on it. Because in many ways, your financial life does depend on it.
A little self-discipline goes a long, long way.
The third way to easily and quickly pay down your student loan balance also may not be ideal for the majority of people. But it works and it works extremely well for those who pursue it.
3. Get a job as a government worker or in public service
Government jobs are great for so many people. A lot love them and a lot more will love them for years to come. I commend those people because speaking strictly for myself, I probably wouldn't love it. It involves long hours, hard work, many of them are underpaid and under-appreciated, and in some cases, risk their lives every single day.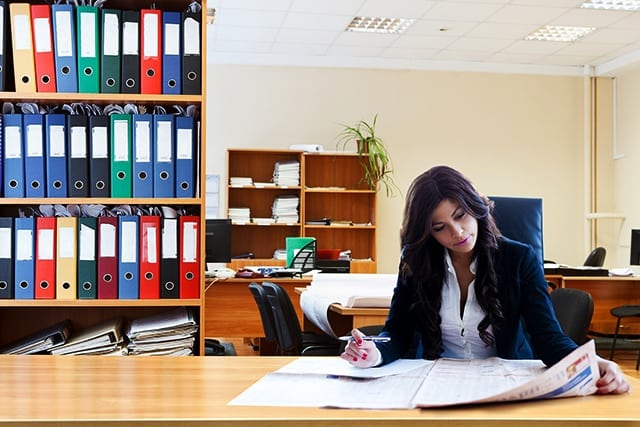 However, those with student loans who work in the public service industry have a huge advantage over those who have student loans and aren't in the industry.
Have you heard of it before?
Government and public servant employees are given the opportunity to use Student Loan Forgiveness to pay back less than what they owe, and have the remaining amount "forgiven" by the Department of Education.
The standard repayment term for the majority of federal student loan borrowers is usually 10-20 years. There really is no "average" term because the amortization of the student loan itself is set at 10 years… but because of interest rates and depending on the student loan repayment program they enter, sometimes it ends up being much longer than 10 years.
So by consolidating federal loans into a lower student loan payment and entering the Income-Based Repayment (IBR) program which offers Public Service Student Loan Forgiveness (PSFL), that borrower would cut off the remaining balance and interest owed back beyond the 10 year term.
There are a several stipulations you should be made aware of if you like the sound of this idea:
1. You must consolidate your student loans into a Direct Consolidated Loan. This can be done through the D.O.E or through the help of a third party student loan help company (like us!)
2. You must be enrolled into a repayment program that offers Public Service Student Loan Forgiveness (PSLF).
3. You must make your monthly payment each and every month for the entire length of your repayment term after you consolidate. For PSLF, that's at least 120 consecutive monthly payments. No late payments, no missed payments, and no defaulted loans throughout the entire term.
4. You must re-qualify and re-apply each and every year to receive PSLF. It's a lot like filing for your taxes every year. If you miss the re-application period, you will be kicked out of the program and will miss your shot at forgiveness.
5. To receive Public Service Student Loan Forgiveness, you must work in the public service industry for the full length of the repayment term. Any change in industry which does not fall under Public Service or isn't found to be a tax-exempt employer under Section 501(c)(3) of the Internal Revenue Code will cause you to fall out of the Forgiveness program.
Here's a full list of eligible employers from the D.O.E :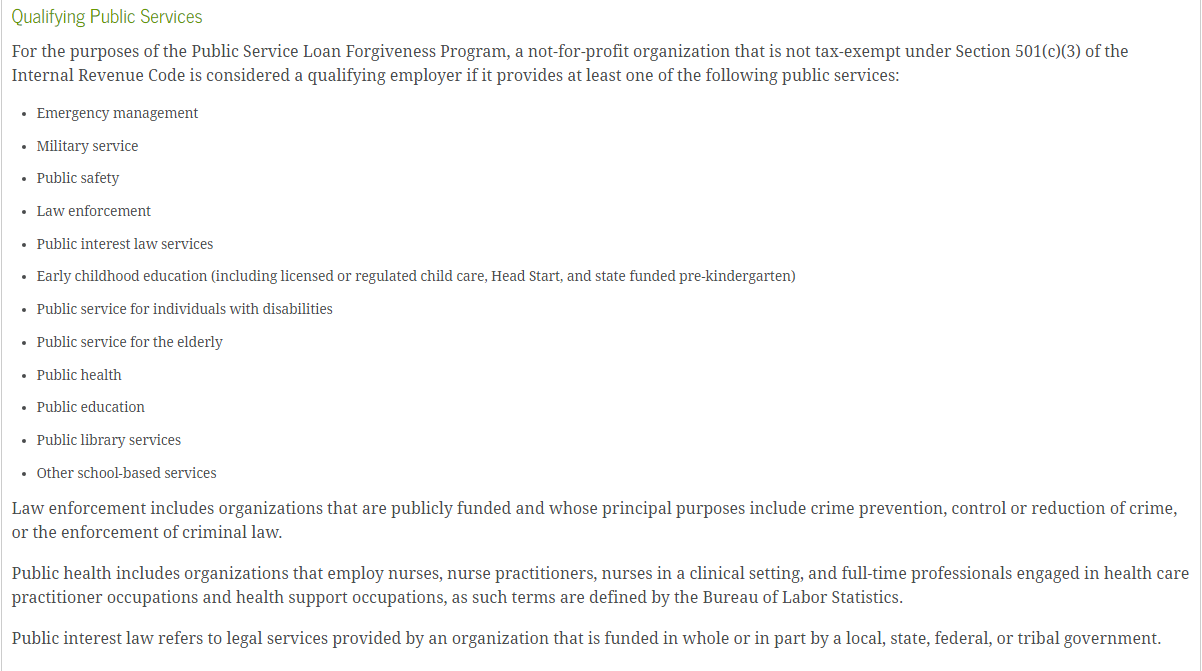 Source: https://studentaid.ed.gov/sa/glossary#Qualifying_Public_Services

6. You must also be considered a full-time employee in the industry for the entire length of your repayment term. In the eyes of the government, this means at least 30 hours per week.
7. Under the William D Ford Act, the amount of balance of which you are forgiven at the end of your term, can be taxed on by the government. The tax will still be less than the total of what you owe. But, borrowers should be made aware that at the time forgiveness actually kicks in, the government has the power to tax you that amount.
Keeping up with the stipulations and the changes in the student loan industry and Student Loan Forgiveness can grow tiresome. We support qualifying for and reapplying for Student Loan Forgiveness on your own. We encourage getting help when you need it so you have the reassurance of knowing it was done right.
So there you have it…
These may or may not have not been anything like what you were expecting. But hopefully these were helpful in one way or another.
Let us know in the comments section if you've had your own success in paying down your loans. Did you accomplish that easily and quickly? Or, if you have questions, other comments or concerns, we're here to help and will answer your questions to the best of our given ability.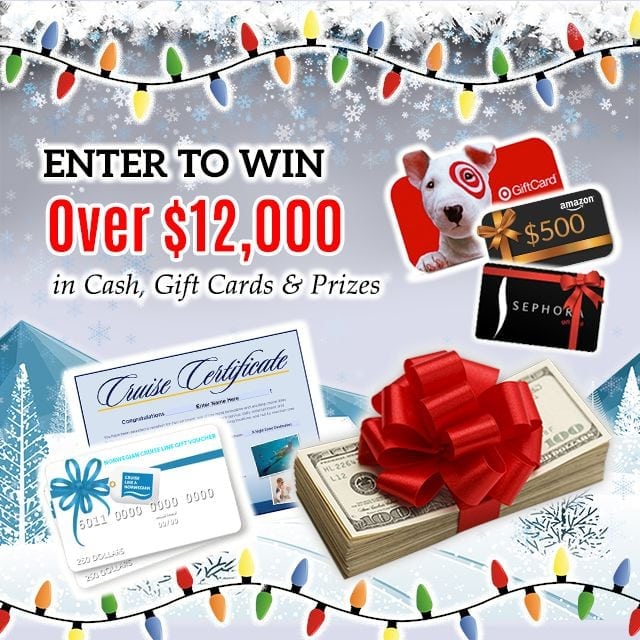 (Visited 68 times, 1 visits today)