It has often been said that "modern problems require modern solutions," and the current $1.56 trillion dollar student debt crisis is indeed a modern problem.
As the average student of higher education graduates with over $32,000 in federal student loans that they will pay on for over 21 years, an increasing number of recent graduates are seeking alternative ways to pay off their mountains of debt.
While it is still possible to pay off student loans in under 10 years, many young adults are getting creative and attempting to pay off their loans in only a few months or years.
Between charitable donations, crowdfunding, and celebrity donors, tens of thousands of students have received relief help on their massive student loans.
While receiving donations from friends, family, strangers, or celebrities sounds like an easy and fun way out of debt, the truth is that a lot of work must go into making your campaign or application successful. Because 45 million Americans carry some amount of student loan debt, the competition for monetary help is just that – competitive.
However, it can be done!
Here's our ultimate list of donors that help pay off student loans.
The Ultimate List of Donors That Pay Off Student Loans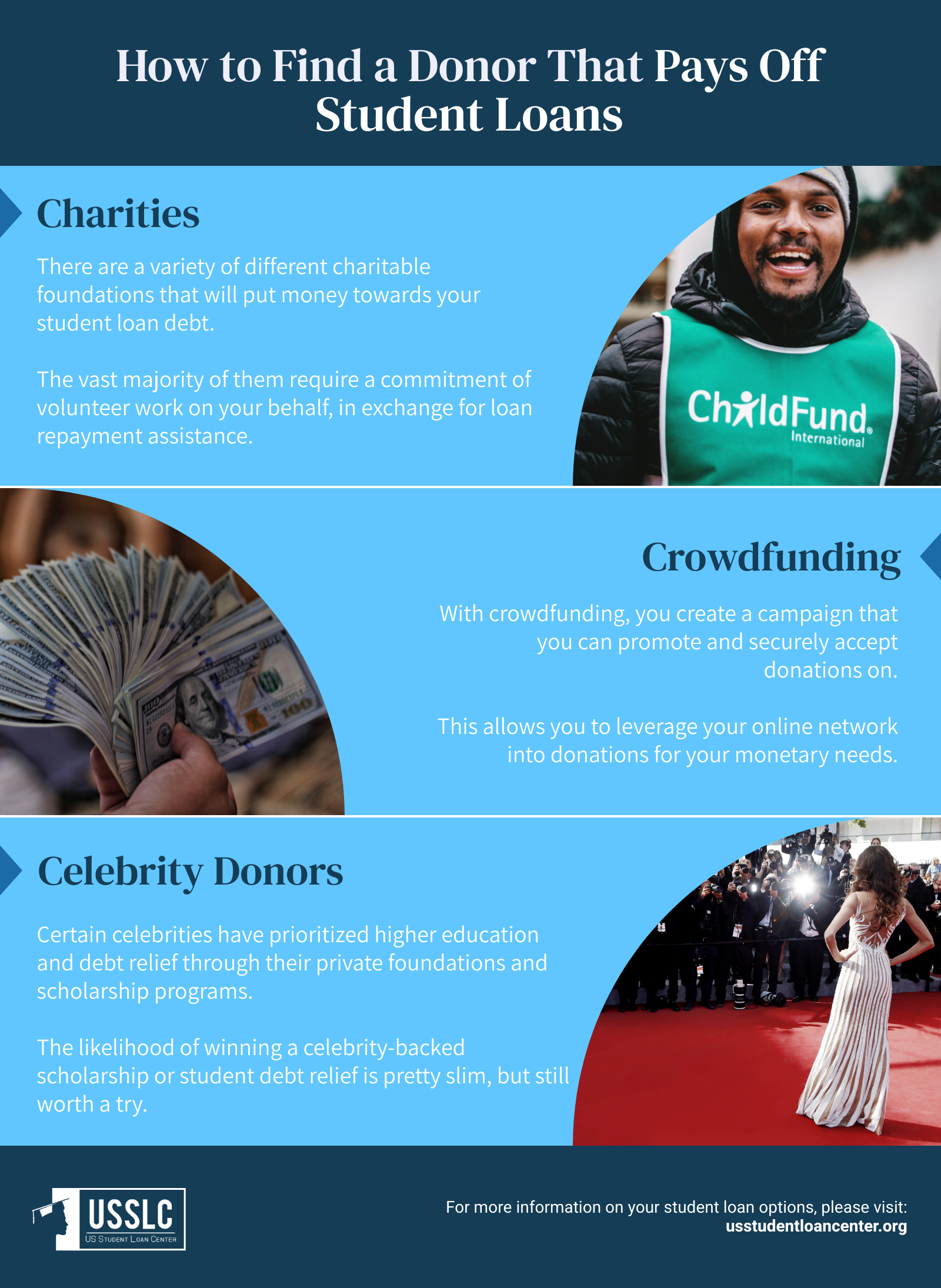 Charities
There are a variety of different charitable foundations that will put money towards your student loan debt. The vast majority of them require a commitment of volunteer work on your behalf, in exchange for loan repayment assistance.
Rolling Jubilee
Rolling Jubilee is an organization that purchases bundles of bad debt from banks, at a severely discounted price. Instead of working to collect on the debt, they cancel it. They ask that the beneficiaries of their generosity pay it forward by donating to them, which creates the "rolling" aspect to their assistance.
There is no way to request that Rolling Jubilee take on your debt load, or ask for a specific monetary amount. Because Rolling Jubilee purchases the bad debt in bulk, they never know what accounts they are getting. Instead, they contact the people whose debt they have purchased and cancelled.
Since its inception, Rolling Jubilee has cancelled over $13 million of student debt for over 9,438 people according to their website.
Shared Harvest Fund
Shared Harvest previously connected those with student debt, to volunteer projects that would reward them with repayment assistance and grants. Since the COVID-19 crisis, Shared Harvest has amended their focus to rewarding healthcare professionals who volunteer.
Right now, doctors, nurses, physician assistants, certified nursing assistants, emergency medical technicians, therapists, social workers, nutrition coaches and other frontline healthcare workers are the only ones who can volunteer in exchange for student loan relief.
AmeriCorps
AmeriCorps is a government program that places young adults into intensive service positions that can also be a resume-booster.
All AmeriCorps volunteers qualify for forbearance during service, which means you can take an official break from loan payments. Depending on your program, you may also get some of your interest covered while your loans are in forbearance.
After completing 12 months of full-time service, AmeriCorps volunteers receive the Segal AmeriCorps Education Award, which equals the maximum amount for the Pell Grant that year ($6,345 in 2020-2021).
You can also apply your time with the AmeriCorps to Public Service Loan Forgiveness.
National Health Service Corps
National Health Service Corps is a division of the U.S. Department of Health & Human Services that helps bring healthcare to underserved areas. The program is for medical, dental, and behavioral health professionals.
Volunteers with NHSC must be primary care physicians with one of the applicable qualifications:
Medicine: MD, DO, NP, CNM, PA
Dentistry: DMD, DDS, dental hygienists
Behavioral Health: HSP, LCSW, PNS, MFT, LPC
Primary care medical, dental, and behavioral health clinicians can get up to $50,000 to repay medical school loans in exchange for a two-year commitment at an approved NHSC site in a high-need, underserved area.
The payment is not subjected to federal income tax, and is made at the beginning of your service period, so you can save a lot of money on interest on your loans. NHSC sites are all across the U.S., in both urban and rural areas.
Crowdfunding
In recent years, many people looking for help with debt have turned to crowdfunding on sites like GoFundMe, DonorsChoose, GiveCampus, Piggybackr, KickStarter, Chuffed.org, Fundrazr, IndieGoGo, GoGetFunding, and Patreon.
With crowdfunding, you create a campaign that you can promote and securely accept donations on. This allows you to leverage your online network into donations for your monetary needs.
Before you jump into crowdfunding, there are a few things to consider. Each site has different platform fees and sharing capabilities, so you'll want to research each and determine which is the best fit for your needs.
You'll also want to put some thought into your marketing efforts. A successful campaign appeals to its potential donors, is promoted regularly but not daily, and has realistic and achievable goals. Providing sincere thank-yous to your donors also helps to encourage future donations. If you manage to crowdfund your education, you can actually use it on your resume!
According to its website, GoFundMe has raised over $70 million a year for more than 100,000 education campaigns. Crowdfunding doesn't work for everyone, but a well-managed campaign with valuable promotion can put a huge dent in your student loan debt.
Celebrity Donors That Pay Off Student Loans
Certain celebrities have prioritized higher education and debt relief through their private foundations and scholarship programs.
Rihanna
Rihanna is one such celebrity, with her Clara Lionel Foundation. While the focus of the charity changes each year, in 2016 Rihanna assisted kids from Barbados, Brazil, Cuba, Haiti, Guyana, Jamaica by providing financial aid for attending American universities. 50 students received scholarships from the Clara Lionel Foundation.
Beyonce
Beyonce's Homecoming Scholars Award Program awards scholarships to students at Historically Black Colleges and Universities (HBCUs) Xavier, Wilberforce, Tuskegee and Bethune-Cookman.
In the 2018-2019 academic year, one winner from each school received a $25,000 scholarship. Winners had to study literature, creative arts, African- American studies, science, education, business, communications, social sciences, computer science, or engineering, and maintain a 3.5 GPA or above.
Jay Z
Jay Z, Beyonce's husband, has his own The Shawn Carter Foundation that has provided over $4 million to fund higher education for those in socio-economic need. The Foundation maintains a Scholarship Fund, College Prep and Exposure, International Exposure, Professional Development, Scholar Support, and Community & Goodwill Programs.
All high school seniors, students with GED diplomas, undergraduate (2yr or 4yr) college students, and students at vocational or trade schools are eligible to apply for scholarships through the foundation.
The only requirements are that the applicant be a US citizen or Permanent Resident, 25 years old or younger, and maintain a minimum 2.0 GPA. Leadership, community service, socio-economic factors, and essay quality are all considered above GPA when choosing recipients for scholarships.
Oprah
Oprah has also provided over $13 million in scholarship donations, putting more than 400 men through Morehouse College. She is one of Morehouse's top donors throughout history.
But even with these generous donations, the likelihood of winning a celebrity-backed scholarship or student debt relief is pretty slim.
Other Ways to Pay Off Student Loans
Since student loan relief through charitable causes is still not the norm, it is recommended that you pursue all of the other channels available for lower payments and balance forgiveness.
Loan Forgiveness
Public Service Loan Forgiveness forgives the remaining balance on your Direct Loans after you have made 120 qualifying monthly payments under a qualifying repayment plan while working full-time for a qualifying employer. As long as you work for a U.S. federal, state, local, or tribal government or not-for-profit organization that is tax-exempt under Section 501(c)(3) of the Internal Revenue Code, your job qualifies you for PSLF.
Additional loan forgiveness options exist for specific disciplines, like teachers, nurses, and doctors.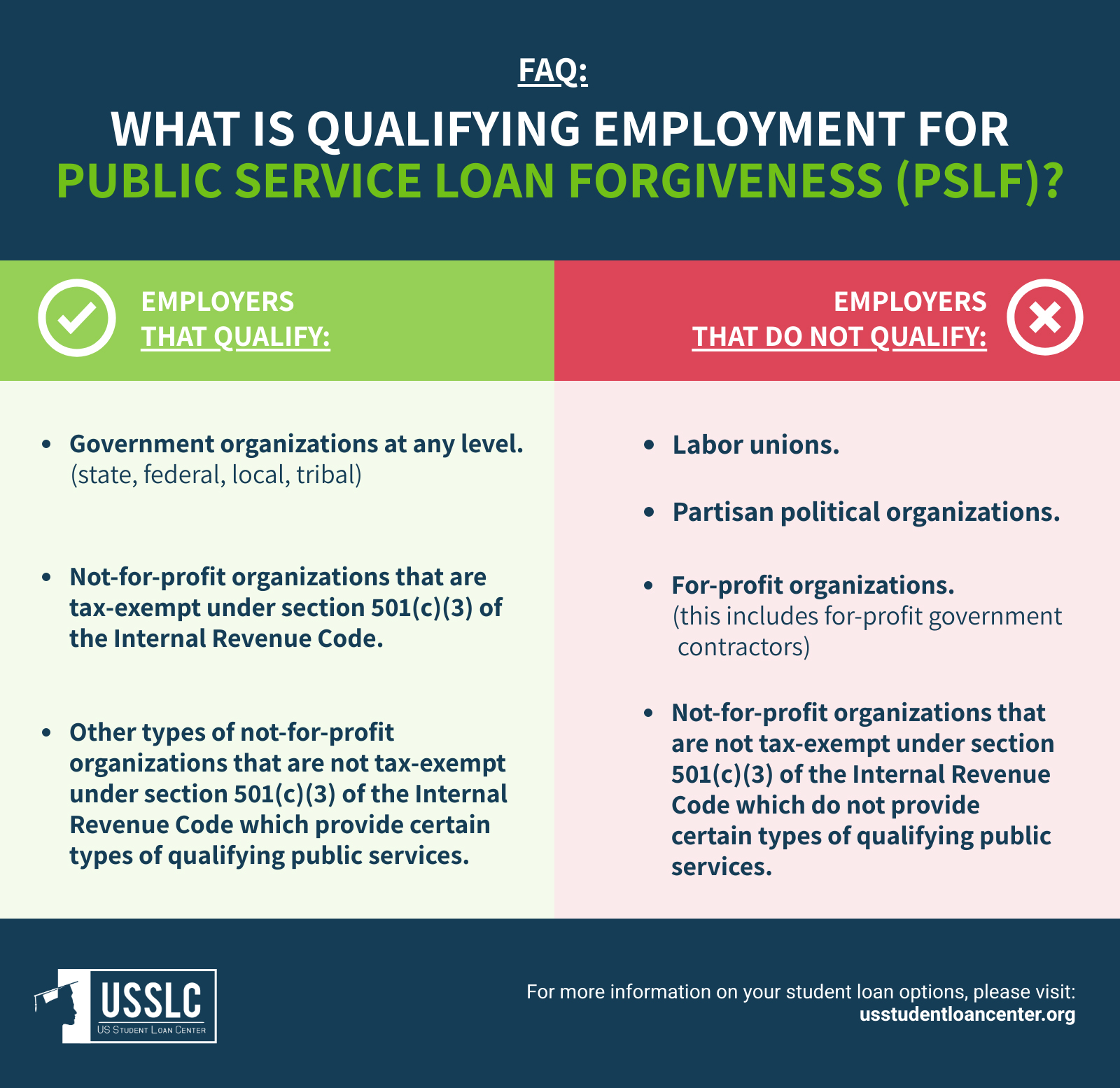 Federal Student Loan Repayment Program
The Federal student loan repayment program permits agencies to repay Federally insured student loans as a recruitment or retention incentive for candidates or current employees of the agency.
Although in this case the student loan is not forgiven in full, agencies may make payments to the loan holder of up to a maximum of $10,000 for an employee in a calendar year and a total of not more than $60,000 for any one employee.
State-Sponsored Loan Repayment Programs
State-sponsored loan repayment programs offer incentives in the form of loan repayment assistance in exchange for a commitment to service in areas of critical shortage in some states. For example, California increases the number of primary care physicians, dentists, dental hygienists, physician assistants, nurse practitioners, certified nurse midwives, pharmacists, and mental/behavioral health providers practicing in federally designated California Health Professional Shortage Areas (HPSA), with student loan assistance of up to $50,000.
Refinancing
Another option to lower both your payments and your interest paid on your loans (thus lowering your total amount paid towards loans), is to refinance all of your student loans with a private lender.
Refinancing allows you to lock in a fixed interest rate (and take advantage of historically low rates). Because interest is the bulk of what you pay on loans over time, securing a low rate can save you thousands of dollars over the course of the loan.
The Bottom Line on Donors That Pay Off Student Loans
Having your student loan debt forgiven or paid in full is a dream for many people who are saddled with tens of thousands of dollars of debt. But the reality is that partial forgiveness and grant opportunities do exist and you may be lucky enough to find donors that pay off student loans.
Many private employers also offer up to $10,000 in student loan aid as part of their benefits packages now. Doing your research, being willing to relocate, and donating your time can be big contributors to obtaining student debt relief.
If you're not sure how to get started with improving your student loan debt situation, contact USSLC to speak with someone who can help.
Up Next: