Student loan debt has skyrocketed up to $1.56 trillion in 2020, with a total of 45 million borrowers across the United States. That makes federal student loan debt the second highest debt category for consumers, behind mortgage debt, but beating out credit cards and auto loans.
Private student loan debt makes up another $7.8 billion in borrowing.
With so much debt, lots of graduates begin to wonder how long does it take to pay off student loans? Many college graduates believe that they will have their loans paid off in less than 10 years after they graduate, but the truth is that the average number of years for repayment is 21.1. Yikes!
The Facts on Student Loan Debt
So what can the average borrower of student loans expect when they leave college? $32,731 in federal student loans, with a payment of $393 each month.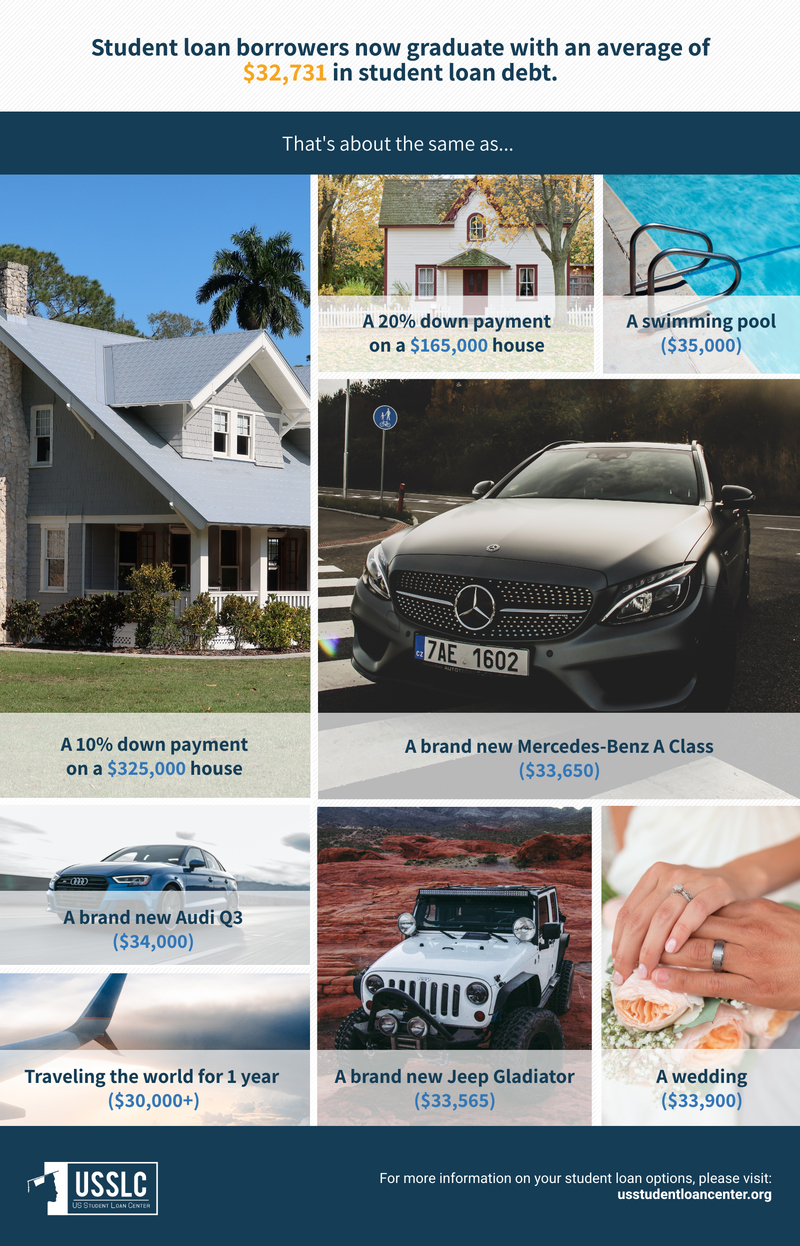 While that number is hefty, and has been steadily increasing in recent years, the good news is that many college graduates are finding jobs, and for more money than their average high school diploma counterparts.
According to Cengage, about 60% of college graduates find a job related to their major within six months of graduating, with an average salary of $50,000. This is 80% higher than those with high school diplomas.
So if you're wondering if a college degree is worth it, the typical answer is still "yes"!
So how are Americans doing with their loan payback?
Unfortunately, 10.8% of borrowers are delinquent or defaulted on their loans. 5.5 million borrowers are in default, and 2.8 million borrowers are currently in a forbearance.
Borrowers in California, Florida, New York, and Texas account for 25% of all student loan debt, and Connecticut has the highest average student loan debt per student ($38,669).
The vast majority of borrowers have loan debt under $100,000 (42 million out of 45 million). 0.8% of borrowers have loan debt over $200,000.
The good news is that 13.8 million borrowers with $291.1 billion in debt are enrolled in a repayment plan that will take them less than 10 years to complete. But that does mean 31.2 million borrowers will take longer than 10 years to repay their loans or have them forgiven.
Factors that Contribute to Payback Time
If the numbers have you feeling discouraged about student loan debt, you're not alone – but there are a lot of ways to decrease the total amount you have to pay back over time.
If you make smart decisions from the start, you can keep your loan balance and payments low and manageable.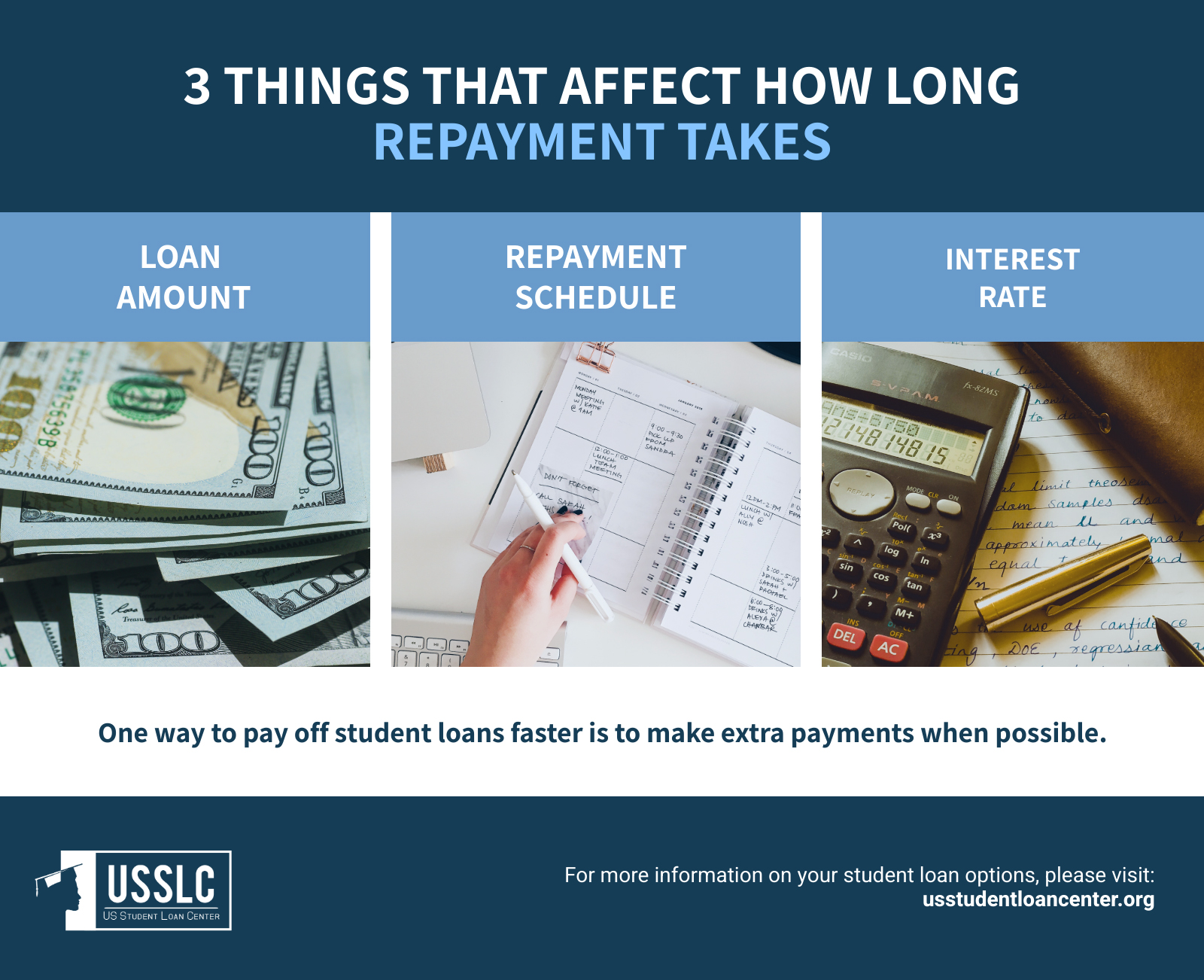 1. How Much You Borrow
There are several ways to keep the amount that you borrow to a minimum:
Choose a public college instead of a private college
Research and apply for grants and scholarships
If possible, do not borrow the full amount you qualify for
Participate in Work-Study programs during school
Make interest-only payments during school
Complete your degree in four years if you can
2. Interest Rate & Total Balance
Your interest rate and total balance will both have a lot to do with how long it takes you to pay back your loans. Interest rates are currently at historic lows (2.9% for undergraduate federal student loans, and 4.3% for graduate degree loans), but they haven't always been so low.
If you're willing to forego the benefits of federal student loans (student loan forgiveness options, income-based repayment plans, etc.), you can refinance your loans into private loans with lower interest rates.
If you prefer to keep your federal student loans, you can consolidate them into one loan, and turn any variable rates into fixed rates, locking in a lower rate instead of taking your chances in the future.
If you have Unsubsidized loans, they will start collecting interest as soon as you begin school. Making interest-only payments throughout the time that you are in school will keep your balance from increasing when you graduate.
If you are able to make payments on the principal during school and your grace period, that is even better! Your loan balance will be lower when you graduate, and you will never pay interest on the amount you paid off.
3. Your Student Loan Repayment Schedule
If you stay on the standard repayment plan, you will pay off your loans in 10 years. However, if you delay with a deferment or forbearance, or extend your schedule with an income-based repayment plan, you will not only take longer to pay back your loans, but you will also pay more in interest over time.
Once you graduate, you generally have a six month grace period before you must begin making payments on your loans. If you are able to make payments during the grace period, do so! This will decrease your loan balance before interest is added to your balance.
Of course the payment plan that you choose will have a big impact on how long it takes you to pay off your loans. 10 years, 20 years, 25 years – there are options that can lower your interest rate, the length of time you're paying for, or your monthly payment amount – but not all three.
If you're looking to get out of debt as quickly as possible- a standard repayment plan will be a good fit for you.
If you're interested in a lower monthly payment, an income-driven plan will be one of your best options.
How to Pay Off Student Loans Faster
If you've already taken out your loans and are now looking to pay them off more quickly, there are ways to do that too!
1. Paying More Monthly Loan Payments than Scheduled
The more that you are able to put towards your loans each month, the better. But one major catch – be sure you talk to your loan servicer and they apply your extra payments to the principal of the loan. Otherwise, they will automatically apply that amount to the interest or your next payment – neither of which will speed up your payment schedule.
Paying more in principal each month makes a bigger difference than you might realize.
Consider this example:
If you borrowed $20,000 in student loans, and your interest rate is 5%, your monthly payments for 10 years would be $212. In total, you would pay $5,440 in interest on top of your $20,000 loan.
If you pay $100 more towards the principal each month, your payment would increase to $312, but you would save $2,000 in interest – AND your loan would be paid off almost four years earlier!
2. Pay More Than the Minimum Amount
Similar to making extra payments, paying more than the minimum amount (towards principal, of course), will achieve the same end result of shortening the time it takes to pay off your loan. This will also save you money on interest.
3. Create a Budget
This may sound simple, but very few people follow through on creating and sticking to a budget. It's important to know how much you need to live, and how much discretionary income you have.
Depending on your goals, you may choose to pay off your student loans at a different rate than someone with different goals.
If you are looking to purchase a house or have children sooner rather than later, you will want to save money right away – and you may choose a longer repayment plan to allow for that. If you were able to lock in a very low interest rate, you may also not feel the time crunch on repayment that someone with a very high rate does.
Consider your goals and how long you're willing to wait to achieve them. Then plan if you want to make your student loan debt your top priority, and stick to the plan.
4. Extra Money
One way to make big strides on your loans is to apply large sums of extra money to your student loans.
Examples would be tax refunds, gifts (like graduation gifts), and bonuses at work.
If you get a raise, don't increase your discretionary income budget – put that additional money towards your loans each month instead.
5. Other Options
If you have private student loans, you can consider refinancing your loans, especially since interest rates are so low right now. Saving money on interest can allow you to pay the same amount each month, but pay off your loans much more quickly.
For federal student loans, you can also look into Public Service Loan Forgiveness. If you work for a qualifying employer, you can have a large amount of your loans forgiven after 10 years.
Just keep in mind that 136,473 borrowers applied for PSLF, and only 1,561 applications were approved. 123,146 applications were denied, but not for lack of qualifications – 56% of denials had payments that did not qualify, and 24% of denials had applications that were missing information. Only 1,139 borrowers have had their loans forgiven through PSLF ($71.9 million).
PSLF requires frequent documentation, and you must continue to work full-time for qualifying employers for the duration of the 10 year time frame.
Conclusion
Student loan debt has only increased over time, but if you make smart decisions from the start, you can significantly decrease the amount you owe and the time it takes you to pay off your loans.
A college degree is still considered a worthy investment, and is worth pursuing. If you have questions about how to lower your interest rate, your monthly payments, or your loan term, we're here to help at USSLC!
FAQs on How Long Does It Take to Pay Off Student Loans
Q: How long does it take to pay off student loans on average?
The true average is 21.1 years.
Q: How long does it take to pay off student loans for doctors?
This answer varies a lot. Many doctors make enough to pay back their loans within just a few years of work, but that would require them to live very modestly during that time. Also consider that a doctor may start medical school at 25, graduate at 29, finish residency at 34, begin a two-year fellowship, and only earn their first real paycheck at 36. Many doctors do not pay off their loans by age 40.
Q: How long does it take to pay off $100k in student loans?
Again, this answer will vary based on your circumstances. But if you were hoping to pay off $100,000 in 10 years, expect extremely high monthly payments. If your loan has, for example, a 6.8% interest rate, your monthly payment would be $1,151. If you choose an income-based payment plan, your loan balance will be forgiven after 20 or 25 years of payments.
Q: How long does it take to pay off student loans for nurses?
Nurses have a myriad of loan forgiveness program options available to them on both the national and the state level. This can allow them to pay off their loans at a very accelerated rate, especially if they are willing to work in a critical shortage area for several years.
Q: How long to pay off federal student loans?
If you follow the standard repayment plan, you will pay off your federal student loans in 10 years. But the national average is 21.1 years.
Up Next: