They say you can't put a price on education.
Um, yeah, you can! It's called tuition. 
A lot of college graduates are left wondering if it was worth going to school at all, given the economic trends of the last 25 years. In the past, a college degree almost guaranteed you a good job.
Now, graduates are fighting to start their careers and sometimes settle for just a foot in the door.
What's worse?
Still owing the money on a loan even though you may not have completed your degree or found a high paying job.
Just a reminder that it does not matter if you hated the program, professors, school, or the mascot. You signed on the dotted line and it's now your responsibility until you pay off the loan.
In any of these scenarios, it's important to do what's best for you in the long term.
When debt on top of more debt is staring you in the face, it may be time to consider a student loan consolidation.
So what exactly is a student loan consolidation? And how will it help you?
We'll answer those questions and more.
What Is Student Loan Consolidation?
Student Loan Consolidation is when you take out one new loan that pays off your existing student loans. In this process, you simplify from multiple payments and providers down to just one monthly payment.
Consolidating federal student loans is different from consolidating private student loans.
With federal student loans, you take out a new federal loan through the Department of Education. This leaves you with one monthly payment, and one loan that encompasses all of the loans you took out while you were in school.
It's a good way to simplify your payments by wrapping them up into one loan. 
This new loan will not lower your interest rate.
The interest is based on the weighted average of the loans you consolidate. Keep in mind that the fixed rate of interest could vary from the 8% interest applied to most federal student loans. This could be higher or lower.
Consolidation can, however, lower your payments by extending them over a longer period of time.
For some repayment plans, you will need to consolidate your loans to qualify.
Consolidating private student loans is also called Refinancing. If you qualify with a private lender, you can roll your existing loans into one new loan while simultaneously lowering your interest rate and saving you money.
You cannot consolidate federal and private loans together into a new loan with the Department of Education. However, you may be able to with a private lender.
(Note: 'Should I consolidate my student loans?' is a question we get all the time here. That's why we created this easy guide you can download for free to help you understand if a Student Loan Consolidation is the right choice for you. Click here to learn more.)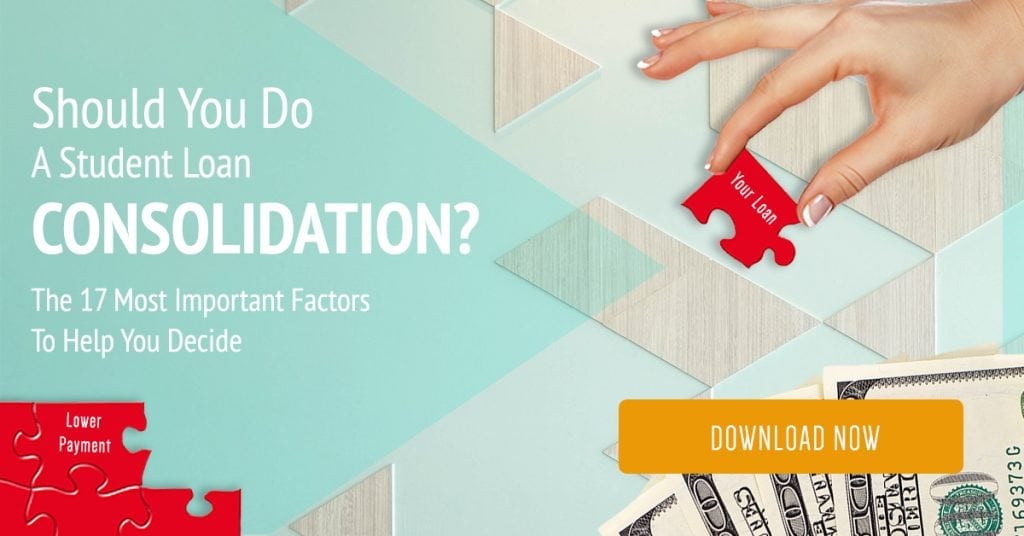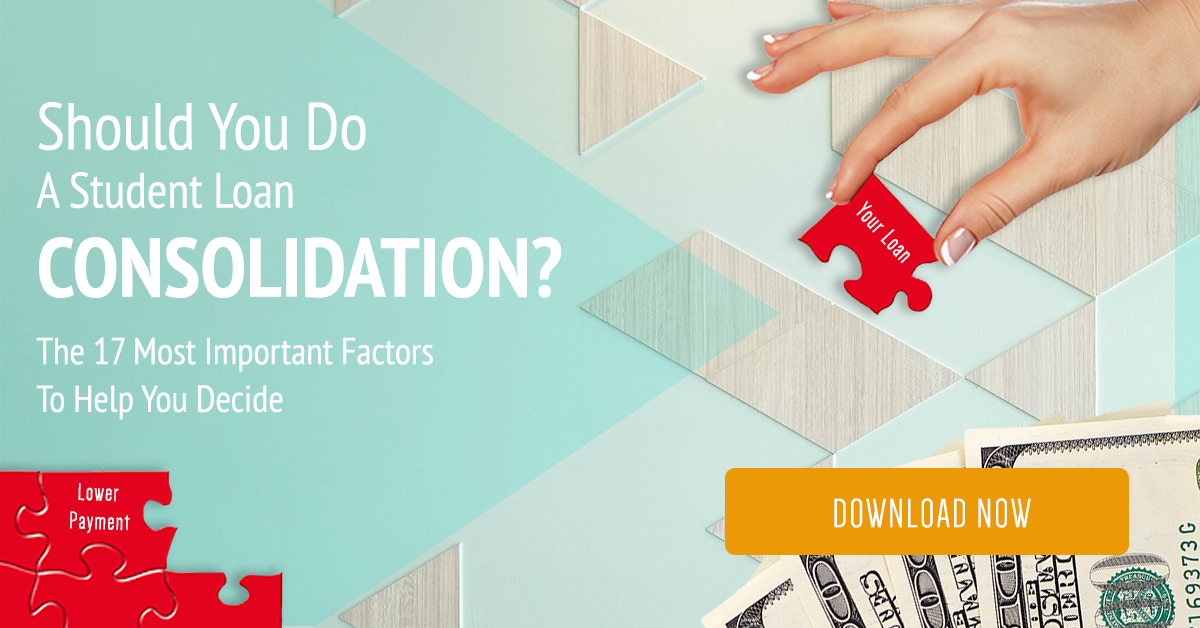 Student Loan Consolidation vs Refinancing: What's The Difference?
Student Loan Consolidation is the creation of a new federal student loan with the Department of Education that pays off and combines all of your existing student loans into one loan.
Consolidation does not lower your interest rate and you can only consolidate your federal student loans.
Consolidation does not save you money over the course of your loans, but you may gain access to new repayment plans or forgiveness plans.
There is no credit requirement for federal student loan consolidation.
On the other hand, Student Loan Refinancing is a financial choice you make when working with a private lender.
You can take advantage of lower interest rates, and potentially consolidate both your federal and private student loans in the process. Refinancing can specifically save you money.
If you combine your federal and private loans in the process, you do lose access to federal protections and repayment options.
Your entire financial history will be considered when you apply to refinance, and used to determine your interest rate.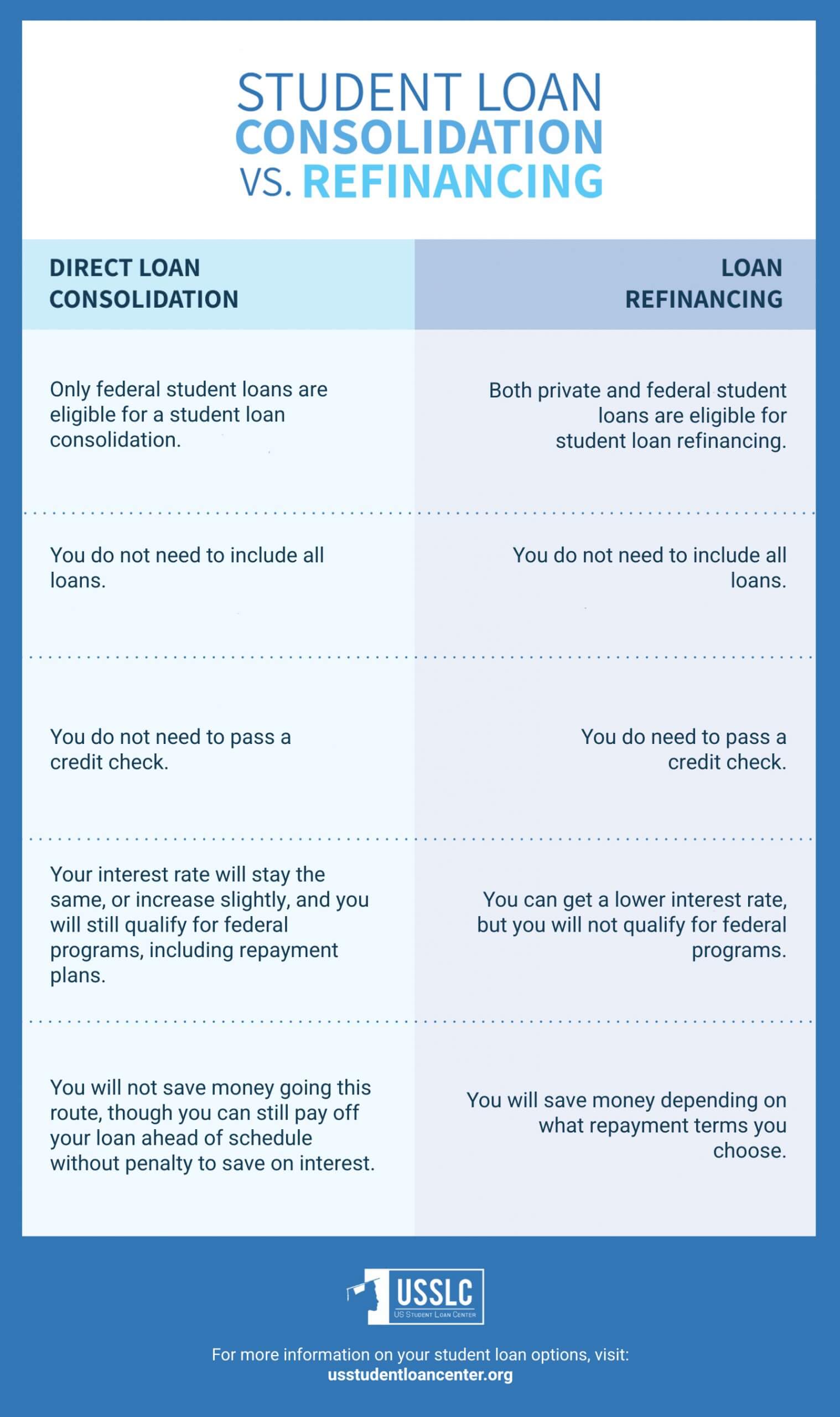 Student Loan Consolidation is NOT Refinancing…
Because the interest rate is fixed based on an average, the Direct Consolidation Loan may not really save you as much money as it wraps all the loans into one easy payment because… well, people have a hard time keeping track of things.
Also, if we're being honest, when debt outpaces income, we get depressed, pretend it doesn't exist, eat ice cream, and binge-watch Netflix.
But refinancing is a whole other animal.
For starters, you can refinance both your federal and private loans.
Since refinancing is only available through private lenders, you lose the federal benefits that come with those loans.
But the refinanced loan will have completely different terms and you may be able to negotiate a lower interest rate.
I recommend going through your credit union or shop around for one who will play ball. They are more than likely to kiss your rear on bargaining for your business.
Talk to a few credit unions and see who will offer the best terms. Of course, this will be based on your income and credit score so quit applying for credit cards.
Why Do A Student Loan Consolidation?
There are many benefits to consolidation under the right terms, including:
Streamlining your bill-payment process into one monthly payment
Lowering your payments by extending your repayment term
In some situations, lowering your interest rate
Switching from a variable-rate to a fixed-rate loan
Lowering your monthly payment amount
Qualifying for a different repayment or forgiveness plan
Graduated repayment options, with lower payments now and higher payments later
Can improve your credit score by making it easier to keep track of payments
Many graduates leave school with at least one loan per year. If you are struggling to keep track of your monthly payments, consolidation is a great way to simplify multiple monthly bills into one.
If your payments are higher than you feel comfortable paying, consolidation can allow you to extend your repayment term and lower the monthly cost to you.
(Bonus Tip: Want the complete guide to knowing if you should consolidate your loans? Here are the 17 Most Important Factors To Help You Decide if you should consolidate your loans or not. Click here to learn more and get the free guide.)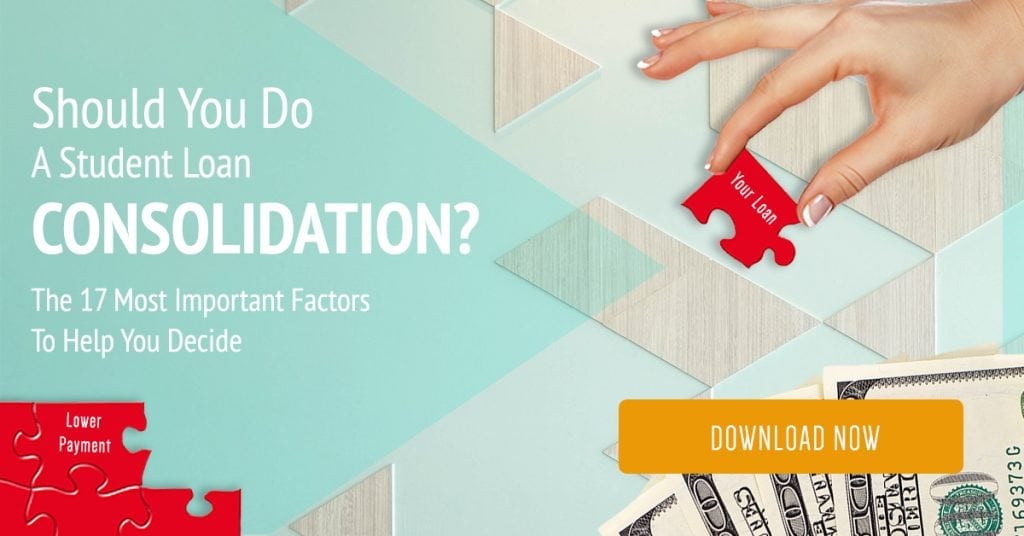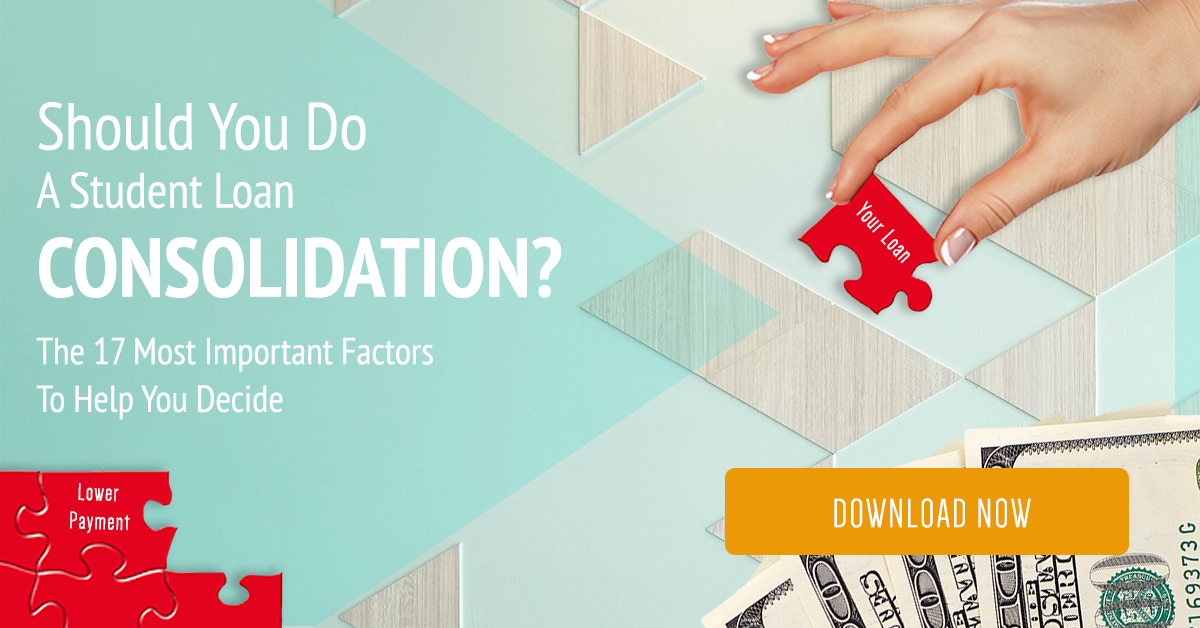 Which Loans Are Eligible For A Student Loan Consolidation?
Most federal student loans, including the following, are eligible for consolidation:
Subsidized Federal Stafford Loans
Unsubsidized and Nonsubsidized Federal Stafford Loans
PLUS loans from the Federal Family Education Loan (FFEL) Program
Supplemental Loans for Students
Federal Perkins Loans
Nursing Student Loans
Nurse Faculty Loans
Health Education Assistance Loans
Health Professions Student Loans
Loans for Disadvantaged Students
Direct Subsidized Loans
Direct Unsubsidized Loans
Direct PLUS Loans
FFEL Consolidation Loans and Direct Consolidation Loans (only under certain conditions)
Federal Insured Student Loans
Guaranteed Student Loans
National Direct Student Loans
National Defense Student Loans
Parent Loans for Undergraduate Students
Auxiliary Loans to Assist Students
Should I Consolidate?
Consolidation may sound like a no-brainer, but it is not for everyone. There are some negatives, depending on your situation.
Consolidation is the right choice for people who:
Currently have several federal student loans with multiple loan servicers
Are overwhelmed by their monthly payments and would prefer a longer repayment term
Are interested in income-driven repayment plans
Want to switch from a variable-rate loan to a fixed-rate loan while interest rates are low
When you consolidate, you can choose not to include certain loans in your consolidation loan. For example, if you are working towards Public Service Loan Forgiveness (PSLF) on your Direct Loans, you should leave your Direct Loans out of your consolidation to prevent losing your forgiveness benefits.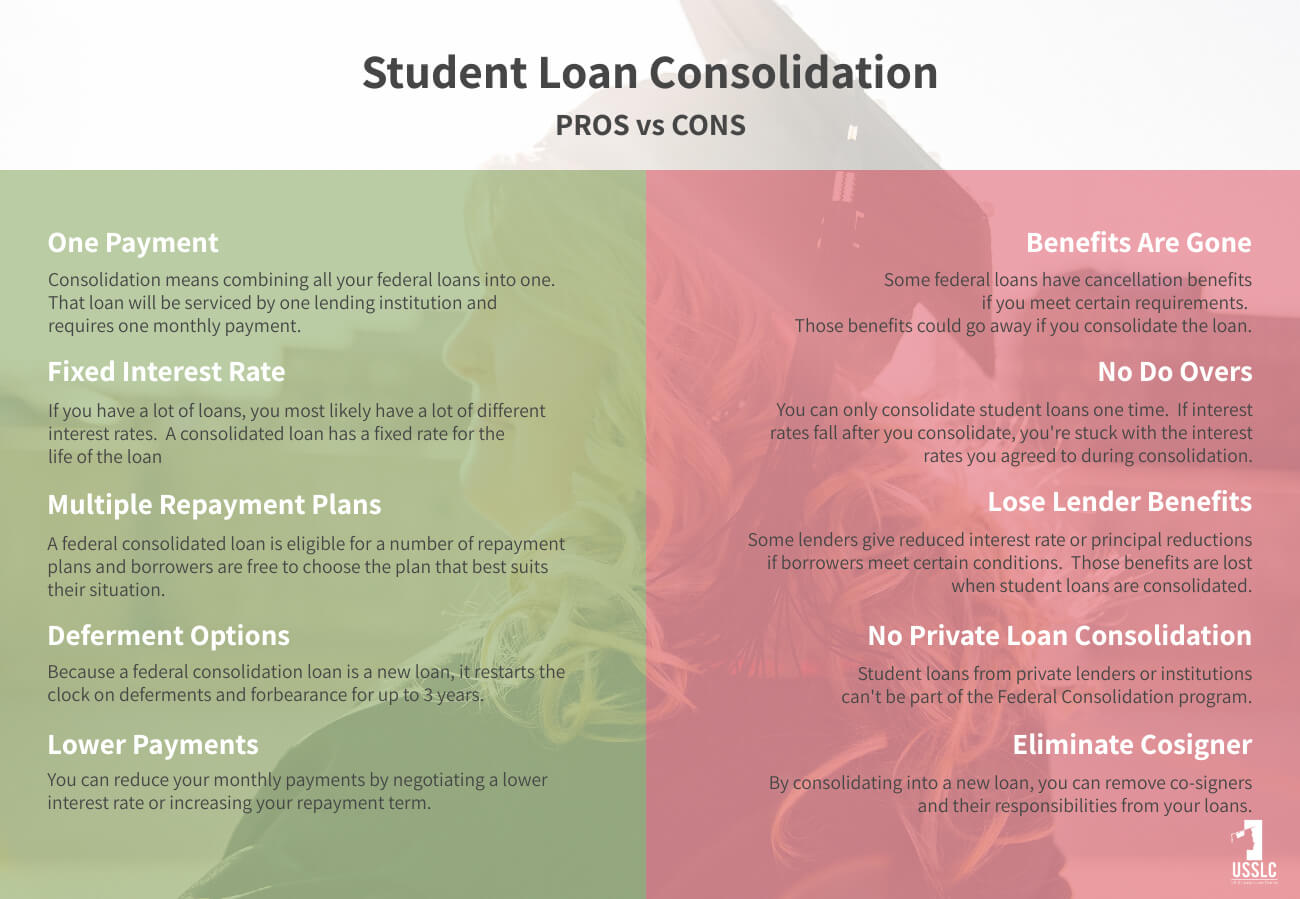 Student Loan Consolidation Might Make Sense For You If:
If the 10-year plan is kicking your butt, you can consolidate student loans to lower your payments. With a Direct Consolidation Loan, you can extend your payment up to 30 years and get a smaller payment. You may pay more interest in the long run but it's more manageable in the short term.
There are income based repayment plans. When you consolidate student loans other than Direct Loans, Uncle Sam extends your payment term and caps your payments at a percentage of your income. Keep in mind that if you begin making more money, the payment will go up relative to income when you file your taxes. If you have debt left over when the payment term is up, it is forgiven as taxable income. This would be a percentage of the remaining debt as opposed to the whole balance due so it's a good thing.
With older federal loans, there can be some variable interest rates. These can be subject to market conditions and sometimes change your payment when you least can afford it. Consolidating can help make these payments solid. As I mentioned earlier, the interest rate can be a bit higher but it is fixed for the life of the loan.
(Did You Know? A Consolidation can lower payments, reduce a loan term, provide forgiveness benefits, and average out high-interest loans. Find out if you should consolidate your federal student loans with the complete 17-page guide of the most important factors to consider. Click here to learn more and get the free guide.)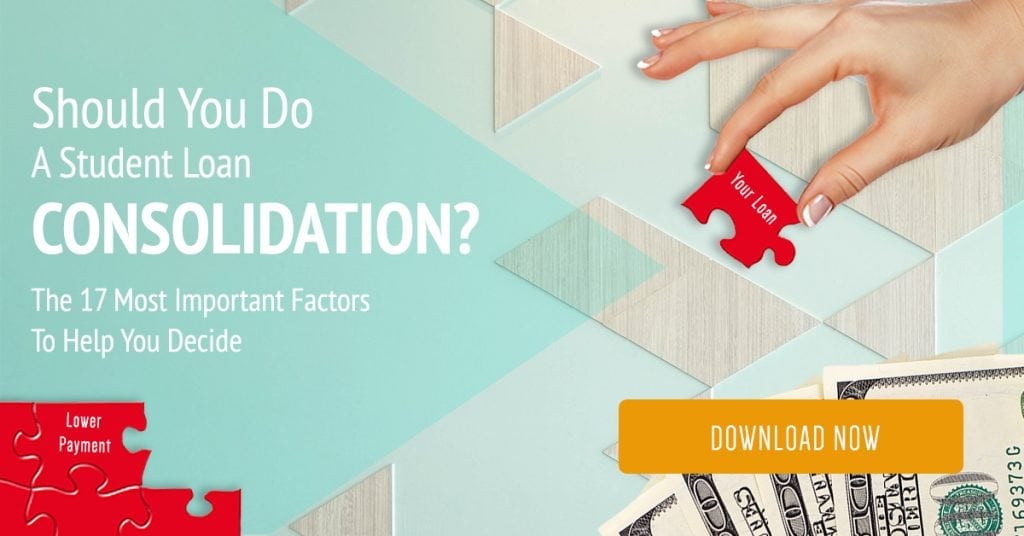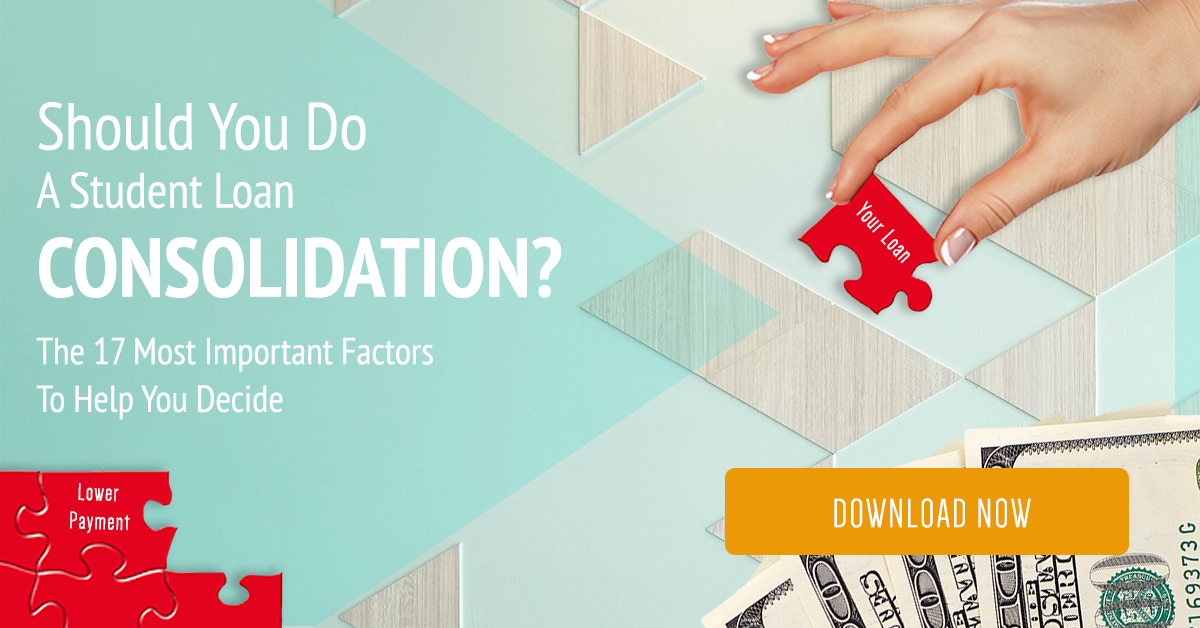 FAQs About Student Loan Consolidation
Q: Is student loan consolidation right for me?
Federal student loan consolidation may be for you if you:
Need to consolidate to be eligible for income-driven repayment or PSLF. This is the case if you have Federal Family Education, Perkins or parent PLUS loans.
Want a single federal loan payment each month, but don't need it to be drastically lower.
Are in student loan default and want to get back on track.
Refinancing private student loans may be for you if you have:
Made at least a few on-time student loan payments since leaving school.
Good or excellent credit, typically a credit score of 690 or higher.
A stable, reliable job.
Access to a co-signer with those characteristics, if they don't apply to you.
Q: Can student loan consolidation stop wage garnishment?
If you are behind on your federal loans, the government can begin garnishing your wages (15% of your paychecks) without you being able to plead your case. Private lenders do need to take you to court before they are able to begin garnishing your wages. Consolidation offers you one way to stop the garnishment of wages, by:
Offering a lower, more affordable monthly payment that you can keep up with
Creating a brand new loan that is in good standing and not in default
Making income-driven repayment plans available to you
Q: Does student loan consolidation lower payments?
Yes, student loan consolidation can lower your payments. You can choose a longer repayment term that lowers payments, select an income-driven repayment plan, or refinance with a private lender and qualify for a lower interest rate.
Q: Does student loan consolidation lower my interest rate?
Federal student loan consolidation will not lower your interest rate. Private student loan refinancing can lower your interest rate if you qualify – and you can consolidate your federal loans with your private lender if you choose to.
Q: Which student loan consolidation company is the best?
USSLC has numerous 5-star reviews for their customer service, efficiency, and ability to simplify the process. Loan servicers are rarely interested in working with you to save you money; you are just another number to them. USSLC can be reached by phone at 1-877-433-7501 or via email at consulting@usstudentloancenter.org.
Q: When is student loan consolidation a good idea?
You are eligible to consolidate your loans when you are:
Not currently in school or are enrolled at less than part-time status
Currently making loan payments or are within the loan's grace period
Have a good repayment history
Holding at least $5,000 to $7,500 in loans
If all of these hold true, you should consider consolidation if you want to:
Lower your monthly payments
Become eligible for income-driven repayment plans
Take advantage of low interest rates on private loans
Q: What is student loan consolidation vs rehabilitation?
Once you are 270 days late on payments to your student loans, you are in default. You will be given two options at this time: consolidation or rehabilitation.
Consolidation creates one new loan to replace all of your existing loans. Consolidation is your right, and after filling out the required forms, your loans will be consolidated. Your credit score or financial history is irrelevant. Once you have consolidated, you can enter into an income-driven repayment plan, or qualify for deferment or forbearance, that delay payments indefinitely.
Rehabilitation is a program where you make nine payments that are "reasonable and affordable" to you, regardless of what your actual student loan payment may have been before. After the last payment, your loan is rehabilitated, and you are out of default. Rehabilitation requires negotiation with your lender on what payment amount is "reasonable and affordable" for you. They will fight for a higher payment from you. You will need to rehabilitate each of your loans individually. Rehabilitation requires you to begin your nine payments immediately and without delay.
Are you considering a student loan consolidation? Let us know in the comment section below! 
Up Next: