Federal Student Loan Servicers, Nelnet and Great Lakes, did not have their contracts renewed with the Department of Education. This means that they will no longer be servicing your student loans in the future.
It is possible that this change will happen on December 14, 2020, although there are two optional six-month contract extensions that could delay the change until December 14, 2021.
Either way, a transition is in your future. So what does that mean for your loans and how you manage them?
Let's take a closer look at the reasoning behind the decision, and how it will affect you going forward.
Just click below to jump ahead!
The Reason for the Change: Streamlining Repayment
Education Secretary Betsy DeVos wants to streamline repayment of federal student loans.
Currently, you don't repay your federal student loans directly to the government or to the Department of Education. Instead, student loan servicers are contracted to collect payments and provide customer service.
The Department of Education has launched an initiative called "Next Gen Business Process Operations" with a goal of having all student loans repaid through studentaid.gov.
With the current system, all servicers use their own platforms for collecting payments.
On June 24, the Department of Education signed contracts with five servicers to provide customer support:
Edfinancial Services LLC
F.H. Cann & Associates LLC
MAXIMUS Federal Services Inc.
Missouri Higher Education Loan Authority (MOHELA)
Texas Guaranteed Student Loan Corporation (Trellis Company)
"This is another major step toward our commitment to improving customer service and holding our contractors accountable for their performance," DeVos said. "Students, parents, borrowers, and schools deserve a world-class experience when dealing with [Federal Student Aid], and I'm confident that FSA has hired the companies with the knowledge, experience and expertise to deliver that."
Nelnet CEO Jeff Noordhoek was "shocked" that their contract was not renewed.
DeVos and the Department of Education are hoping to create more accountability for servicers, as well as clear up confusion for customers and foster more consistent operations.
Quick Federal Student Aid Stats
Federal Student Aid provides more than $120 billion of financial aid
This is dispersed to more than 68 million students across 5,800 post-secondary institutions each year
Borrowers have options available to them to reduce payments and balances, including loan forgiveness, refinancing, consolidation, and income-driven repayment plans.
Nelnet and Great Lakes Have Been Servicing Loans Since 2009
The Department of Education currently contracts with 11 companies to service federal student loans, with Nelnet and Great Lakes among them. The two companies service nearly 13 million customers with loans totaling $428.7 billion.
So no, you are not alone in this! This change will affect a ton of borrowers.
Separately, Nelnet services 2.1 million private education and consumer loan borrowers that will not be affected by the change.
When forbearance was issued by the CARES Act in response to the COVID-19 pandemic, some borrowers found that Great Lakes had issued inaccurate information to credit bureaus. The company admitted and addressed the issue.
What You Should Do if Nelnet or Great Lakes Services Your Loans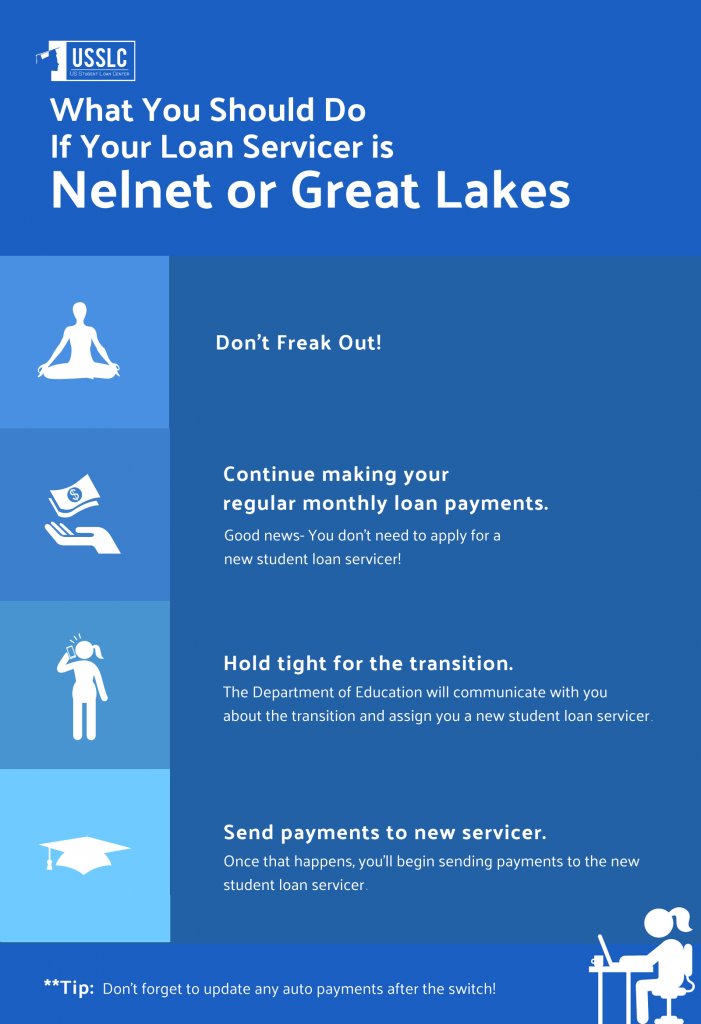 There is no immediate action required on your part if Nelnet or Great Lakes services your federal student loans. You should continue to make your payments in the same manner that you have been.
The Department of Education will assign you a new loan servicer and will communicate the change to you prior to the transition occurring. When you receive the information for your new servicer, you can begin sending payments to them.
Remember to update any Auto Payments that you have set up as these will not roll over with the loan.
Later, you may receive additional information on making payments through studentaid.gov.
For now, you will still make payments through a contracted servicer.
Up Next: