Before you graduate from college, or shortly after your graduation, you will want to collect information on who is servicing your federal student loans.
You will need to know the company (or companies, as there may be several), how to reach them, what your payments will be and how you can pay them, and when your grace period ends.
Staying up to date on student loan payments is important for maintaining a good credit score.
If MOHELA is your servicer, here's everything you'll need to know in order to take care of your student loans.
What is MOHELA?
The Department of Education contracts with nine different student loan servicers to collect payments on federal student loans and handle customer service with borrowers.
In order to make payments or change your repayment plan, you must know who your student loan servicer is, and how to contact them.
The Missouri Higher Education Loan Authority, or MOHELA, is the largest of the nine student loan servicers. They service 20% of all federal student loans.
The company has been in business for almost 40 years, and has offices in Columbia, Missouri, and Washington, D.C. MOHELA has an A+ rating with the Better Business Bureau, but only 1 out of 5 stars from customer reviews.
MOHELA services Direct Loans and Federal Family Education Loan (FFEL) loans, as well as private student loans.
How To Make Payments & Mange Your Account with MOHELA
The easiest way to manage your loan payments and view your account is to visit their website or download their app on your phone.
You can create a login and password using your Social Security number, date of birth, and last name.
One of the benefits to using the website or app is that you have access to your account information 24/7. You can make one-time payments at any time.
You can also call MOHELA at:
(888) 866-4352 for help in the U.S.
(636) 532-0600 for international assistance
You can expect to reach an operator at these times:
7 a.m. to 9 p.m. CT Monday through Thursday
7 a.m. to 5 p.m. CT Friday
You do not need to speak with a representative in order to make a payment; you can make payments by phone 24/7 using their automated system.
You will need to have your account information on-hand to make a payment over the phone.
Beyond using the website, app, and calling to make payments, MOHELA offers several other methods by which you can make payments.
Auto-Debit
You can set up Auto-Debit payments that automatically deduct from your bank account on the same day each month. They offer a 0.25% interest rate deduction for setting up Auto-Debit payments, which saves you money over time.
Payment By Mail
If you prefer to send a check or money order to MOHELA for your payment, you can do so.
However, you will want to login to the website or speak with a representative to ensure you have the correct mailing address for your loan. Different loan payments go to different addresses.
MOHELA has stated that checks and money orders take the longest amount of time to process, so you will want to send your payment early, to make sure it is received and processed on time.
Always put your 10-digit account number on your check before you send it.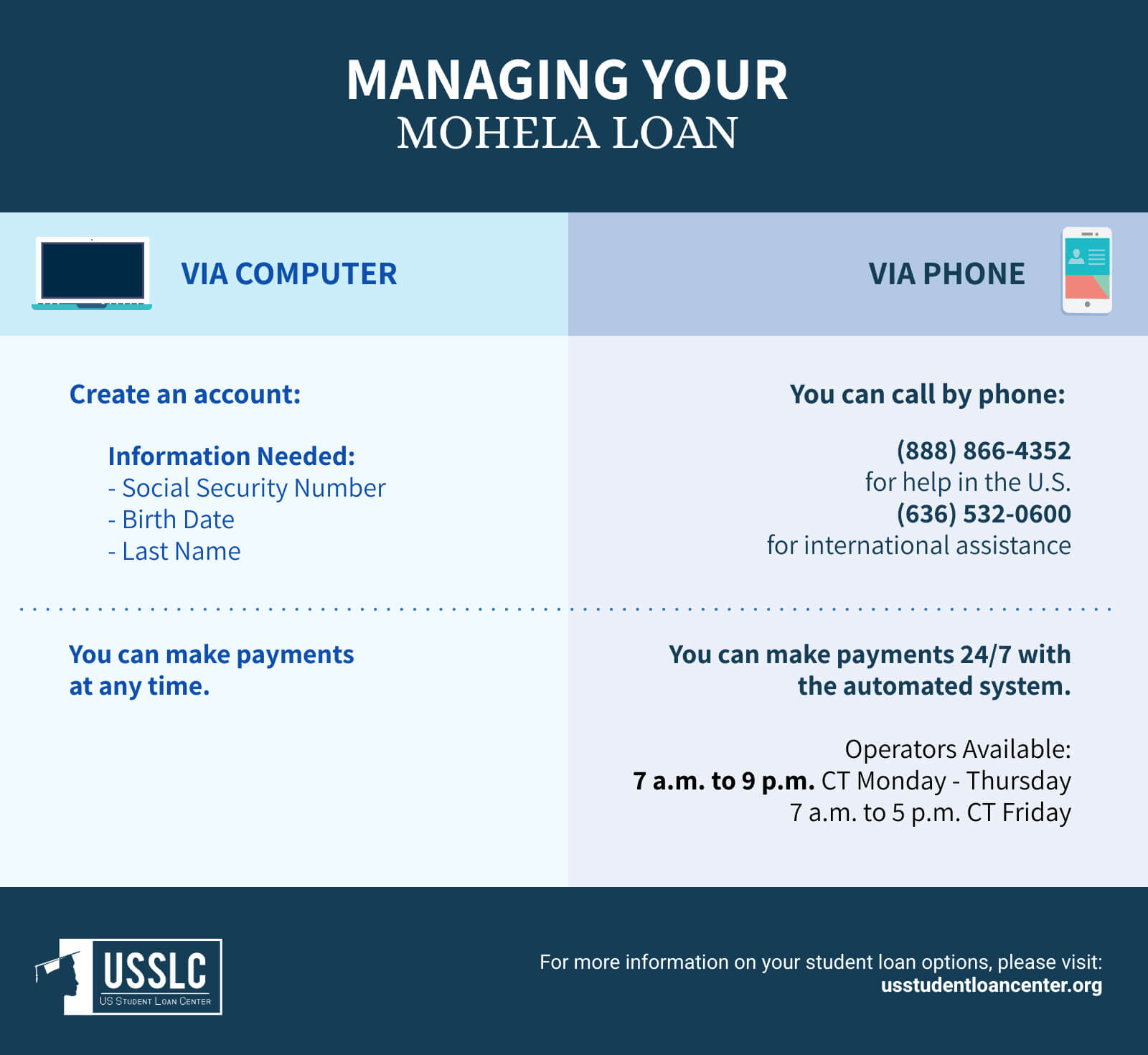 How Payments Work with MOHELA
When you submit a payment, the money will first be applied to fees and interest. The remaining money will be applied towards the principal.
If you have multiple loans with MOHELA, the money will be distributed across all loans proportionately.
If you are willing and able to make early payments or additional payments, there is no advanced payment fee. Additional payments will be applied to fees, interest, and then principal.
If you are on an income-based repayment plan, advanced payments will be applied to interest before outstanding fees.
You can choose to target which loans you would like to pay off first.
It is always recommended to target loans with the highest interest rates first, or any variable interest rate loans, since those can increase at any time. You can make requests to target specific loans online, by phone, or by mail.
If you are planning to make more or additional payments, you will need to let MOHELA know your plans. Otherwise, they will automatically apply payments towards your next payment.
Repayment Plan Options
Your loans with MOHELA may qualify for all of the available repayment plans:
Standard Repayment: The standard 10-year repayment plan in which all 120 payments are the same amount.
Graduated Repayment: Your payments start out low and increase over time. This is recommended if you expect your salary to increase in the future.
Extended Repayment: You can choose to extend repayment to 20 or 25 year terms, lowering your payments but increasing the amount of interest that you pay.
You can also choose from income-driven repayment plans that calculate your monthly payment as a percentage of your discretionary income. This will also extend your repayment term and increase the interest that you pay.
You'll need to qualify for income-driven repayment plans, which are based on your family size, income, and type of student loan.
You will also need to reapply for these repayment plans each year, otherwise you will default back to the standard repayment plan.
What If You're Having Trouble Paying?
If you are having trouble making your student loan payments, you should first see if you qualify for an income-driven repayment plan. If not, you can consider deferment or forbearance.
You do not want to ignore or miss payments, as your loan can go into default and your credit score can be negatively affected.
Your first step is to call MOHELA customer service to discuss your options. If you qualify for deferment, you can take a break from your loans and interest does not accrue on them. Situations that may qualify you for deferment include unemployment, economic hardship, and active military duty.
A last resort is a forbearance.
If you do not qualify for a deferment, MOHELA may issue a forbearance, which allows a break from your loan payments, but interest does continue to accrue during this time. If you do not make interest-only payments, the balances of your loans will increase during your forbearance.
What People Say about MOHELA
MOHELA does receive some complaints about their customer service, although they are not viewed as negatively as other student loan servicers.
The top complaints about MOHELA are:
Incorrect information given out
Too many phone calls when payments are a few days late
Issues with student loan transfers from other servicers to MOHELA
Incorrect processing of PSLF (Public Service Loan Forgiveness) payments
Confusing process for paying loans off early
How To Reach Customer Service
You can reach MOHELA at: 1-888-866-4352
You will be able to speak with a representative Monday – Thursday 7 a.m. – 9 p.m. CT and Friday 7 a.m. – 5 p.m. CT
All payment addresses depend on your location. Login to your MOHELA account or call for the correct address.
However, the MOHELA address for general correspondence is:
MOHELA
633 Spirit Drive
Chesterfield, MO 63005-1243
MOHELA website: mohela.com
MOHELA social channels: MOHELA Facebook & MOHELA Twitter
No matter who your loan servicer is, you will need to find out how to contact them and how to make full and on-time payments. MOHELA is the largest loan servicer, so it is possible you have at least one loan with them.
One helpful aspect is their ombudsman program.
If you contact MOHELA customer service but are not satisfied with their response, you can escalate your problem to a MOHELA ombudsman by submitting a request online.
A student loan ombudsman is a neutral third party who works with you and MOHELA to reach a resolution. Once you submit a formal request, the ombudsman will research the issue and contact you for more information as needed.
FAQs about MOHELA
Q: What does MOHELA stand for?
Missouri Higher Education Loan Authority
Q: Are MOHELA student loans federal?
Yes, MOHELA services Direct Loans and FFEL (Federal Family Education Loans), as well as private loans.
Q: Is MOHELA a private lender?
MOHELA does service private student loans, but they are not a lender. They provide customer service.
Q: Can MOHELA garnish wages?
Yes, if you default on your loans, MOHELA can garnish your wages to pay your debt.
Q: How to defer MOHELA student loans?
You can contact MOHELA customer service to request a deferment.
Q: How does MOHELA calculate interest?
Interest accrues (builds) daily on the unpaid principal balance.
Calculate your daily interest accrual using the following example:
Principal Balance     $25,000
x Interest Rate          6.8%
÷ Number of Days in a Year     365
= Daily Interest Accrual          $4.66
The daily interest accrual is multiplied times the number of days between payments. If your next payment is due on March 25 and your last payment was made on February 25, your unpaid interest accrued for the March payment equals $130.48 ($4.66/day * 28 days).
Up Next: