What Is Student Loan Rehabilitation?
If your federal student loans are in default because you have missed payments for 270 days, you will be given two options for getting out of default. The first option will be a Consolidation of all of your current loans into one new loan.
The second option is Rehabilitation, in which you make 9 on-time payments of an amount that you and your lender agree upon.
After those 9 on-time payments, your loan will be out of default and back in good standing, giving you access to repayment benefits and additional federal funding.
If Rehabilitation sounds like it might be the right path for you, you're in the right spot.
We'll take you through the ins and outs of student loan rehabilitation, including how it works and how to get started.
How Student Loan Rehabilitation Works
To begin the process of Rehabilitation, you will have to contact your lender or a collection agency that they have employed to help them recoup the balance of your loan.
You will have to negotiate with your lender to come up with a monthly payment that you can confidently make for nine months. They will fight to make the payment as high as possible, while you will fight for the payment to be more reasonable.
The payment will typically come out to about 15% of your discretionary monthly income.
As long as you make nine on-time payments (i.e. within 20 days of the due date) within a ten-month timeframe, your loan will be back in good standing. Your credit report will no longer reflect your loan being in default, although the late and missed payments will remain on the report for seven years.
If the government is garnishing your wages or tax returns to help pay for your defaulted loan, that will continue during the 9-10 months of repayment. After your nine on-time payments, those garnishments will cease.
Once you are out of default, you will be able to access different repayment plans and can choose an income-driven one, with payments that are affordable to you.
You can only rehabilitate a defaulted loan once, so make sure the next repayment plan you choose is one that you can afford going forward. Keeping your loan in good standing should be a priority for you.
Benefits of Student Loan Rehabilitation
Student loan rehabilitation is a good choice for getting your loan out of default because:
Your credit will improve when the default is removed from your report
Wage garnishment will cease once you complete your nine on-time payments
You will regain access to a variety of repayment plans
Your loan will be eligible for deferment and forbearance in times of hardship
You will again be eligible for additional federal student loans
Collection agencies will stop contacting you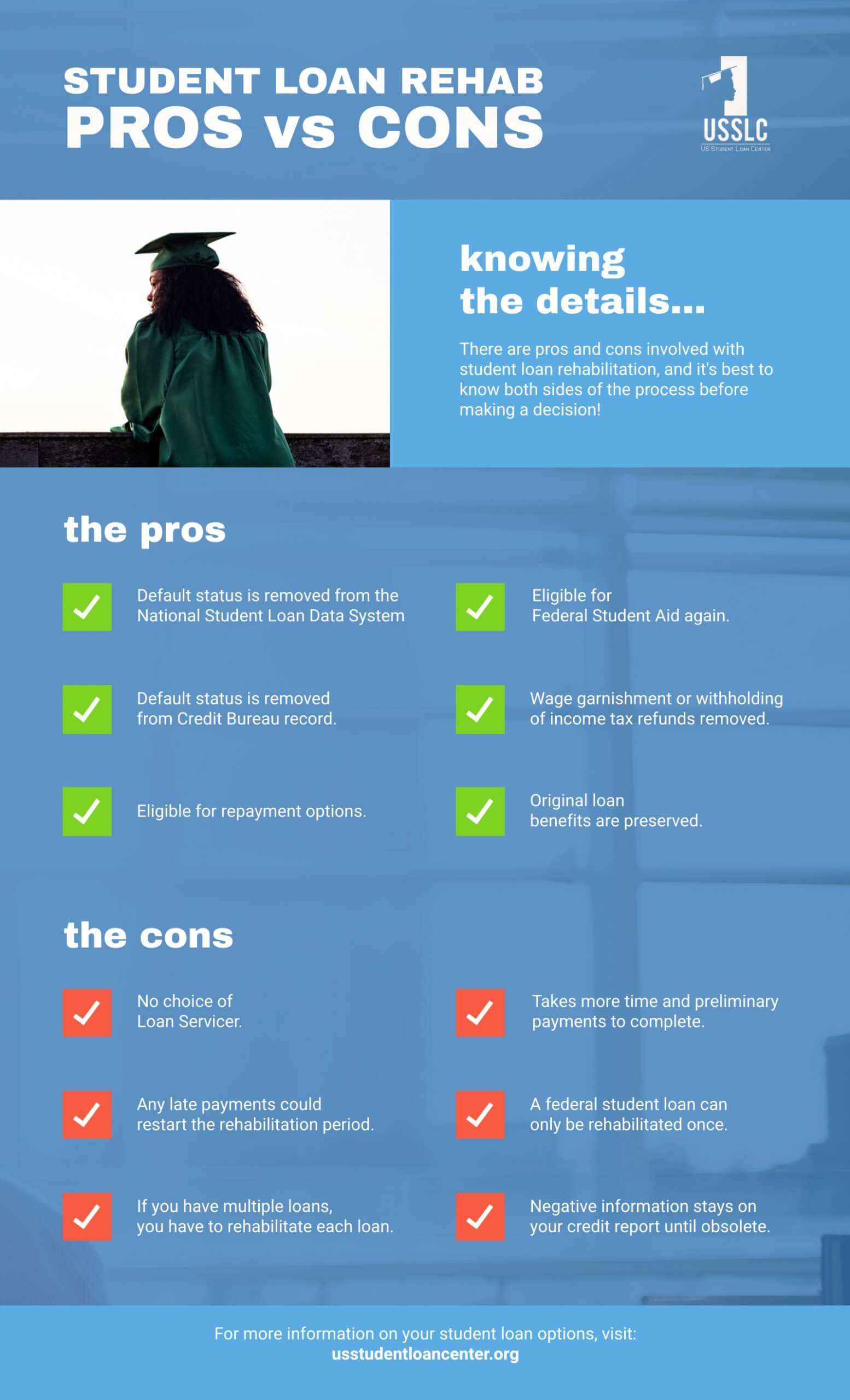 Student Loan Rehabilitation vs. Consolidation
If you are unsure if Rehabilitation is right for you, you may be considering your other option: Consolidation.
Consolidation creates one new loan for the total amount of all of your current loans. A consolidated loan typically has a fixed interest rate and a longer repayment term. Because you will be making more payments over time, your payments may be lower.
There are some significant differences between Rehabilitation and Consolidation that you will want to consider.
So how do the two options compare?
Time: With Rehabilitation, your loan will not be out of default until you have made all nine on-time payments, which can take up to 10 months. With Consolidation, your loans will be out of default with zero balances as soon as your application is completed, in 60-90 days.
Wage Garnishment Influences Eligibility: With Rehabilitation, you can move forward with the process while your wages or tax refunds are being garnished. With Consolidation, you must have the garnishment order or judgment removed in order to consolidate.
Your Credit Report: With Rehabilitation, your credit report will reflect that the defaulted loan was removed. With Consolidation, the previous loan default will remain on your credit report for up to seven years.
Number of Loans: If you are rehabilitating more than one loan, you will have to go through the process of rehabilitation on each one individually. With Consolidation, you will combine all of your existing loans into just one payment.
Payment Amount: Consolidation automatically extends the term of your repayment, allowing for lower monthly payments. With Rehabilitation, you must select the repayment plan.
Interest Rate: With Consolidation, you can switch from variable-rate loans to one fixed-rate loan. With Rehabilitation, your loan will continue with the same terms you previously had, unless you reach out to your lender and select a new repayment plan.
Collections Agencies: With both options, collection agencies will stop contacting you once you are out of default.
Total Interest Paid: With Consolidation, you will likely pay more in interest over the course of the loan. With Rehabilitation, you maintain your loan balance, repayment term, and interest rate unless you choose to change them.
Loss of Benefits: With Rehabilitation, you still have the same loans you started with; that also means that once you are out of default, you still have the same benefits to those loans. With Consolidation, you have a new loan, and you forfeit the borrower benefits, including interest rate discounts, principal rebates or loan cancellation benefits that are tied to your current loans.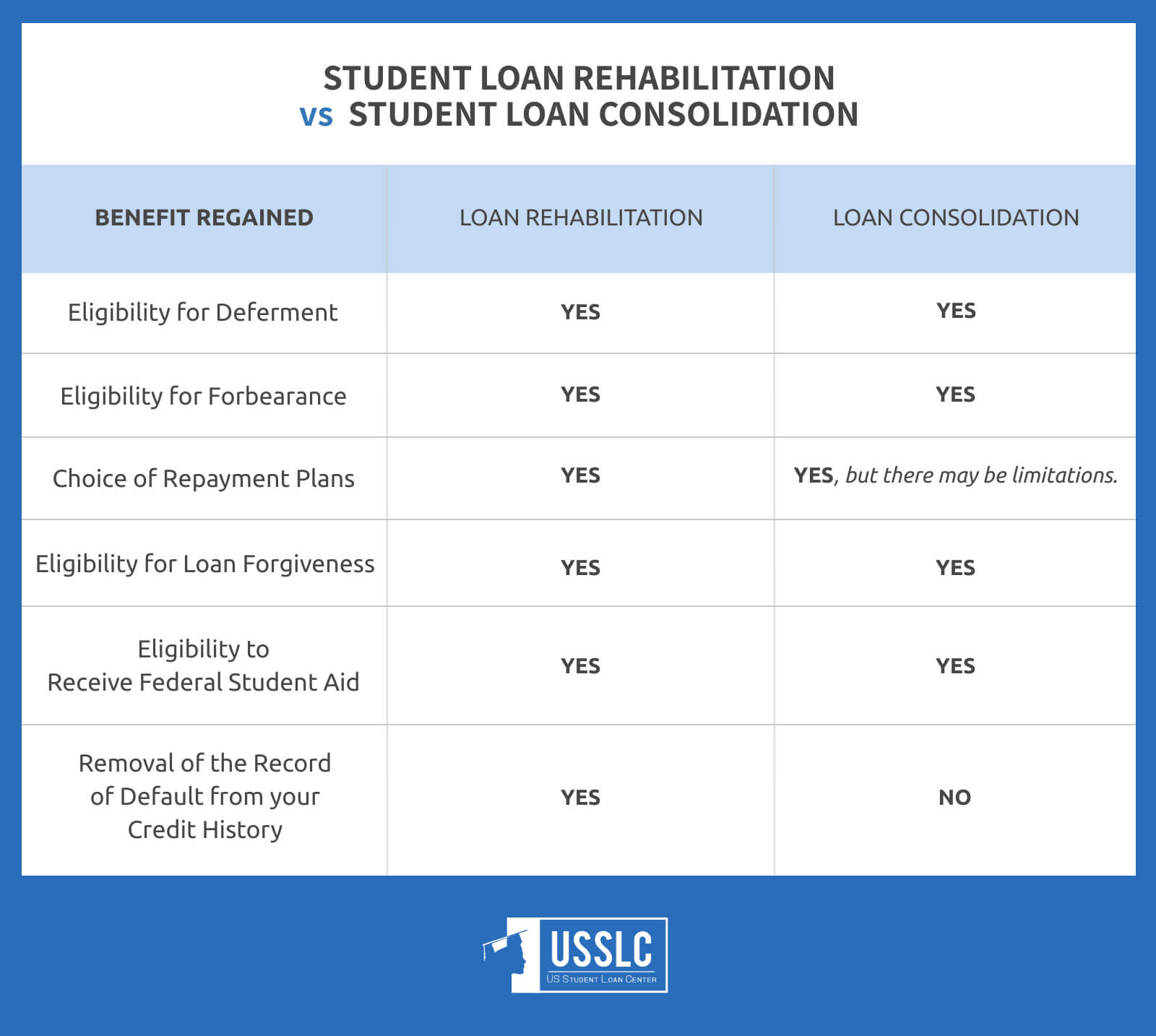 How to Enter Student Loan Rehabilitation
In order to enter Rehabilitation, you must contact your lender or the collection agency that they have hired to contact you. You will need to provide income documentation so that your payment amount can be calculated. You then must make your nine on-time payments to successfully get your loan out of default.
Your lender should discuss your options with you, including the pros and cons of loan rehabilitation and loan consolidation.  If you decide on rehabilitation, your lender should start out with you making payments of 15% of disposable income. If this amount is not affordable or reasonable to you, you can negotiate the amount if you provide income and expense documentation. There is a minimum loan payment of $5 each month.
Which Loans Qualify for Student Loan Rehabilitation
Only federal student loans are eligible for rehabilitation. These include:
Federal Stafford loans (formerly GSL)
Federal Perkins loans (formerly NDSL)
Federal PLUS (Parent Loans for Undergraduate Students)
Federal Grad PLUS (PLUS loans for graduate and professional students)
Federal Consolidation loans
Federal SLS (formerly ALAS)
Health Professions Student Loans (HPSL)
Nursing Student Loans (NSL)
What Happens After Rehabilitation
Make sure that you keep track of when your Rehabilitation period is over; you will automatically be placed on a new payment plan that likely has a higher payment than you paid during Rehabilitation.
Once you have rehabilitated, your loan is out of default and you are eligible for any of the pre-default flexible repayment plans, including income-driven repayment plans.
Be sure to choose a repayment plan that you can afford.
FAQs About Student Loan Rehabilitation
Q: Will student loan rehabilitation help my credit?
Yes, as soon as you complete Rehabilitation, your defaulted loan(s) will be removed from your credit report. However, your late and missed payments will not be.
Q: Does student loan rehabilitation stop tax offset?
Yes, but not until the loan is Rehabilitated. While you are making your nine on-time payments, your wages and your tax refunds can still be garnished. Keep this in mind when negotiating your payments; garnishment affects how much you can afford to pay each month.
Q: How long does student loan rehabilitation take?
Student loan Rehabilitation takes nine or ten months to complete.
Up Next: