As you prepare to apply to college, there will be a lot to consider: your intended course of study, the size of school you'd like to attend, where you'd like to attend school, if you'll live on campus, and of course – how you'll pay for college.
To help students estimate their costs for different schools, the Federal Student Aid (FSA) office created the FAFSA4caster tool. This free online tool is not a replacement for the official FAFSA, but can be a starting point for juniors, seniors, and anyone just beginning their research into college.
What is FAFSA4Caster?
The FAFSA4caster is a worksheet that can help you to figure out how much federal student aid you may expect to qualify for.
This means:
Direct Subsidized Loans
Direct Unsubsidized Loans
Federal Pell Grant
Federal Work-Study
The FAFSA4caster will not account for institution- or state-based financial aid, or any scholarships you may have earned. However, you will be able to enter these onto your financial worksheet if you have numbers available.
The FAFSA4caster is intended to be an early estimator for you (and your parents) to get an idea of what it will cost out-of-pocket to attend various schools that you're interested in.

How Accurate is FAFSA4Caster?
The FAFSA4caster is only as accurate as the information that you put into it!
Unlike the FAFSA, you can round or estimate the numbers that you input, but you'll want to be as exact as you can. This will provide you with more accurate numbers to work off of.
When it comes to federal loans and grants, the FAFSA4caster is fairly accurate on how much you'll qualify for. However, for federal work-study, the tool uses the national average that is awarded; your actual amount may be higher or lower.
What does the FAFSA4Caster tell me?
Once you've filled out all of the basic information, income and asset information, the cost of your chosen institution, and any additional grants or scholarships you expect to qualify for, the FAFSA4caster will give you numbers for:
Your Expected Family Contribution
Aid available to you
Out of pocket cost
The EFC is the dollar amount your family is expected to contribute to paying for college. Based on the numbers you provided, your school will give an amount that they anticipate you can afford to pay towards tuition. That number is your EFC.
You can input the cost for a variety of schools so that you can determine which schools are most affordable for you. This may become a big factor in where you apply.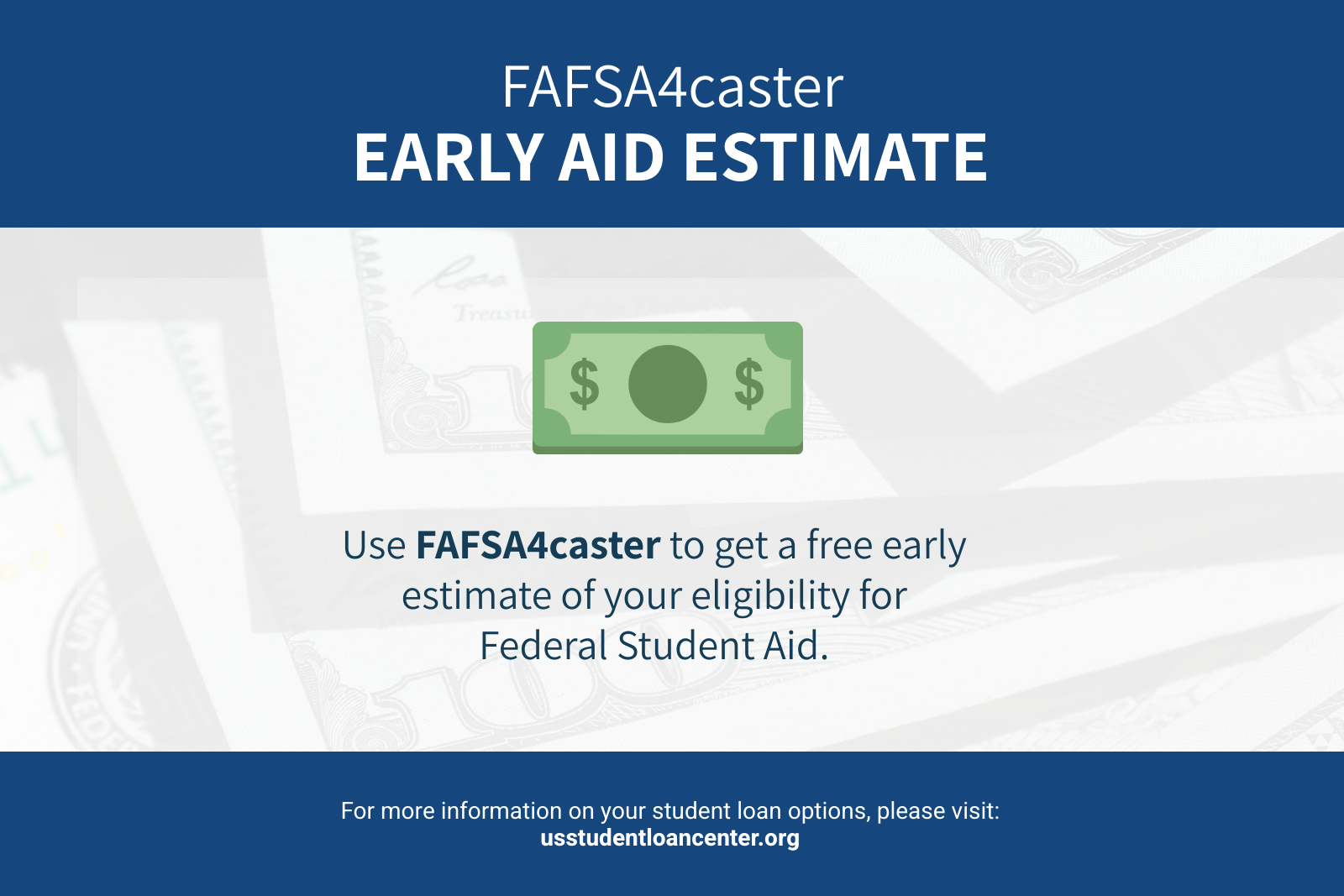 How the FAFSA4Caster Works
The FAFSA4caster tool works by analyzing your household's income and assets to determine how much federal financial aid you qualify for. It is a simplified version of the FAFSA.
What do I need to fill out the FAFSA4Caster?
In order to fill out the FAFSA4caster online, you'll need:
Student's personal information (birthdate, marital status, dependency status)
If you're a dependent, your parents' information (age, marital status, family size)
An estimate of your income and financial assets
An estimate of your parent's income and financial assets (if you are dependent)
An estimate of your spouse's income and financial assets (if you are married)
Estimated Cost of Attendance at your school of choice (College Navigator is a helpful tool)
How to use the FAFSA4Caster Tool
First, you'll be asked to enter some basic information.
Remember that in order to qualify for any federal aid, you need to be a U.S. Citizen or eligible non-citizen.
Next, you'll enter information about yourself and your parents.
This will include things like how much income your household earned last year, and assets your family has. Don't forget that the more accurate the information you input, the more precise your outcome will be.
Once you've completed entering the required information, the FAFSA4Caster tool will give you an eligibility prediction for financial aid.
There are a few ways to use the information that you gather from using the FAFSA4caster tool.
Once you get some numbers to work off of, you can:
Determine what schools are affordable for you that you should apply to
You can make adjustments to your financial situation that allow you to qualify for more federal student aid
Look into additional scholarship opportunities if the EFC given to you is higher than what's comfortable for you and your parents
The FAFSA4caster is a rudimentary tool for those just starting the process of looking into college. The information that you enter into it cannot be transferred over to the real FAFSA when it comes time to fill it out.
The FAFSA opens on October 1 every year – make sure that you fill it out, even if you're not sure that you qualify for federal financial aid. You could miss out on valuable aid opportunities if you elect not to fill it out. Some schools use the FAFSA to determine their own financial aid and scholarships, and you don't want to miss out on those either.
Up Next: