Navy Federal student loans are available to members of the Navy and their families. These are available through the Navy Federal Credit Union, which was once a bank but has grown over the last 80 years.
In 2010, the Navy Federal Credit Union merged with the USA FED to allow even more federal employees to open accounts with them. Today, this institution is host to all uniformed personnel regardless of the branch of military service. It now caters to Department of Defense civilian employees, family members, and retires.
It's not surprising that this is also the place many of them go to secure things like a Navy Federal student loan early payoff. What does it take to qualify for Navy Federal student loans?
Navy Federal Student Loans | A Primer
In this article:
What is a Navy Federal Student Loan?
This type of loan is different from what college students apply for each semester through the U.S. Department of Education.
Navy Federal student loans supplement but not do not replace federal loans like a Stafford loan.
In some cases, they will pay for loan consolidations for those who have student loans from many different lenders.

Who Qualifies for Navy Federal Student Loans?
Not everyone can qualify for Navy Federal student loans. They have rules to follow. And the first is you must already have an account with them. That means you must qualify to have an account there.
The Navy Federal Credit Union is a charter financial agency with limited membership. You must work for the Department of Defense as a member of the military or as a civilian to bank there. You also qualify if you used to work for the Department of Defense and retired or if you are an honorably discharged veteran.
Family members of someone who qualifies for an account can bank there, too. Family members who can get an account at the credit union include:
Grandparents
Parents
Spouses
Siblings
Children
Anyone of these can apply for an account at the Navy Federal Credit Union and try to get a student loan from them.

What Other Requirements are There for a Loan?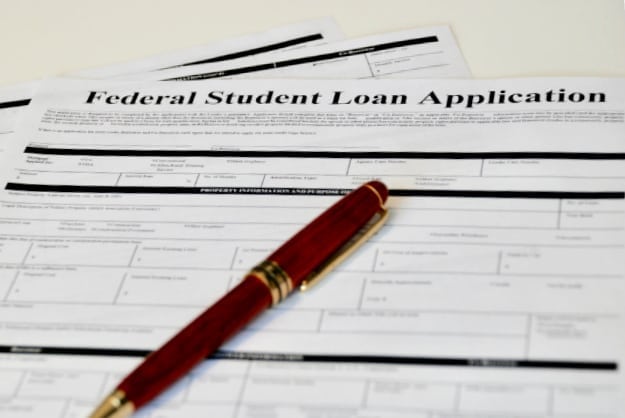 Navy Federal student loans help fill the gaps left by federal student loans, so that is where most people start. To qualify for a federal student loan, you must:
Complete an application for Federal Student Aid (FAFSA)
Be a U.S. citizen or an eligible noncitizen
Enroll and be accepted in a degree program
As part of the application process, you must provide proof of family income. And if you want a subsidized federal loan, show them that you need financial help to attend college.
After the federal student loan process is complete, you move on to apply for private student loans like those provided by the Navy Federal Credit Union.

What are the Rules for a Private Federal Student Loan?
Most banks or credit unions that offer student loans have their own application system.
The Navy Federal Credit Union works with LendKey, a servicer for the loans. Unlike the federal application process, private loans look closely at credit history.
They may ask you to provide a cosigner, too. That's someone who has good credit and is willing to take responsibility for your loan in case you don't pay it back. A cosigner comes in handy for anyone with a bad credit history. Having a cosigner can also get you a lower interest rate even if you do qualify for the loan on your own.

How Does the Navy Federal Credit Union Consolidate Loans?
Loan consolidation is one way to save both time and money when you have several student loans. The idea is to put everything under one payment to save time and maybe lower your monthly payments and interest rate.
Navy Federal Credit Union will provide money to pay off federal loans and private loans from other banks. That way, you make just one payment to the credit union each month.
Benefits of a Navy Federal Credit Union consolidation loan include lower interest with both variable and fixed rates. The interest drops more if you choose automatic payments, too.
As with a regular student loan, you might need a cosigner to consolidate through the Navy Federal Credit Union. The cosigner is no longer responsible for your loan after you make 12 total payments on time.
Check out this video from Navy Federal for how to reduce your debt: 
Subscribe to US Student Loan Center
Private student loans like those from the Navy Federal Credit Union help people of all ages get the education they need. Yes, even those with bad credit. It fills in the income gaps for those going to school. Plus, it is a good way to consolidate your loans and make payments more affordable.
What advice would you like to share for those who would like to apply for Navy Federal student loans? Share it with us in the comments below!