It is no secret that student debt has increased rapidly over the last two decades.
Many graduates haven't been able to meet their loan repayments, or even find the intended employment to qualify for paying the money back.
If you are one of those students, then you will relate to the following setbacks:
Bad credit rating disallowing you from getting a mortgage.

Unable to afford big purchases like a car or expensive luxury items

Preventing cross state moves

Delaying starting a family until a later age
Whether former students are paying back their loans or are still unemployed, the burden is holding back their quality of life – with many still not finding their desired job in what they studied.
Essentially, even the goal they've worked hard for isn't being made available to them after they graduate from their courses.
Before we look at why the student loan debt has skyrocketed, let's take a look at the actual figures from the last decade.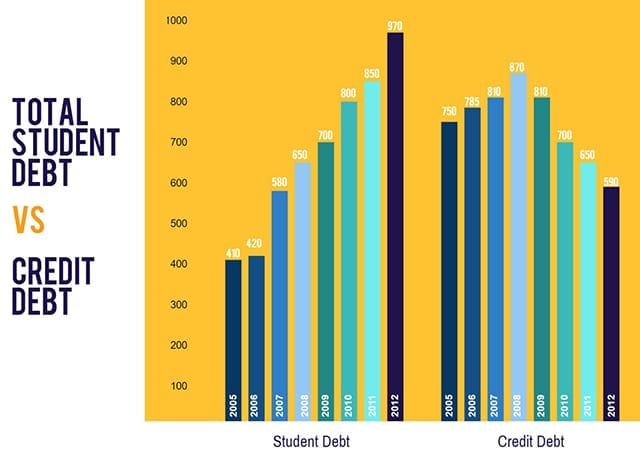 The crossover in mid-2009 shows the credit crunch in full action, as loan and credit card borrowing takes a nosedive.
However, student debt is unaffected and continues to rise very rapidly while credit card debts have started to decrease.  
Why has student debt continued a steady growth?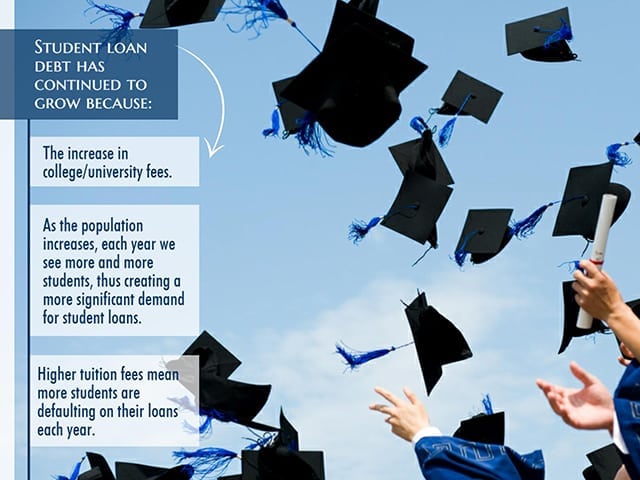 For example:
Back in the nineties, the average student debt after graduating with a Bachelor's degree was around $10,000.
Now, more than two-thirds of college graduates have a debt of $35,000.
Why can't the majority of students make repayments?
Mainly because there's a lack of jobs in certain sectors, although students have their required qualifications.
It's been the norm that graduates have had to settle for unskilled labor, accepting much lower wages than anticipated, or even worse, are still unemployed.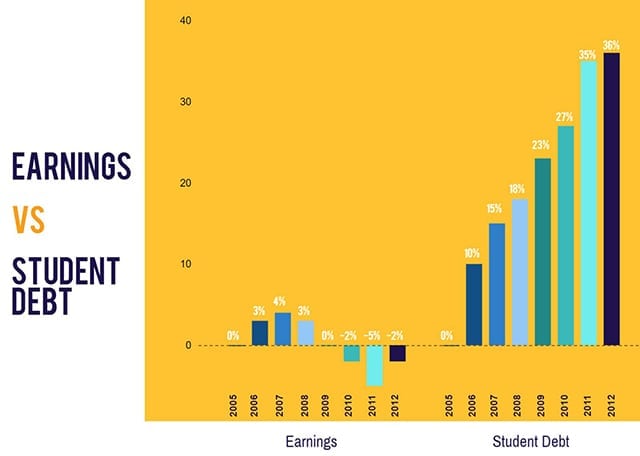 Although student debt has rapidly increased since 2005, unaffected by the recession, students trying to pay off their debt were still affected by their earnings by the loss of jobs and quality of the economy.
So even though borrowing has increased, it's just put much more graduates in the position of being up to their eyeballs in student debt.
Where is the money being given to students coming from?
The loans are handed out by the state, through government grants, which means the burden is on the US taxpayers.
The problem is further exacerbated through universities and colleges raising their tuition fees – which has far outpaced the tax revenue coming in from US citizens.
Both students and tax payers get a bad deal…
Unfortunately, it's a situation that has no winners from either side.
The former students have significant debt on their shoulders, with also not getting the right job they studied for; in contrast, taxpayers see more significant austerity measures which harm public services and get higher taxes imposed, while their economies are being supplied with skilled workers who aren't able to contribute.
What's in store for the future of college/university students?
This subject does have a lot of doomsday stories, especially from the main media.
However, the good news is that it's still only a small percentage of students who have defaulted, while the majority have been able to find employment (since the economic recovery has taken place), or a handful has gone on to other studies and changed their course for the future.
New data from the US treasury suggests…
Students with the highest risk of defaulting on their loans are the ones who drop out through the course or didn't manage to obtain their degrees.
They may have borrowed small, but the lack of enthusiasm and resources would kill their ambition to pay the money back.
Those dropping out of a course are three times more likely to default on their loans than graduates.
Advice for those wanting to study
Research thoroughly not only on the course and college/university reputation, but also look further into the job sector that you plan to study.
For example:
Does the industry have demand for new job positions?
What are experienced workers already saying about the industry?
This information is easy to research through like-minded blogs and forums on the internet.
Conclusion
The previous recession took a big hit on graduates coming out of their studies but have managed to start rebuilding their lives throughout the recent years.
If the government start lending responsibly, while also being stricter with education on providing courses with higher guarantees of a job, then the benefits will start to come back.