American baby boomers paid for their college education with wages from their summer jobs.  
Over the subsequent few decades, universities have raised tuition fees each year.
 Now, the millennial generation has been forced to take on crushing loans.
As you will note there are a number of theories for the exorbitant fees. 
Various research projects have come up with conflicting theories.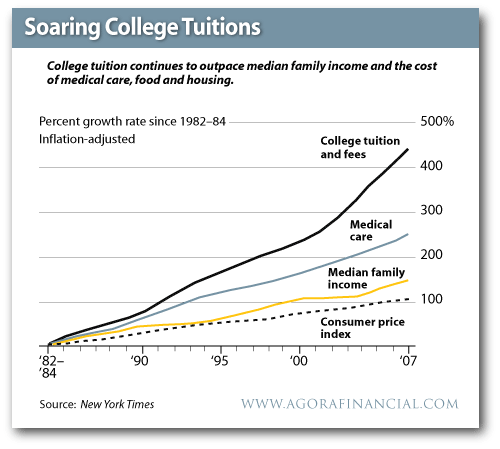 For the past 30 years, tuition fees have risen faster than the inflation rate.
This trend continues for American students and families, and there is no suggestion it will subside.
The Department of Education Integrated Postsecondary Education Data System analyzed data from the Delta Cost Project. 
The result was College Tuition Cost trends from 2000-2010. 
The data tells the story for three different educational facilities.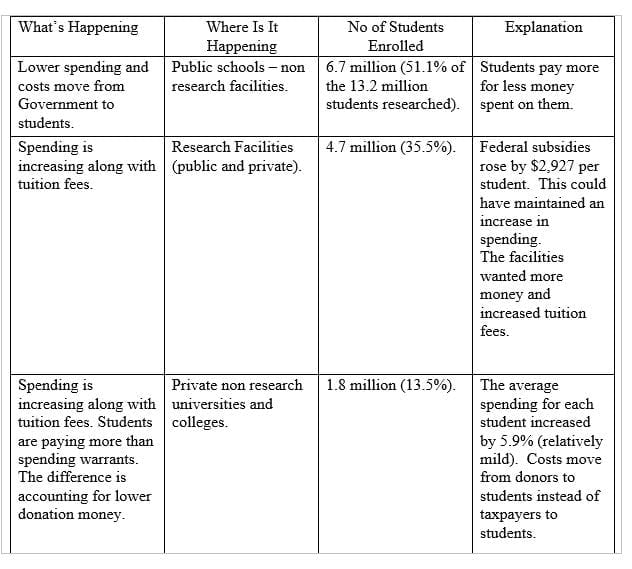 Research universities have been spending too much money. 
Their all-time record tuition fees can't meet these expenses.
Other public universities are increasing fees to make up for Government cuts to higher education. 
There is an increase in spending in private schools, but the tuition fees are increasing at a higher rate.
This is happening to cover declining donations.
Different Theories for Rising Tuition Fees
College tuition fees have continued to rise, and an increasing number of students are facing unmanageable debt. 
Critics are quick to blame the institutions for overpaid professors and deluxe amenities like climbing walls and lazy rivers.
Yet, many colleges rely on part-time staff who are paid minimal wages and are given no benefits.  
Further, the model college in recent research increased enrollments rather than raising tuition fees.
Lobbyists at public colleges blame reduced Government support for rising fees.
Ronald Ehrenberg argues that people who have studied public education conclude that this is the case.
Yet it could be argued that colleges have other means of revenue such as sports programs, hospitals, and endowments.
A recent study blames available federal student aid. 
Contrary to this theory, it has been found that institutions will set fees based on the richest students' capacity to pay, and these students never access loans.
Different reasons for rising student fees are inconclusive:
Overpaid faculty staff and luxurious facilities.

Reduced Government funding.

Institutions taking advantage of Federal Student loans.

 
The Argument Against Drastic Cuts to Higher Education Funding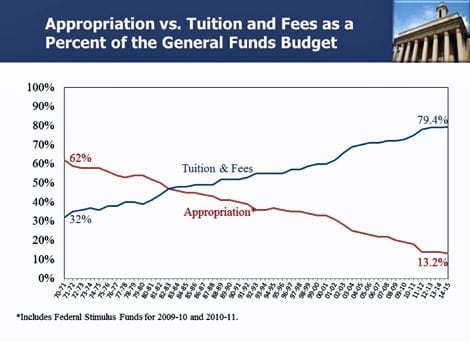 College Administrators are quick to blame increased college fees on slashed public funding. 
Universities have been forced to continually raise tuition year after year. 
Yet, the rise parallels closely with an increase in Government subsidies as a result of a rise in College students.
When the baby boomers reached the age to attend college Government funding increased more than fourfold.

Since the Great Recession, state funding has risen to $81 billion.

The Pell Grant Program has risen to $34.3 billion annual funding from $10.3 billion in 2000.
The facts speak for themselves.
Could an Increase in Attending Students Account for Increased College Costs?
Enrollment in colleges has increased by almost 50% since 1995. If colleges accept more students, they would have to pay for:
More housing.

More food.

More facilities.

More professors.
If public funding increases institutions might find it difficult to cover costs if funding per student decreases. 
However, it could be argued that a college does not have to accept more students than it's financially comfortable with. 
More students paying fees would help to alleviate extra expenses.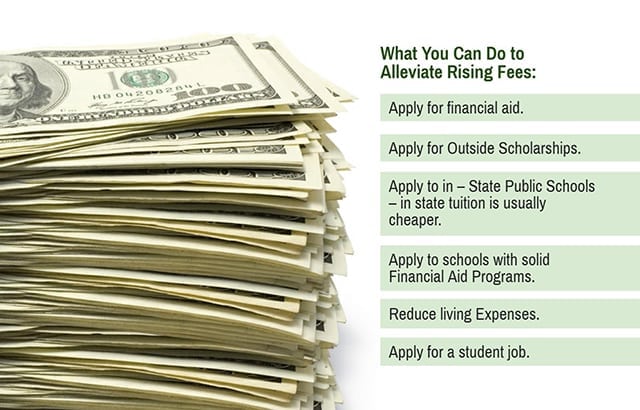 It would seem that there is no definitive explanation for ever-increasing college tuition costs. 
Colleges blame a drop in Government Funding while research would prove otherwise. 
Outsiders blame Colleges for extravagant spending. 
Without a consensus, it will be impossible to work towards more reasonable fees for students and families.