If you've just graduated, it's time to face the music on your student loans. Your grace period will be over in a matter of months, and average student loans now total over $34,000 per person.
There are some common mistakes you can avoid as you begin repayment, that can save you thousands of dollars in interest and fees over the course of your loans.
Let's take a look at how to pay off student loans, including an easy 4 step plan to repayment.
4 Steps to Repayment
There are a myriad of options available to choose from when it comes to student loan repayment.
Income-driven repayment plans, public service loan forgiveness, deferment, forbearance, consolidation, refinancing – you can make all kinds of choices on when, how, and how much to pay on your loans!
Although the Standard Repayment Plan allows you to pay off your loans in 10 years or less, and the average borrower expects a <10 year timeline, the average time spent paying on student loans is actually 21.1 years.
Not only does this mean that most people are choosing longer repayment terms, but they are also paying significantly more in interest – but in exchange for a lower monthly payment.
At the end of the day, there's 3 things that affect how long repayment will take you: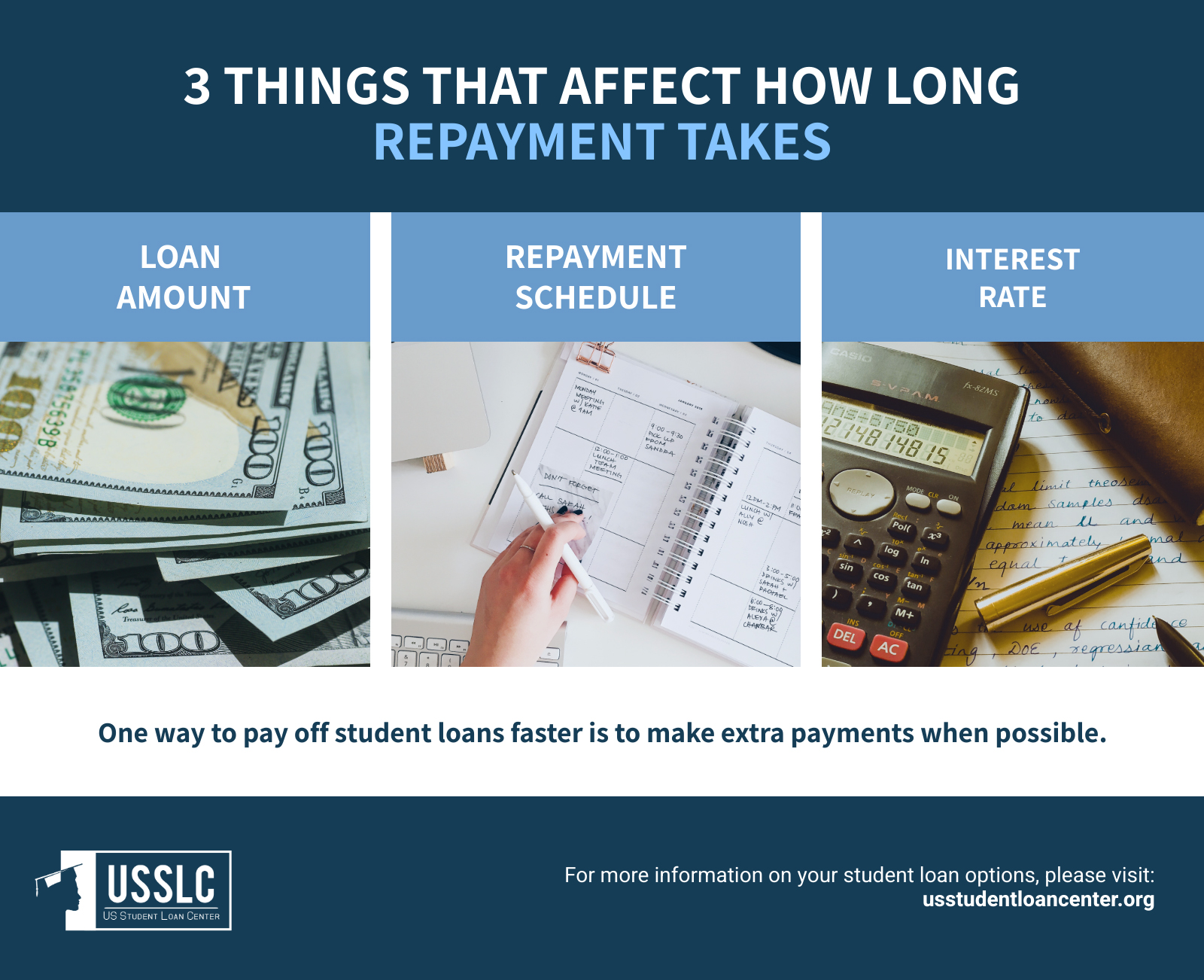 As you begin to navigate the world of student loan repayment, there are 4 steps you can take to ensure that you pay off your loans in a timely manner, without being strangled by your monthly payment.
1. Find Out How Much You Owe & Choose A Repayment Plan
The first step to paying off your loans is to get in touch with your loan servicer.
Ignoring your loans won't make them go away (in fact, it can lead to default, delinquency, additional fees, and low credit), and it's important that you know how much you owe.
After graduation, you will automatically be placed on the Standard Repayment Plan.
The Standard Repayment Plan allows you to pay off your loans in 10 years because it is based solely on the amount of your loans – and does not take into account your income. That means this plan may not be right for everyone.
Typically, if your yearly salary is greater than your loan balance, you can choose to remain on the Standard Repayment Plan and pay off your loans in 10 years.
If your total loan balance exceeds your yearly salary, you will want to explore different repayment plan options.
Keep in mind that extending your repayment term and lowering your monthly payment will ultimately result in you paying more interest over the course of the loan.
2. Pay Down the Principal
If you are able to put additional money towards your loans beyond the monthly payment amount, make sure that you contact your loan servicer and have that money applied to the principal balance of the loan. Otherwise, your loan servicer will automatically apply that amount to interest, or to your next payment – which will do nothing to lower your balance or save you money long-term.
The faster that you pay down your principal, the less interest can be charged on your loans. This is where you can save thousands of dollars over the course of the loans.
3. Keep a Detailed Spending Plan
Even an income-driven repayment plan can feel unaffordable if you don't keep track of your money. Keep a detailed spending plan so that you can see where your money is being spent each month.
This will also help you to pinpoint areas of waste and overspending so that you can eliminate them.
4. Live Within Your Means
If you have taken out significant student loans, come to terms with the fact that your monthly payments will be part of your life and budget for years to come.
Unlike other debts, they are rarely canceled through bankruptcy, and the federal government has almost unlimited ability to collect on them – including garnishing your tax returns and wages if you choose not to pay.
Living within your means and following a budget will be critical to ensure your loan payments are made in full each month. While it is tempting to spend more than you can afford on luxury items and vacations, stick to items that are affordable based on your income and expenses.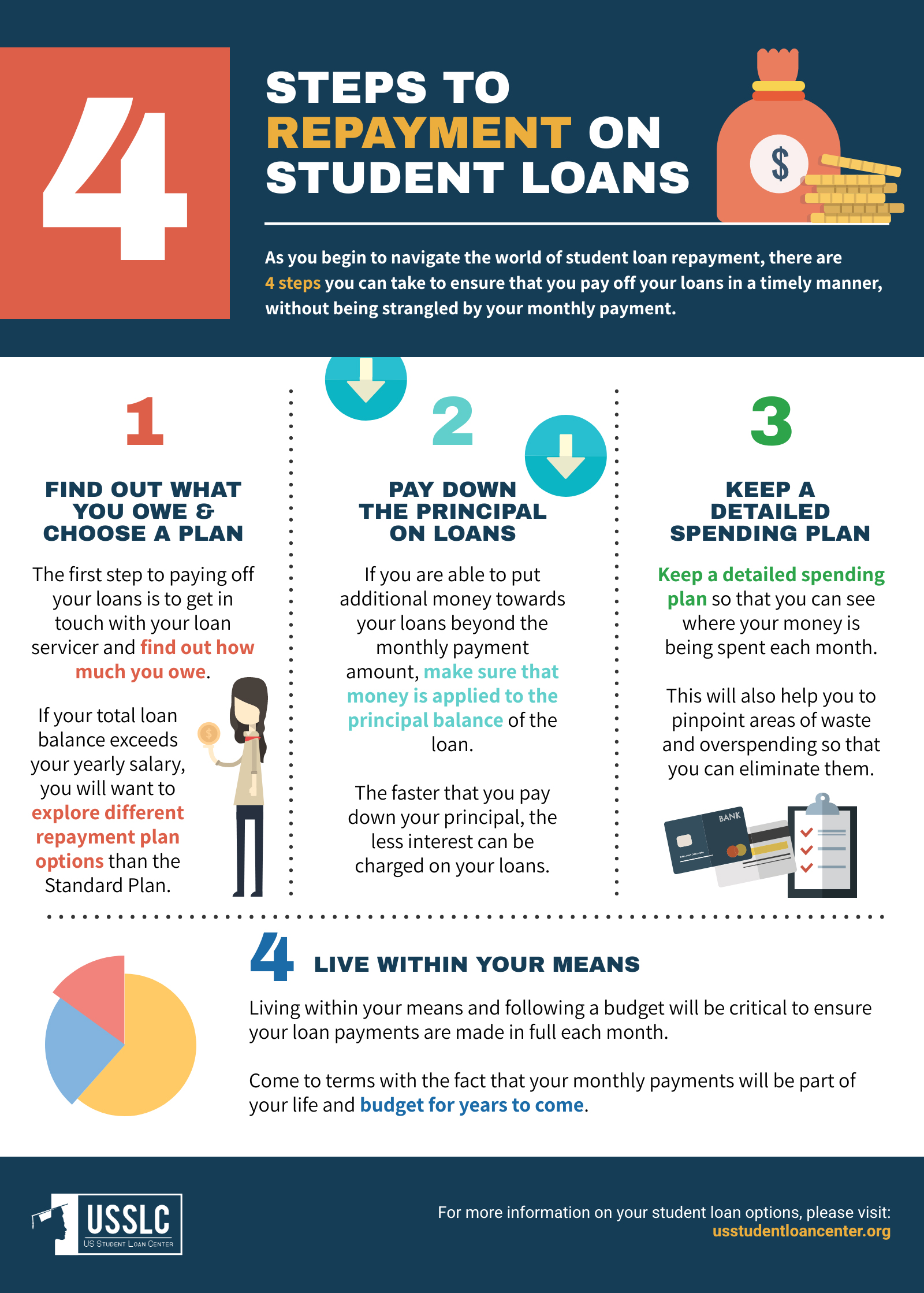 5 Tips on How To Pay Off Student Loans
Once you've selected a repayment plan and begun payments, you may feel that you've done everything you can when it comes to paying off your student loans. But that's far from the truth!
If you're committed to paying off your loans as quickly as possible, there are several other ways to speed up the process and save money.
1. Consider Paying Off Loans With the Highest Interest First
Every year, the federal government releases the interest rates for student loans, based on interest rates in the market. This means that your loans will likely have a variety of interest rates. Make sure you know your interest rates!
Pay any extra principal payments towards the loans with the highest interest rates.
While it may be tempting to address your highest balances first, higher interest rates will cost you much more over the course of the loans.
2. Make Extra Payments
Whenever you have a surplus in your budget, put that amount towards your student loans. It may not be as exciting as a trip with your friends or a new car, but it will get you out of debt much faster, freeing up plenty of income for future investments and purchases.
Make sure that you contact your loan servicer to ensure your extra payments are being applied directly to your principal balance.
3. Consider Refinancing
If you have multiple loans, it can be difficult to keep track of payments and due dates. This often leads to missed payments and additional fees.
Refinancing your loans with a private lender (a bank or financial institution) can do several things:
Create one new loan that encompasses all of your prior loans, with one payment and one due date
Lock in a low fixed interest rate
One thing to consider with refinancing is that by moving from a federal student loan to a private student loan, you will forfeit any benefits to federal student loans, including the ability to apply for Public Service Loan Forgiveness, and any access to income-driven repayment plans.
Refinancing with a private lender also requires you to qualify on your own – meaning your credit score and income must meet their requirements for approval.
4. Autopay
Another way to simplify repayment is to enroll in Autopay with your loan servicer. This ensures you don't miss a payment – which many servicers will reward you for. Enrolling in Autopay often comes with an incentive of a lower interest rate (usually a 0.25% decrease).
5. Make Bi-Weekly Payments
If you are able to manage your money effectively, get in the habit of making payments every 2 weeks (right after you receive your paycheck), rather than once each month.
Paying on principal alone 12 times each year will help your loans disappear before your eyes.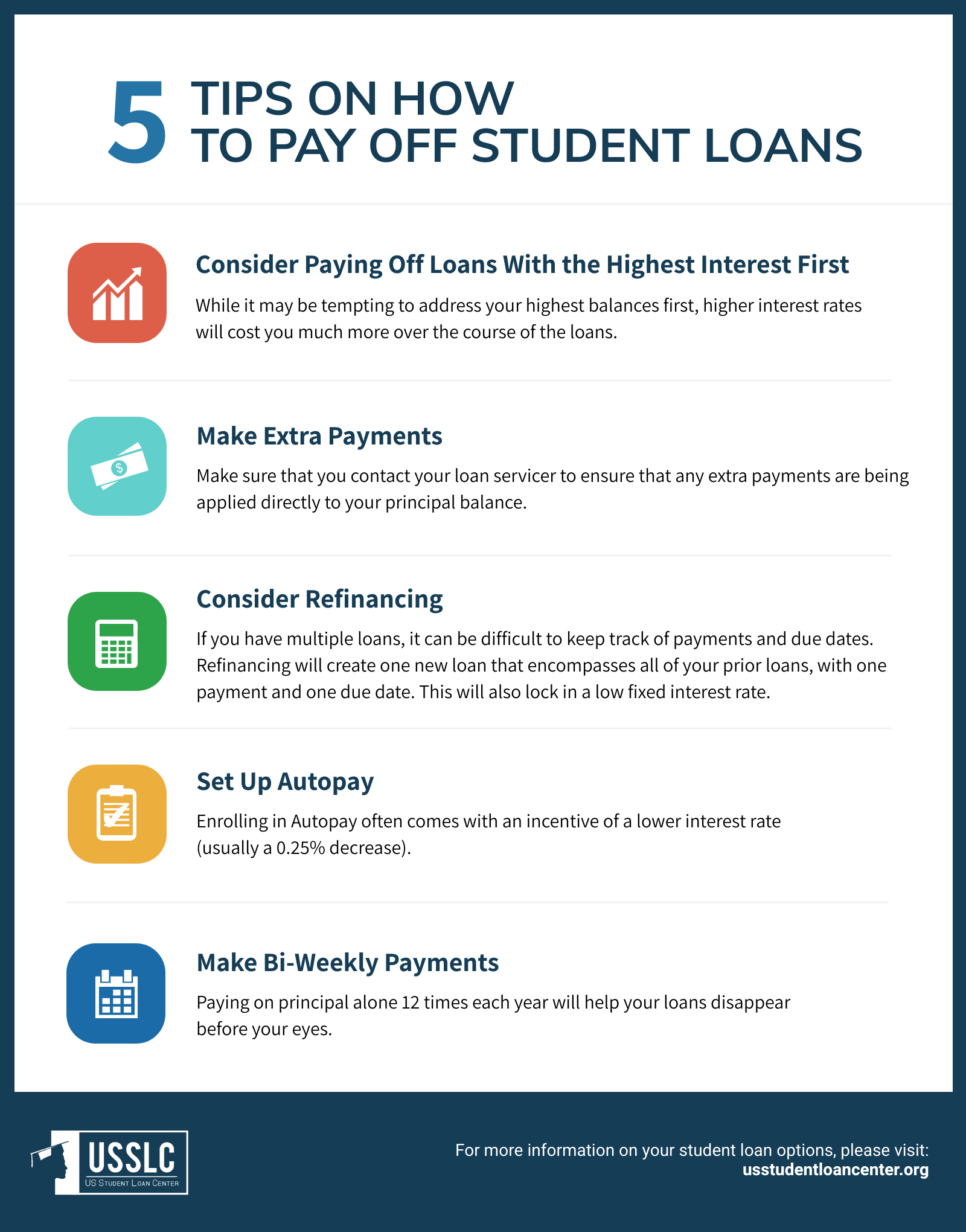 Conclusion
Student loan debt follows millions of Americans around for decades, but you don't have to be one of them.
Take control of your student loan debt and make repayment a priority – you will see the benefits in how much money you save, and how quickly your loans are a thing of the past.
FAQs on How To Pay Off Student Loans
Q: How to pay off student loans in 5 years?
If you want to pay off your student loans in 5 years, be prepared to make double payments on a Standard Repayment Plan. You can pay every pay period instead of once a month. You'll want to contact your loan servicer to ensure that your extra payments are being applied to principal, instead of towards interest or your next payment.
Q: How to pay off student loans early?
Paying off student loans early requires you to make additional payments on the principal amount of your loan balance.
Q: How to pay off student loans faster?
Paying off your student loans quickly requires dedication and budgeting – because you'll need to make extra payments every month until they're paid in full. Contact your loan servicer to get the balance of your loan, and to ensure that your additional payments are being applied to principal.