If you want to improve your student loan situation, you can consolidate federal student loans.
Compared to private loan consolidation, merging your federal loans is a much easier task. After all, you have access to many student loan consolidation companies who can help you.
If you prefer to do it alone, you can also apply for student loan consolidation yourself. Still, first you need to decide if loan consolidation is right for you.
(Note:' Should I consolidate my student loans?' is a question we get all the time here. That's why we created this easy guide you can download for free to help you understand if a Student Loan Consolidation is the right choice for you. Click here to learn more.)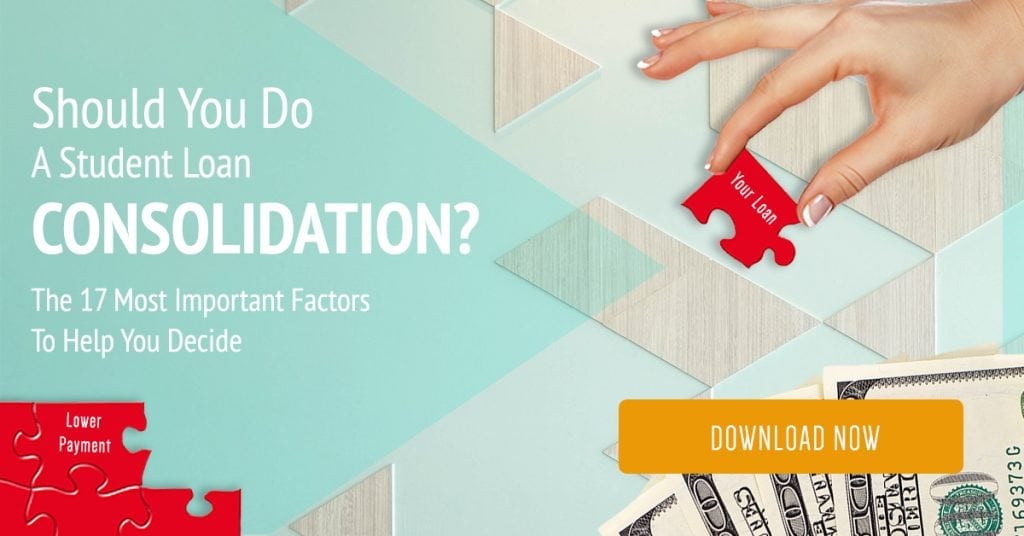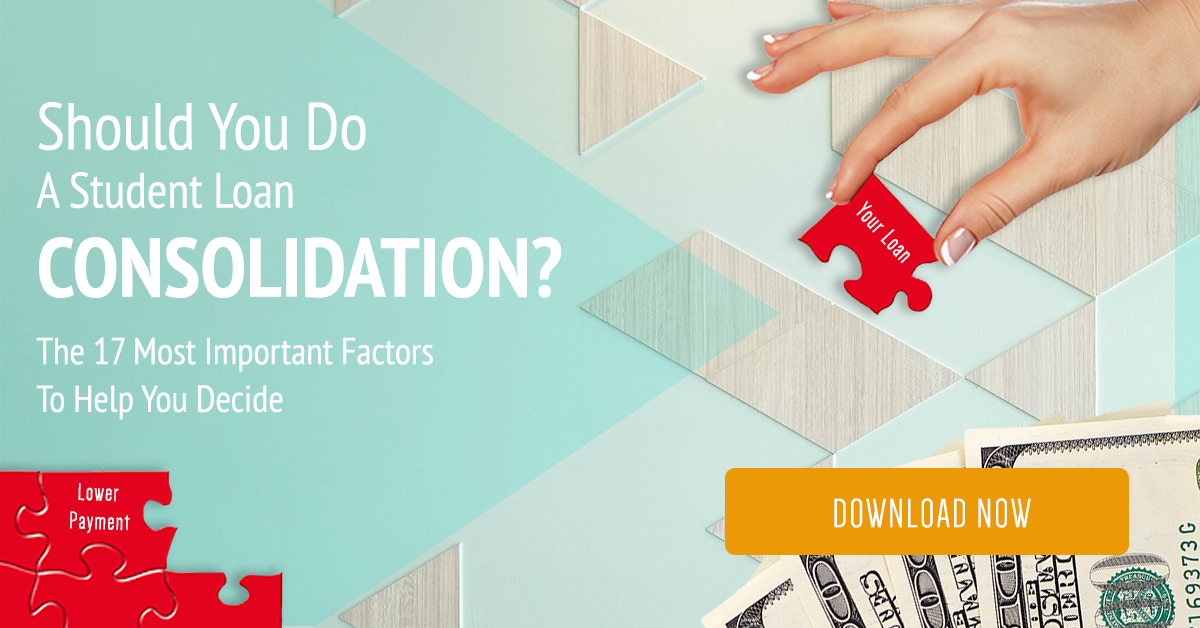 Consolidate Federal Student Loans | What You Need to Know
In this article, we'll answer the following:
1. What Is a Direct Consolidation Loan?
A direct consolidation loan is a combination of all your federal loans. You can apply for this through the Direct Consolidation Loan Program.
This is a government program that combines several loans into a single monthly payment. Through this program, you can choose from various repayment plans to find one that suits your needs.
2. When Can I Consolidate My Federal Student Debt?
You can only consolidate your federal student loans at certain times. These are:
During the grace period after graduation, leaving school, or enrolling half-time; and
After repayment starts
The only time you can combine federal student loans is if you're a parent who has a Parent PLUS loan. In this case, you may apply for consolidation even while your child is still in school.
3. What Are the Repayment Plans to Choose from?
You can choose from several repayment plans. Some of your options include:
Standard
Graduated
Extended
Revised PAYE
(Did You Know? A Consolidation can lower payments, reduce a loan term, provide forgiveness benefits, and average out high-interest loans. Find out if you should consolidate your federal student loans with the complete 17-page guide of the most important factors to consider.Click here to learn more and get the free guide.)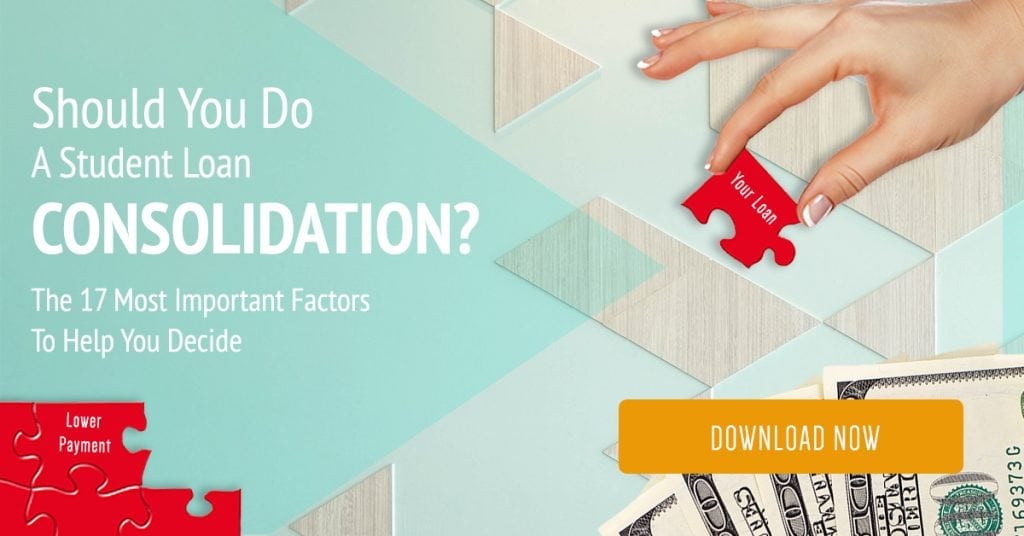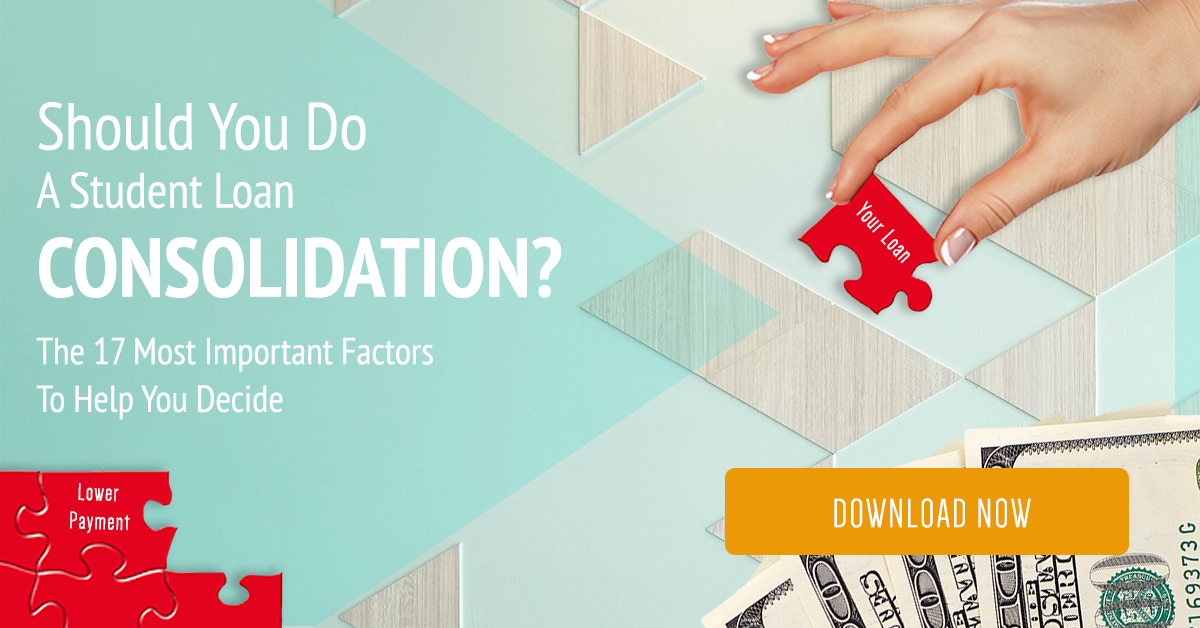 4. How Do I Qualify?
To be eligible for federal student loan consolidation, you must already be making payments.
You also need to have any of the following loans:
Perkins Loans
Parent PLUS Loans
Grad PLUS Loans
HEAL Loans
Nursing Student Loans
Some existing consolidation loans
 5. How Long Is the Application Process?
The application process for loan consolidation takes around 30 to 60 days. In some cases, it can last up to 90 days, depending on your loan servicer.
 6. Can I Consolidate My Loans With My Parents or Spouse?
No. You cannot merge your federal student loans with your parents or spouse's student loans. You can only do that with private student loans.
7. How Do I Apply for Federal Student Loan Consolidation?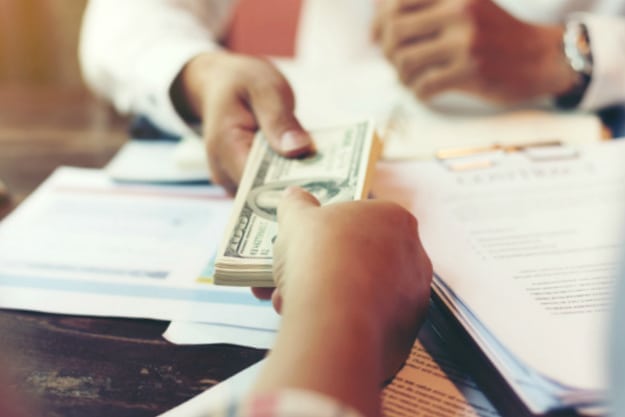 Log in to your account at StudentLoans.gov and fill out the online application form. You can also submit a paper application through the U.S. post. The Department of Education will assign a consolidation service and help you through the entire process.
8. How Will Consolidation Affect My Interest Rates?
Your direct consolidation loan will have a fixed interest rate. This is calculated based on the weighted average of the individual loans.
Avoid loan servicers who promise very low interest rates, as they are often scams. Remember, your consolidation loan will always have an interest rate somewhere between your lowest and highest-interest loans.
(Did You Know? High interest rates on public student loans can be significantly lowered by doing a student loan consolidation. To find out more, download the free guide Should I Consolidate My Student Loans. Click here to learn more.)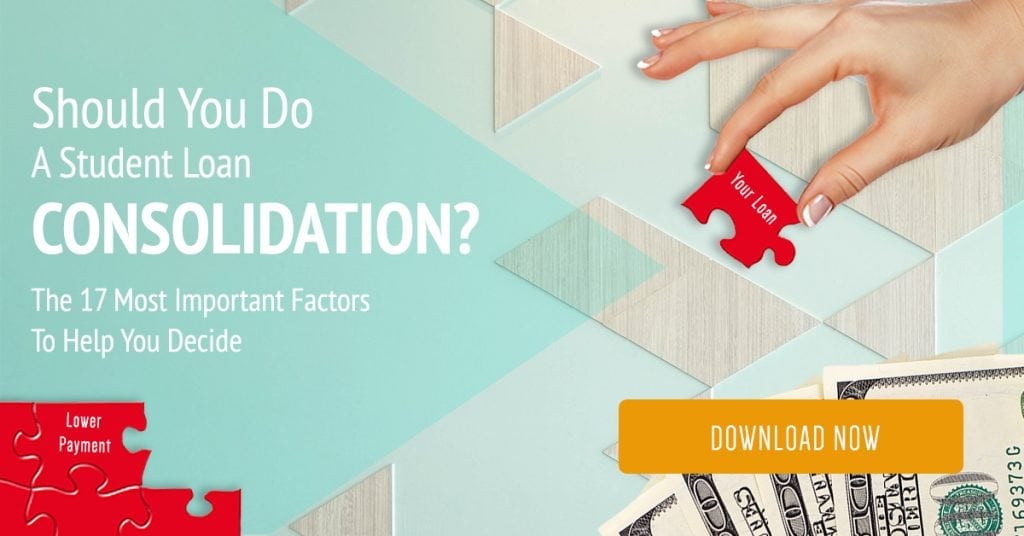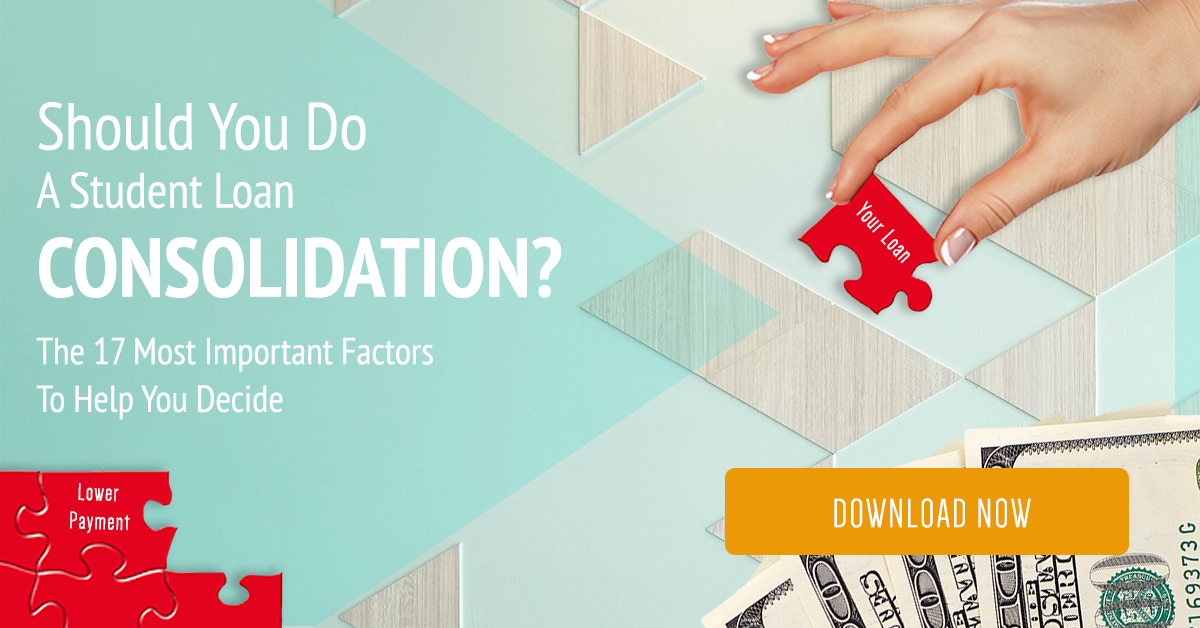 9. Can I Consolidate My Federal Loans with Private Student Loans?
You cannot include private student loans in a direct consolidation loan.
While some private lenders accept federal and private loan consolidation, if you merge both federal and private loans, you won't be able to apply for government debt relief programs.

Learn how to consolidate federal student loans in this video by Bank of America:
https://www.youtube.com/watch?v=c5fnKU6-BpI
Consolidating your federal student loans may be the wisest decision you can make.
If you don't want the inconvenience of paying several loans, or you want to ease your financial burden by making lower monthly payments, consolidation is a great choice.
Whatever your reason is, make sure to do your research before you make a decision.
Do you have other questions on how to consolidate federal student loans? Let us know in the comments below.
Up Next: USSLC at 2018: Your Student Loan Guide for a Debt Free New Year
Editor's Note: This article was originally published on February 16, 2018, and has been updated for quality and relevancy.