Student debt is a shadow that looms over many young adults today, providing a stumbling block to financial independence and long-term plans.
Read on for tips on how to get yourself out of it.
Up, up and away
If there's one thing that has ballooned to new unaffordable prices, it's tuition fees.
Millennials have borne the brunt of this increase, with the sharpest hikes coming in the last twenty years.
The graph below shows how growth in tuition fees has outpaced growth in other important areas, in this case,  medical costs and cost of living.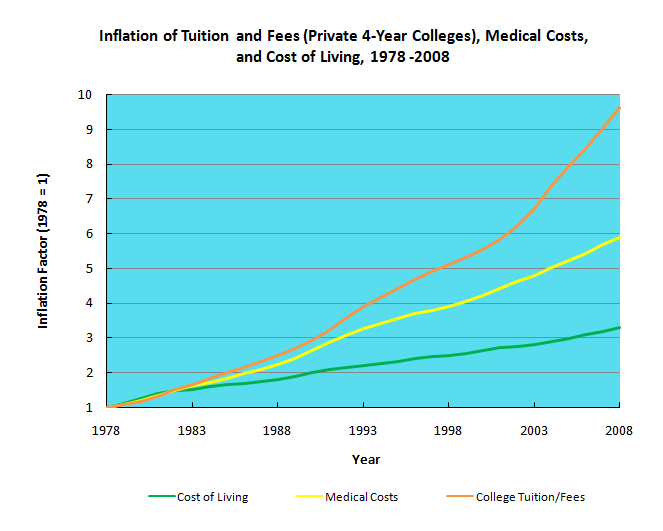 People get around this in a number of ways:
Living at home for college/university

Taking a second job

Asking for a raise
It is increasingly common for young adults to live with their parents.
Easy, high-earning manufacturing jobs have gone out the window in the west, and it is harder than ever to earn a high salary.
Even with a decent salary, the debt makes it hard to establish financial independence.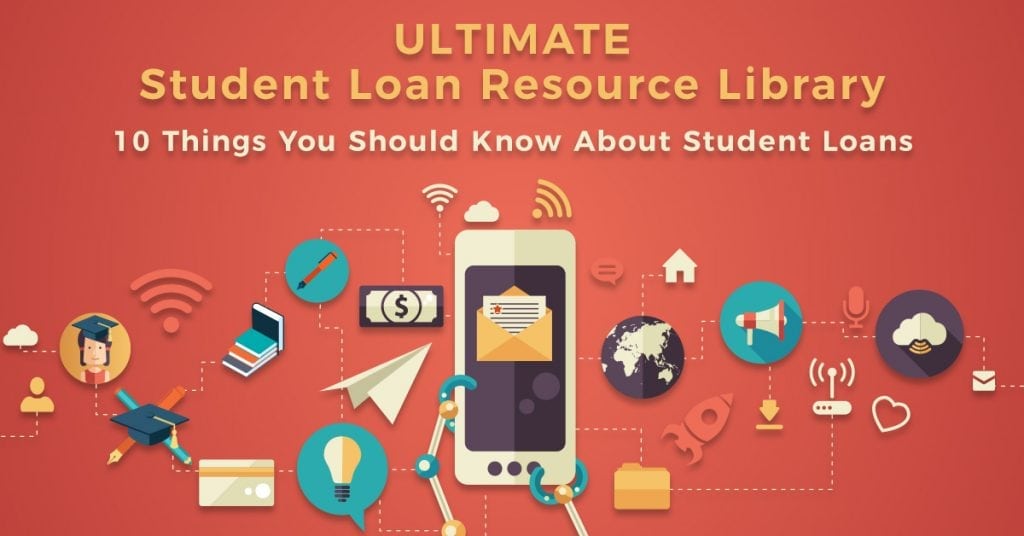 The numbers
A study done by FINRA brought to light the fact that a staggering two-thirds of millennials (those who became adults around the turn of the millennium) have at minimum one source of outstanding long-term debt.
One-third of borrowers have more than one.
Student loan debt has overtaken credit card debt and auto loan debt.
The average borrower has around $35,000 in student loan debt.
The good news is that it is far from being unpayable, and here are some tips on how to get rid of it.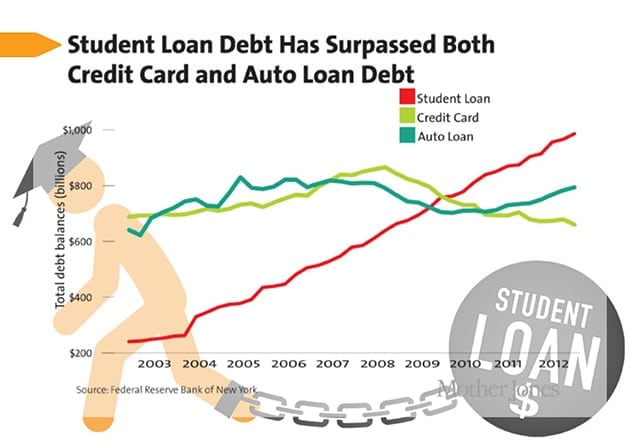 1. Consolidate your loans
Consolidating your loans means taking multiple loans and merging them into one, more manageable and more affordable loan.
If you took private loans, you will need to go to your bank or lender for your options.
The benefit of consolidating your loans into one is that it can reduce:
Stress associated with tracking and paying off multiple loans

Time spent managing these

Payment rate, both in terms of amount paid and how often
And then, any free cash that you have, thanks to this consolidation, should be used to pay off bigger chunks of the new, more manageable loan.
2. Defer loans
While deferring might seem counterintuitive to getting out of debt, hear us out.
If you defer a loan, you stop paying on the loan for a set period.
This period can be anywhere from a few months to a year.
In many cases, the government can pay the interest on the debt so that you are not accruing more of it.
If this isn't the case for you, don't defer.
No point accruing more debt while not paying it back.
However, if you are one of the lucky ones, listen up.
Delaying payment for a while will let you pay off smaller debts, so that once your deferment period ends you can apply the cash flow to your student loan.
The deferment period can be a period of clearing your head and momentarily taking the weight of paying the loan off of you, allowing you time and energy to plan.
(Bonus Tip: Need even more tips for paying off student loan debt? Take 10 extra free tips in the Ultimate Student Loan Resource Library. Inside you'll find 10 extra tips to help you pay off your student loan debt the easiest and smartest way possible. Check it out and learn more here.)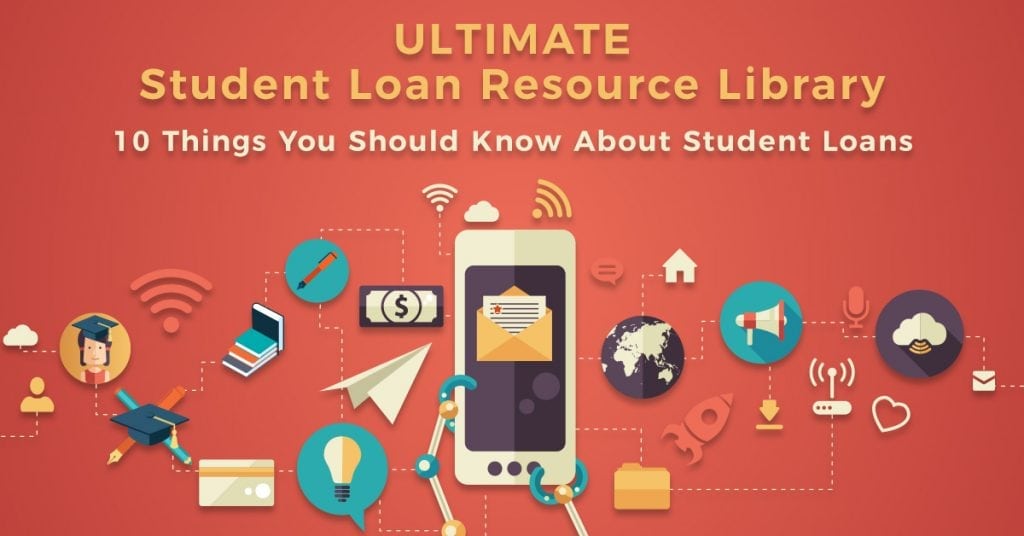 3. Forgive and forget
Some professions make you eligible for partial loan forgiveness:
Working for the government

Some nonprofits

Teaching or practicing medicine in communities that are low-income
This is especially the case for those in the military, but most public sector jobs have some kind of scope for loan forgiveness.
Some nonprofits deemed important also qualify their workers in this way.
And if you work in low-income communities, the government may deem you integral enough that student debt is unnecessary and forgivable for the greater good.
Ask your employer
Even if you don't qualify for outright forgiveness, there are ways in which your employer can help.
Coming to an agreement with them matching your student loan payments can be a great way to get rid of that debt quickly.
The graph below illustrates this point: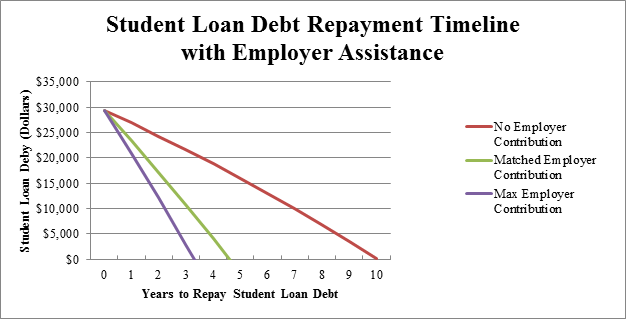 4. Pay more now
If you are in a situation where you can afford to pay a little more, then you should take advantage of it.
For example, you are now a salaried professional but still living at home with your parents.
Pay a little extra during this period so that your years living independently (and thus more expensively) will be less taken up by student loan payments.
Or, work during your time at university to earn a little money on the side to prepare for paying your loans back.
There are plenty of websites out there advertising easy part-time jobs.
(Bonus Tip: Need even more tips for paying off student loan debt? Take 10 extra free tips in the Ultimate Student Loan Resource Library. Inside you'll find 10 extra tips to help you pay off your student loan debt the easiest and smartest way possible. Check it out and learn more here.)