Along with many other schools in 2016, Sanford Brown closed down.
This left many students high and dry, without an adequate way to continue their education, find a job, or pay off their loans.
This article will explain the Sanford Brown controversy, reactions from students and the public, and explain different student loan repayment plans which may help students meet their financial needs in these difficult times.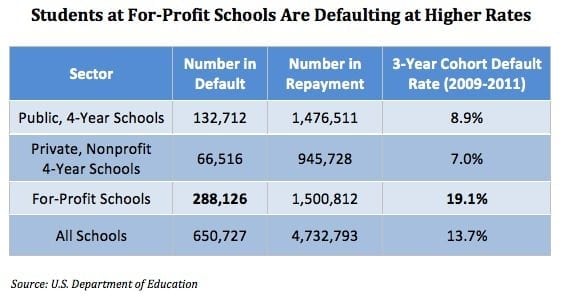 What are for-profit schools?
For-profit colleges and universities are private schools where degree-seeking students pay high levels of tuition for classes. This often means taking out hundreds of thousands of dollars in high-interest loans in the process.
They differ from traditional public and private schools because typically a college or university does not profit from their programs. The cost of tuition goes towards paying professors and administrators a set rate, and operating the basic programs of the school.
For-profits, on the other hand, have a CEO who profits more the more the university makes. Therefore they have more incentive to charge more and draw in more students with fewer qualifications.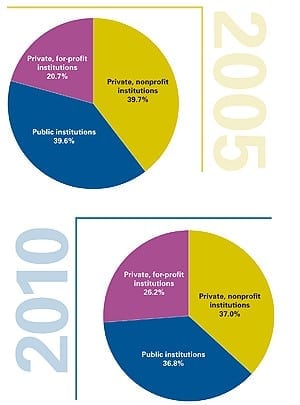 As you can see from the graph above, these schools have been on the rise for the past decade. However, there have been many issues with these schools, as they are motivated entirely by profit.
The second-largest for-profit university conglomerate in the entire country, Education Management Corporation, has been demanded by the government to forgive over $103 million total in student loans. This is because courts ruled that their practiced violated consumer protection laws. They pointed out that the methods used to recruit students to the universities were essentially misleading. The school exaggerated the benefits of a degree from the school, claiming it would further student's careers.
In truth, most employers understand that for-profit universities essentially sell their degrees to whoever will pay.
So the degree does not really reflect any particular level of drive or skillfulness. Therefore, it is harder than expected for graduates to find jobs after leaving for-profit universities.
EDMC also lost almost a hundred million in whistleblower lawsuits in the process of having their tactics exposed. However, the university did not get completely shut down.
Some Background on Sanford Brown
Sanford-Brown is a group of private for-profit universities. It was originally founded by George W. Brown as a group of business schools in Missouri which provided education and career search assistance as well as networking opportunities. Over time, it expanded its reach across the nation with multiple locations. They covered fields as wide as nursing, education, business, media studies, and technology.
In May of 2015, it was announced that Sanford-Brown would be slowly shutting down all of its locations over time, and organizing a teach-out.
This means that classes would slowly phase out, not shut down all at once. So students who were currently enrolled would have a little bit of time to transfer or finish their degree program.
Why is Sanford Brown Shutting Down?
In 2012, they announced that they would be shutting down many of their locations. This is a result of an audit by the IRS that found that the company was mishandling funds. The review found many discrepancies in the business records over the past decade. Later, in May of 2015, they announced that they would slowly phase out the last of their locations. This resulted in a total shutdown of the entire organization once the phase out was complete.
A lot of the company's troubles resulted from a 2007 lawsuit which received a lot of publicity.
It was a class action suit filed by multiple former students which lobbed the following accusations at the school's leaders:
The school had used aggressive marketing and recruitment techniques to lure students into the school.
In order to recruit more students, the school misrepresented multiple things. First, the ability to transfer credits to other universities was over-inflated, leading students to believe they could transfer schools easily and effectively. This was not the case.
Second, they misrepresented the curriculum and available classes. Students claimed that the school made applicants believe they had many more classes and degree paths than they did. As well as a more developed curriculum than was actually available.
The students won the lawsuit, leading the company to have to allow student loan forgiveness to many students who had taken out loans under the assumption that the school was much better than it actually was.
It cost the company almost $100 million to pay back these students' federal and private loans.
It was good for the students who had been unfairly swindled out of their money. But, it was a major setback for the school, since they had far fewer funds available to fund their school and the recruitment programs afterwards.
A year later, a few students of the nursing school also filed a class action lawsuit. It claimed that the school had fraudulently led them to join a nursing assistant's program which was bogus, not skills-based, and cost them a lot of money. The school lost the suit and had to repay the nursing students for their time and money spent.
Add that to all the negative publicity the school had received, and it was inevitable that the school would face some major problems and closures in the coming years.
Reactions to the Sanford Brown Closings
Many students worried that they would not be able to continue their education after the closing of the for-profit school for a few different reasons:
Students lost a lot of money in the process of the Sanford Brown closing. Even though many students had their loans forgiven, this did not change the issue of how much money people had already spent on the school. If they spent money from their own pocket rather than from loans, they had a lot of trouble getting it back.
Transferring credits was difficult.
Many had lost valuable time which could have been better spent furthering their education or searching for a job.
The total teach-out takes about one and a half years, meaning that many students will graduate.
But first or second-year students will have much more trouble completing their degrees in that timeframe. This means many students will have to transfer colleges. Unfortunately, it's possible that they'll be unable to transfer credits from Sanford Brown. These students could end up paying a lot more to make up the credits necessary to complete their degree at another school.
(PRO TIP:  One of the best ways to soften the blow of Sanford Brown closing on students and graduates is to make sure your student loans acquired while in school are in the best possible situation they can be in. This 8-plan cheat sheet will give you the breakdown of each plan and help you decide which is the best choice for you. Click here to learn more and grab your free copy of the 8 Plan Cheat Sheet to Student Loan Repayment.)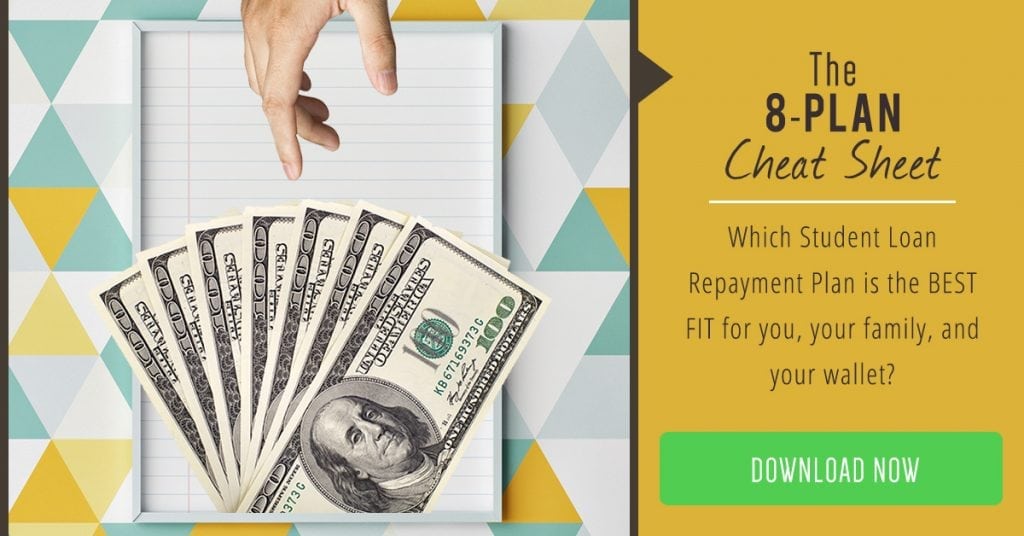 The official cause of Sanford Brown closing was declining levels of enrollment, financial loss, and increased regulations from the government.
However, they did not seem to realize that the reason for these supposedly "harsh" new regulations to clamp down on for-profit universities was due to school exactly like Sanford Brown causing financial distress for students without helping them get a good job with their almost worthless degrees.
The regulations were aimed at helping students avoid getting scammed by these universities, not to make life harder for the schools.
Just like any company, for-profits are held accountable to consumers for their actions and maintaining fair business practices.
Regulation of for-profits in general
In the summer of 2016, about a year after Sanford Brown officially stopped enrolling students, a law was voted on to clamp down on for profit regulation. The regulation came after the forced closure of many for-profit universities due to extremely irresponsible and harmful business and lending practices.
The Department of Education issued a statement that the Accrediting Council for Independent Colleges and Schools (ACICS) be altogether disbanded. They passed a regulation which would remove federal funding availability from many schools accredited by ACICS (including Sanford Brown). This is because they did not follow the requirements to obtain federal funding for most of their years of operation due to poor business practice. That means that many for-profit schools were forced to shut down, since they could no longer fund the majority of their operations.
Much of the reason for the closure of the ACICS and many schools under its umbrella was because of the rise in for-profit university fraud. The main complaint was their advertising campaigns. The school falsely inflated their job placement statistics. This made it seem like they had much more success in finding jobs for their students than they actually did. They overvalued their institutions, falsely taking student and federal money to funnel to their CEO's. In the end, the schools did not really help anyone besides the business owners.
A study by the Center for American Progress showed that there were over 90 cases in the past five years where the ACICS put a college on their "honor roll" while the college was under investigation for fraud.
Therefore proving that the system of accreditation is based on random figures, not the actual merit of the school.

What are the options for students who are experiencing financial distress due to these loans?
Many students of Sanford Brown were not able to get their loans fully forgiven by the government for a variety of reasons. Luckily there are many ways the federal government can help you refinance and decrease your monthly loan payments.
The best way you can help yourself pay off loans is to get on a repayment plan which works for you both in terms of monthly payments and overall interest rate.
(PRO TIP:  Need a bird's eye view of all the options available for student loan repayment? Download the 8-Plan Cheat Sheet to Student Loan Repayment for free. Click here to learn more and grab your free copy.)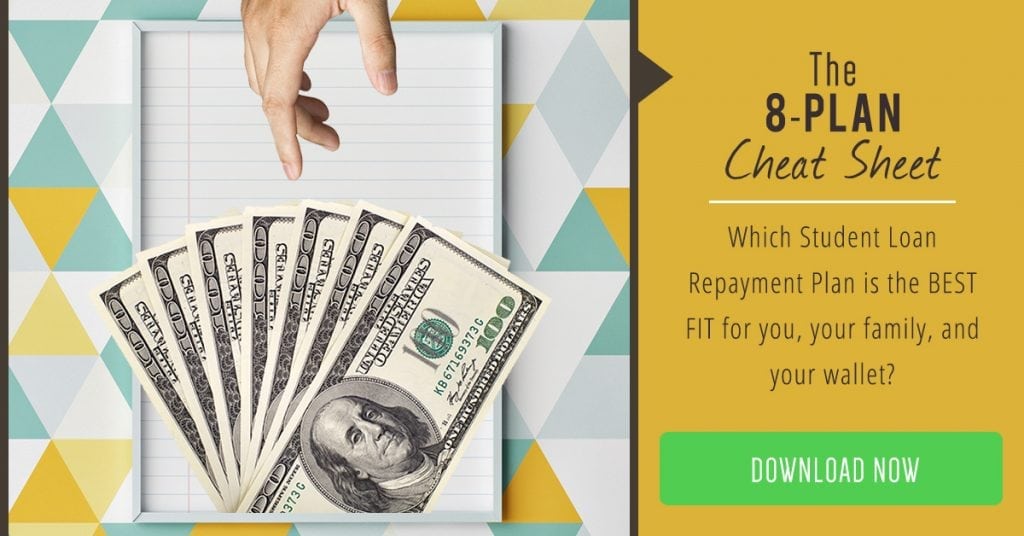 A great option for recent grads or drop-outs is the government's income-based repayment plans.
REPAYE, otherwise known as the Revised Pay as Your Earn Program, works well for students who cannot afford the monthly payments on their current plan.
Regardless of your income, anyone with direct federal loans is eligible for the plan.
Your monthly payment is at most 10% of your disposable income. Disposable income means the amount you have left after things like rent, groceries, childcare etc. are taken care of.  The full term of your loan is extended for up to 20 years (or up to 25 if you have loans taken out for graduate school). If you are married, this may not be your best option, since the 10% is determined by both you and your spouse's taxable income.
Income-Based Repayment Plans are best for people who have a lot of debt compared to their income.
Your monthly payment is capped at 10-15% of your discretionary income, which means rent and other essentials are not factored into the calculations. On average, you'll pay less than in the REPAYE program.
It is also extended to a term of 20 or 25 years.
All of these programs also forgive whatever is unpaid at the end of the 20 years.
However, keep in mind that because interest accumulated over time you may have to pay more in the long term. But, you get more time to pay it off. So you'll have less financial stress overall since you are making lower monthly payments.
The Income-Contingent plan is best for people who have parent plus loans. Or those who cannot afford their monthly payments, but can still afford to pay more than the 10% or 15% of their total income as outlined by the other repayment plans.
Your monthly payment is usually around 20%, rather than 10% or 15%. But, you end up paying less interest overall since you pay the loan off in less time.
If you begin to make more money, these plans can be refinanced to be paid off quicker.
The Graduated Repayment Plan is another common option. It also requires you to pay more, over a ten year time period.
The payments start low, then gradually increase every two years.
Therefore, if you get this plan you should make sure you are in a career field where you know you will have a steady income stream and regular raises.
There are also loan forgiveness programs which Sanford Brown students may be eligible for
Many students have already had their loans forgiven due to federal mandate. But many people who were not directly involved with or covered by the lawsuit have not had theirs forgiven by the school.
If you have federal rather than private loans, then you may qualify for the government's own system of loan forgiveness.
There are many reasons for loan forgiveness, cancellation, or discharge, including:
Illness, death, bankruptcy, or extreme financial stress
Specific fields such as nursing, dental or medical school, teaching in low-income schools, or in specific law schools
Going into public service, such as any branch of the military including the marines, army, navy, air force, or the peace corps or teach for america, as well as working for a nonprofit or NGO for multiple years.
Loan fraud (this is the most likely option for Sanford Brown students)
(PRO TIP:  Want to know if you can qualify for student loan forgiveness as a Sanford-Brown ex-student or grad? Download the Definitive Guide To Student Loan Forgiveness where we go over all the ways possible to qualify for student loan forgiveness. Click here to learn more and grab your free copy.)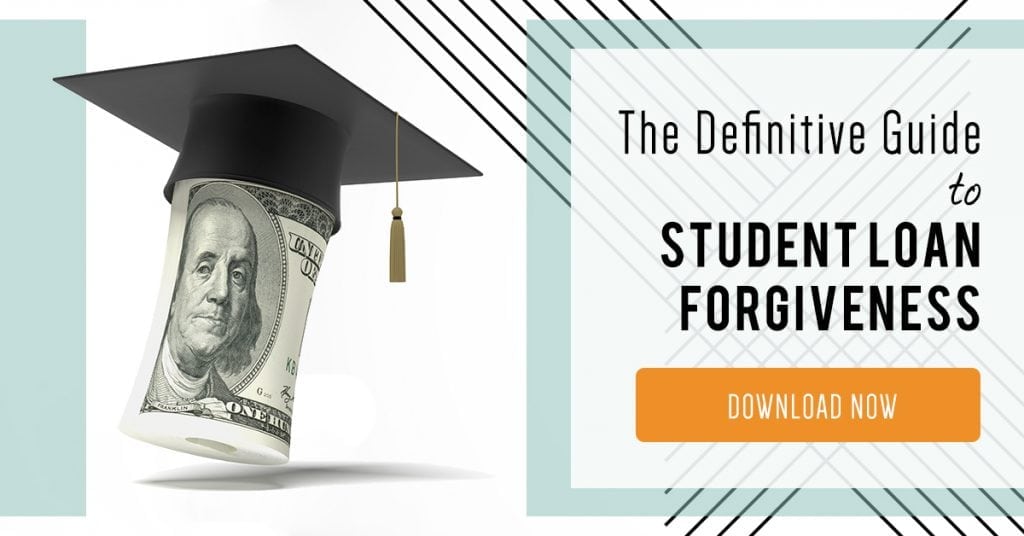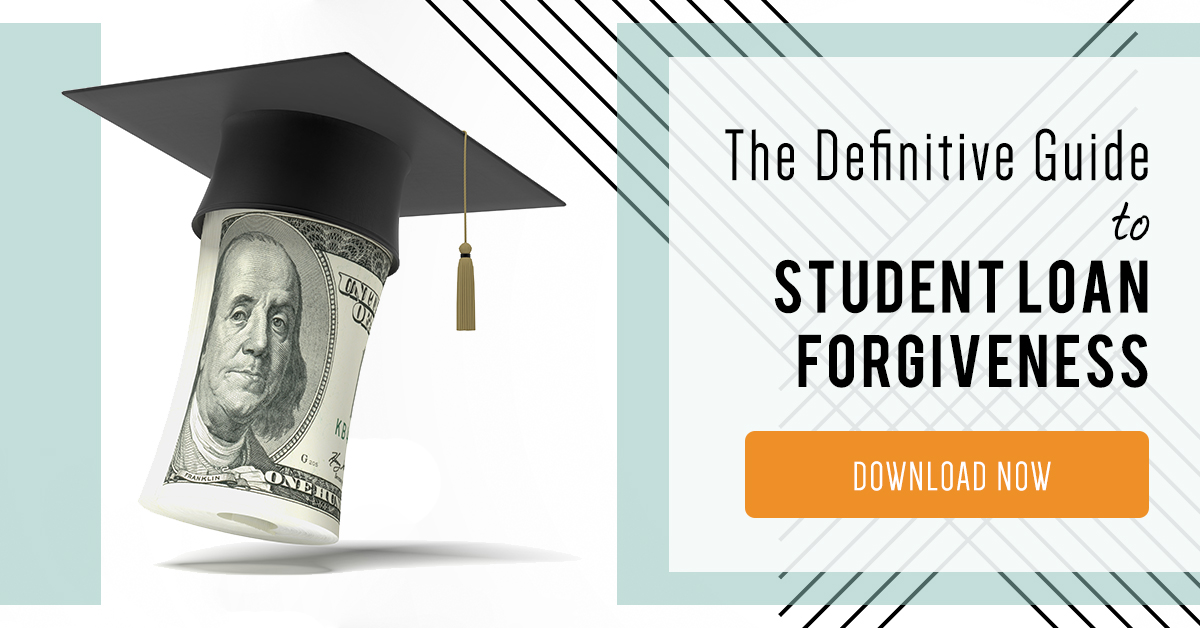 For closed schools, you can have your loans discharged relatively easily if you meet a few crucial conditions. Your school must have closed while you were enrolled. And you must be unable to complete your program due to the closure. So if you finished your program during Sanford Brown's teach-out you will not be eligible. If your school closes within 120 after the time which you leave the school, you are also eligible.
Things which make you not eligible for discharge include:
If you leave the school more than 120 before the school's closure
You are entering into a "comparable" field of study or program at a new school
If you have completed all the coursework but not received an official diploma.
Your application for discharge will not be accepted if you were in a teach-out agreement, or if you transferred your credits and finished at another school.
To see if you have loans which can be discharged, you need to contact your loan servicer.
The Department of Education, or your individual school, will not be able to assist you.
You must make sure to continue making loan payments while your application is being processed.
If you don't, you will risk negative consequences for your credit history and score. As well as risking your application not being accepted.
 If your application is denied, you cannot apply again for the same reason.
You may enter into two years of public service or other fields and apply again for teaching or public service loan forgiveness. However, if they deny your fraud application once, they are unlikely to approve the same application another time.
The benefits of discharge are:
You will not have to pay the loan
You will be reimbursed for any past payments on your loan (this is a major plus)
The government will contact credit agencies so that they can revise any negative consequences on your credit report.
You will not be negatively impacted by the missed payments if your application is approved.