The deferment definition can be tricky. A lot of people confuse it with forbearance or don't know what it means at all.
But with the right information and support, you can use a student loan deferment to help your financial stability
(Did You Know? There are two types of "breaks" borrowers can take from having to make student loan payments each month. One is forbearance and the other is a deferment. But which is the right choice? Download this free guide to find out if you should take a forbearance or a deferment if you need to delay your payments. Click here to learn more.)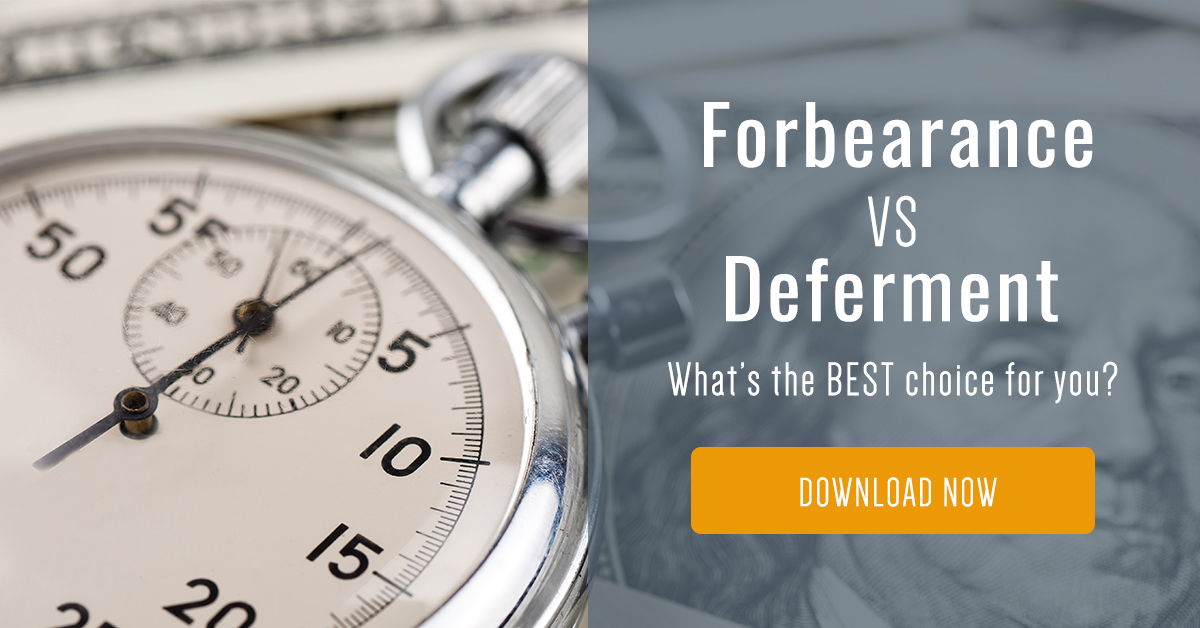 Deferment Definition: What You Should Know About Deferring Student Loans
In this article:
What is Deferment?

First of all, to defer means to postpone. Student loan deferment lets you stop making repayments on your loans for a period of time.

This is different from forbearance. In forbearance, repayments are also halted for a time. But you still have to pay the interest that builds up during that period.

But with deferment, you don't have to pay the interest that accrues on some kinds of loans. During deferment, you still need to pay the interest on the following loans:

Direct Unsubsidized Loans
Unsubsidized Federal Stafford Loans
Direct PLUS Loans
Federal Family Education Loan (FFEL) PLUS Loans
The unsubsidized parts of Direct Consolidation Loans and FFEL Consolidation Loans

Who Can Defer Student Loans?

Not everyone is granted a deferment for student loans. If you meet the following criteria, you can usually defer your loans:

Currently enrolled, or the parent of an enrolled student
Enrolled in a valid graduate fellowship program
Enrolled in a rehabilitation program for the disabled
Unemployed, or unable to get full-time work
Serving in the military or Peace Corps
Facing great economic troubles

(NOTE: Wondering how to defer your student loans? Don't make any moves before reading this FREE guide: 10 Things You Should Know About Student Loan Deferment and Forbearance in 2018. Find out which option is best for you and how to apply for the right one the right way. Click here to learn more and get the free guide.)

Why Should I Defer My Student Loans?

It should be clear; the deferment definition does not involve escaping your loans. Sooner or later, you have to complete payments.

Defer loans if you're in a temporary situation where you can't make immediate payments. It gives you time to get back on your feet to resume payments in the future.

Additionally, it also keeps you from defaulting on your loans. Defaulting usually happens when you fail to make a payment in nine months.

So, don't defer loans to try to escape paying them. You will end up damaging your credit score. You might also become ineligible for future student aid and face legal action.

When Should I Defer My Loans?

Don't opt for loan deferment if you think repayments eat up too much of your income. If that's the case, it's better to apply for an income-driven repayment plan.

Before applying for a deferment, talk to your loan servicer first. They might offer a more workable repayment plan.

Deferment should be one of your last options. You should only defer loans when you're faced with a temporary setback in your income where you need to channel your income to other necessities. In other words, when you're facing great economic hardship or any other situation when you can't make immediate payments.

Where Can I Get Support?

Contact your loan servicer to see if deferment is a good option for you.

Also, check if your school has a loan administrator you can go to for advice.


How Do I Defer Student Loans?

Deferments are not automatic.

You must send a written request form to your loan servicer. You must also prove that you fit the above-mentioned criteria for a deferment.

Have any more questions about the deferment definition? Watch this video from Bank of America below! 

https://www.youtube.com/watch?v=7yRXAhgolPs

Deferment definition is not difficult to understand. Used properly, student loan deferment can be a powerful tool to give you temporary relief from your financial troubles.

Follow the right people and the right information and you can start on the path to a financially-healthy future!

Do you have any questions, clarifications, or experiences with student loan deferment? Share them with us in the comments section below!