Student debt is the topic on everyone's tongues this past year.
As a record-setting student loan year, the subject has been debated by politicians, economists, and educators alike.
One thing is undeniable: student loan debt is growing every year at an extraordinary rate.
As evidenced by the chart shown below from the Wall Street Journal, 2015 was the highest year ever with respect to both amounts of debt and number of borrowers.
2016 looks to be on a similar track.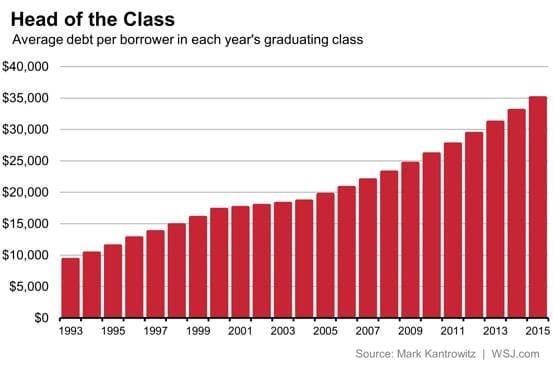 According to the White House, almost 70% of all students who receive a bachelor's degree graduate with debt.
Over 1.2 trillion dollars are being held out of the economy, siphoned away in loan debt.
Luckily, with so many students in debt, more and more different strategies are becoming available to pay off debt.
There are 8 ways to pay off your student loans, and each way has its set of pros and cons.
1. Standard
The Standard Repayment Plan spans 10 years, where monthly payments are based on the amount borrowed plus interest.
Unlike income-based plans, these do not take into account your income.
It is essentially similar to a 10-year mortgage plan, where your education is the primary home purchase.
Mary Johnson of BankMobile says that this plan is great, but only if you can leave room in your budget for the payments.
This is easier and requires paying less interest than a longer, drawn-out plan.
The same amount spread out over thirty years can cause you to pay almost 755 of your original amount more in interest alone!
This plan is great for students who can afford monthly payments and who have relatively low amounts of debt (for example, under $10,000 total).
2. Graduated
The Graduated Repayment Plan allows you to repay your debt in the same 10-year period, but with smaller initial payments which build up over time.
This is a great strategy for people who are intimidated by such daunting monthly payment amounts starting out.
The monthly payment amount increases every two years, giving students time to settle in and find a job before paying large amounts.
The U.S. Federal Student Aid Department writes that payments will never be three times the amount you've made on previous payments or less than the interest you accrue each month.
This ensures your payments never get too low or too high.
Here, at least you are paying off your interest each month so that your loans don't grow while paying them.
According to financial planner Jacob Arbogast, this is a great choice if you are not making much money when you first graduate.
3. Extended
The Extended Repayment Plan is only available to those with over $30,000 in debt.
In this case, the repayment period is extended from the typical 10-year plan to a new 25-year limit to accommodate for the high payment amounts needed.
Payments stay the same over time, as in the Standard Plan.
These plans do not offer much flexibility.
Now that students are graduating with higher loan balances, more flexibility is needed to help students with various levels of income pay off their loans.
In 1998, legislators recognized this and created the income-contingent plan, and now there are many other options based on income as well.
These plans have covered the majority of borrowers.
The Obama administration noted that many students were choosing their work based on debt, not their desired career paths, and this was something that needed to change.
4. Pay As You Earn
The PAYE plan can be used for subsidized and unsubsidized loans, PLUS loans, and Direct Consolidated Loans.
Max monthly payments are only ever up to 10% of your discretionary income.
They are recalculated annual, making changes based on family size and income.
Married students also use their spouse's income and debt to determine payments, and after 20 years, any debt that is remaining is forgiven.
Discretionary Income is determined as your income minus 150% of the poverty level defined by law by your state, also considering family size.
5. Revised Pay As You Earn
The REPAYE plan is very similar, with a few minor differences:
Payments are exactly 10% of you discretionary income, not up to 10%

A spouse's income and debt are automatically factored in, whether you file separately or jointly

There are two options for repayment lengths: 20 or 25 years

Only students who became borrows after 2007 are eligible.
The loan forgiveness is offered in both scenarios, but the borrower likely must pay taxes on any amount that is forgiven.
The forgiven loan amount is considered income for the year of its forgiveness.
6. Income Based Repayment
The IBR is similar but also accepts Stafford loans, dating back prior to 2010.
There are two payment amount options: 10% or 15% of your discretionary income for the month.
This also benefits students who can't start out making a lot of money.
If a student struggles with income, the minimum payment can be as low as 0% per month.
This gives students the flexibility to take career risks which can be necessary for a young person starting out.
The only negative is that debt forgiveness is still counted as income, which is then taxed, so students have to save up separately to cover this tax bill the year it becomes necessary.
7. Income Contingent
The ICR is one of the more distinctly different income-based options.
The major differences from the options above are:
Payments are either 20% of discretionary income, or whatever payment you would be making for a 12-year fixed plan (whichever is less.)

Parents can use this if their PLUS loan is consolidated into a Direct Consolidated Loan.

Payments can end up higher than in a standard repayment plan, if it is warranted by your income.
It is true that this option puts you in a position where you may be paying more than in a standard repayment plan, but only if you are making a high enough income to warrant it.
Very worst case scenario, it is as if you are making equal payments over 12-years if your income is still low.
8. Income Sensitive
The final option is the ISR.
This is basically the same as the other income-driven plans, except that is an income-based option for students with FFEL PLUS loans, mostly graduate students.
When considering all these different options, it can be overwhelming.
It is important to remember that no matter what, college is almost always a positive investment in terms of job prospects.
The various repayment options make it possible to pay off your student loan debt in almost all scenarios.