Media coverage of student loans focuses almost exclusively on the problems associated with them.
We regularly hear about significant increases in student debt and the negative effect this is having on many graduates.
While this is certainly a valid discussion, it is not the full picture.
Here's how having a student loan can actually be a positive thing.
Why is credit important?
In a nutshell, credit will be a major part of many of the big decisions you take in life, from buying a house or car to taking out an unsecured credit card.
In all these cases, lenders will check your credit score before deciding whether (or not) to lend to you and setting the rate of interest on the loan.
A poor credit score, or lack of credit history, can make it difficult to take out a mortgage or even to rent an apartment because lenders will only offer high rates of interest in such circumstances.
Credit scores
A credit score is used to measure an individual's creditworthiness.
It is expressed as a number between 300 and 850 and the higher the number, the better the score.
A score of 720 or higher is considered good.
It is recalculated on a monthly basis, so even if an individual has a poor credit rating, good financial choices will quickly help to improve the situation.
Credit report
Your credit score is based on a credit report which uses a range of data to determine your creditworthiness.
Included in your credit report will be:
Your personal information, such as address, Social Security Number, date of birth and place of work

Your credit accounts, including your bank account, mortgage, auto loan and student loan

Any credit inquiries you have made

Anything concerning public records or collection agencies such as overdue bills.
You are entitled to view any documents to do with your credit report and score.
Credit score calculation
Data from your report is fed into an algorithm to calculate your rating.
The factors of a credit score are given different weightings in this calculation: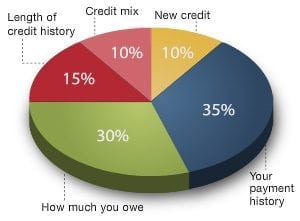 Individual's payment history (35%)

Amounts owed by individual (30%)

Length of individual's credit history (15%)

New credit (10%)

Credit mix (10%)
How can my student loan affect my credit?
It's up to you how your student loan will affect your credit score.
By making sound financial choices in connection with your debt, you can begin to develop a great rating.
Student loans are generally treated by lenders as installment loans, i.e. one-off payments which are then repaid in installments over an agreed period.
It is these repayments that are key to a positive credit rating.
Consistent repayments
Since, as we have seen, payment history is the most heavily weighted part of the credit score algorithm, repaying your student loan promptly and consistently is the most important thing you can do to develop a good credit score.
To ensure that you never miss a payment, be sure to set up a reliable reminder system.
This might involve notes in a calendar or diary or electronic reminders.
Alternatively, you could sign up for autopay, so that an automated payment will be taken from your bank account each month.
If payments are overwhelming
You need to be confident that your student loan payments are affordable, so you never have to skip one.
If, at any point, you find that they are becoming too much, it is vital to investigate your options.
For federal loans, there may be the possibility of an income-based or similar repayment plan, while private lenders may consider the option of a lower fixed rate to avoid problems with repayment.
Defaulting or late payment
At all costs, avoid paying late, or missing payments.
Defaulting on a student loan payment will remain on your credit report for seven years with serious consequences for your credit history.
It may also leave you ineligible for any financial aid in the future, should you choose further study, for example. (Find out more about the consequences of defaulting here.)
If you have explored all other options to make your payments affordable and are still finding them a problem, you may be able to place a deferment on your loan repayments until you are in a better financial position.
This means that there is no possibility of defaulting on your payments and so deferment will not affect your credit history.
It may, however, mean that you pay more interest on your loan, as the overall balance term will be longer.
Early repayment
It is easy to assume that paying back a loan early would be a better option, but this can also harm your credit score because lenders will lose income because you will pay less interest.
This would be shown in your credit history and could lead future lenders to impose higher interest rates to avoid potential losses in case of early repayment.
It may seem that your student loan is only a source of worry, but sound financial decisions can make the basis of a good credit rating, which will be of immense importance throughout your life.