Securing a well-paying job with great benefits is the ultimate dream for most college graduates.
Sadly, those career opportunities don't often present themselves immediately after the graduation ceremony.
Let's take a look at some of the employment and financial problems facing current college grads, and how to find an entry-level job that can help eliminate them.
Employment Statistics for College Grads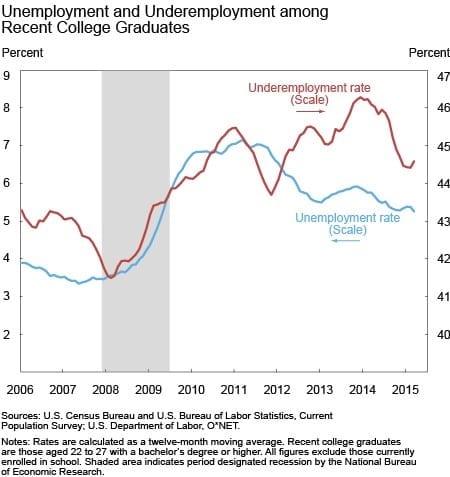 As of July 2016, the unemployment rate of people who are between 20 and 24 years old stands at a

whopping 9 percent

– the highest it's been all year.

Seven out of ten college graduates have racked up $25,000 or more in student loan debt.

Nearly half of the newest college graduates in the US work jobs that don't require a degree.
These statistics are most likely self-evident.
However, they're important to keep in mind when seeking a well-paying job in an economic climate that seems dismal for college graduates.  
Highest Paying Jobs
It comes as no surprise that the best-paying jobs for graduates involve mathematics, computer science, or engineering.
Let's take a look at some of them.
Investment Banker
Average entry-level salary: $84,290 + signing bonus (varies)
Eligible degrees: Finance, Accounting, Mathematics, Economics, Business
Additional experience or skills required: None
While the pay is good, investment banking is no walk in the park.
If you choose to pursue a career as an investment banker, you'll need to stand out from the crowd.
It's a good idea to seek out contacts in the investment banking world and try to glean a few tips from seasoned bankers.
[tweet_box design="default" float="none"]Career opportunities in investment banking are projected to increase by ten percent between now and 2024.[/tweet_box]
Actuary (Risk Assessment)
Average entry-level salary: $81,578
Eligible degrees: Actuarial Science, Mathematics, Economics, Statistics, Finance, Business
Additional experience or skills required: Passing entry exams
An actuary is someone who analyzes the amount of risk that a particular business move may involve.
Companies typically utilize the services of actuaries rather than individuals.
Several institutions may require an actuary, whether it's a government organization or a hospital.
Software Developer
Average entry-level salary: $72,790
Eligible degrees: Computer Science, Engineering, Math
Additional experience or skills required: Knowledge of Python can increase starting salary
Technology is now influencing nearly every part of our lives, so it makes sense that there's a high demand for software developers.
These tech gurus can take pleasure in knowing they have the ultimate job security – we'll always need tech.
Still, this career will require the ability to adapt as well as an in-depth knowledge of all the latest technology.
Engineering
Average entry-level salary: Around $60,000 (varies according to discipline)
Eligible Degrees: Engineering, Computer Science, Physical Science, Mathematics, others
Additional experience or skills required: None
The field of engineering is as vast as it is complex.
You can become an engineer in almost anything.
Depending which discipline you choose, you could earn more than $90,000 a year.
Whether you decide to work as a software engineer or a nuclear engineer, you'll reap the rewards of a secure and well-paid career straight out of university.
Network Systems Administrator
Average entry-level salary: $58,935
Eligible degrees: Computer Science
Additional experience or skills required: Cisco Certification (common but not required by all employers)
Just like the software developer, the network systems administrator has excellent job security.
A network systems administrator is the one who comes to the rescue when you have a company-wide computer crash.
This career requires a thorough knowledge of most computer operating systems as well as the ability to work well with professionals in various career fields.
Internet Marketing
Average entry-level salary: $40,616
Eligible degrees: Advertising, Business, Marketing
Additional experience or skills required: Search Engine Optimization, social media proficiency
Businesses use internet marketing specialists to help boost their sales as well as to enhance their advertising and various other marketing tactics.
Internet marketing experts use a variety of methods to achieve this, including social media, blogging platforms, email, and other internet resources.
This is great news for all the math whizzes and computer gurus out there.
The drawback is that it isn't so ideal for those who haven't specialized in any of those areas.  
Still, the data isn't surprising.
We live in the digital age, so we need more talented, highly educated people to design and utilize our tech in ways we've never dreamed.
Thankfully, that Bachelor's degree will help give all those prospective engineers and software developers a good place to start, while also rewarding their hard work with an excellent salary.