How to defer student loans is a question most student loan borrowers ask when in great financial need. Deferment is one of the best ways to get a "break" in making monthly payments on student loans.
In fact, the actual loan deferment definition is to put off something at a later time. So a deferment on private or federal student loans may not get you out of deep water forever.
But no one can argue that it's a good option, which borrowers may want to take if they are running late on their monthly payment. A deferment will allow a borrower running late to catch up on their monthly payment and avoid a default status.
But how do you defer student loans? And how do you know that you should take a deferment instead of a student loan forbearance?
When answering this question, a quick breakdown of deferment vs. forbearance is important to keep in mind. Here's all you need to know.
(NOTE: Wondering how to defer student loans? Don't make any moves before reading this FREE guide: 10 Things You Should Know About Student Loan Deferment and Forbearance in 2017. Find out which option is best for you and how to apply for the right one the right way. Click here to learn more and get your free guide.)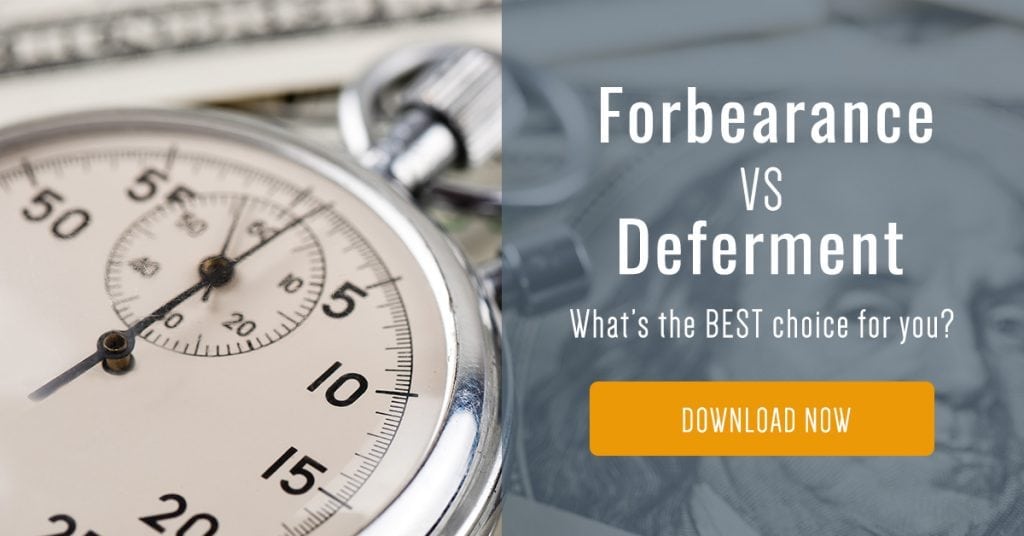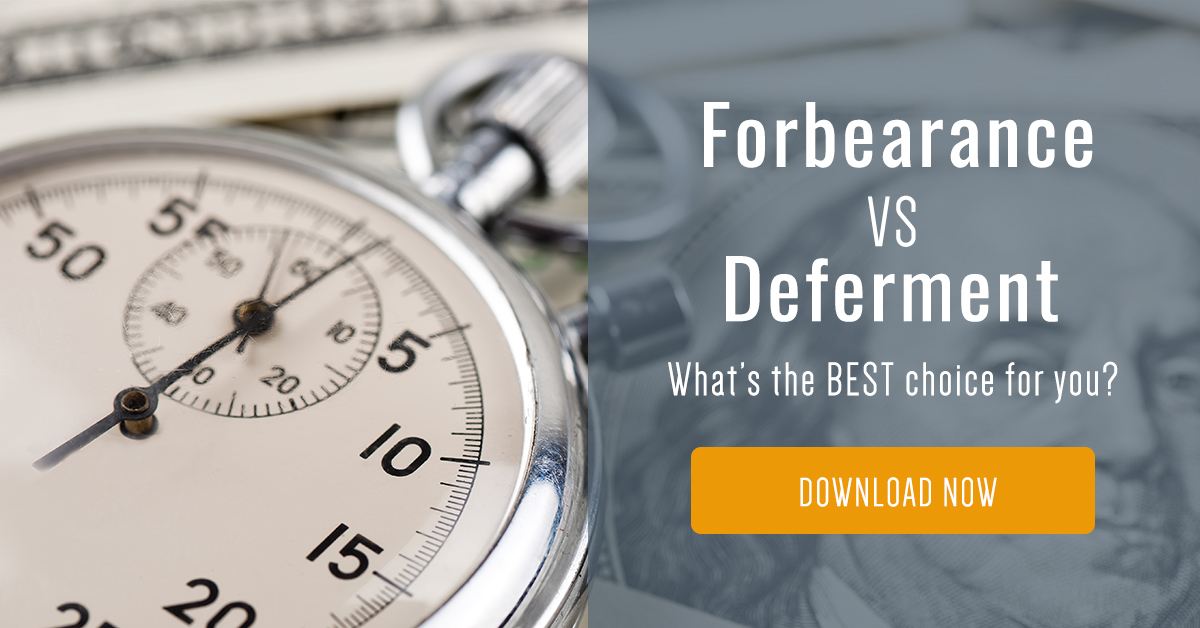 How to Defer Student Loans: 3 Major Things to Consider
1. Deferment vs. Forbearance
The federal government allows two types of "breaks" from repaying your student loans: deferment and forbearance.
Applying for these is important so as not to go into default (also known as a span of 9 months when your loans go unpaid) and gain a bad credit score.
If you opt for forbearance, you will have to pay the interest that accumulates during the period in which you temporarily stopped making your payments. If you go for deferment— which will be the focus of this article — you won't have to pay the interest that accrues.
2. How to Qualify
Student loan deferment doesn't happen automatically.
The most important steps to take are downloading and filling out the student loan deferment form, doing the extra paperwork, and asking your loan servicer for a deferment.
Likewise, deferment is not granted all the time. There are specific eligibility criteria you must meet.
For example, you may qualify for a student loan deferment if you're unemployed or enrolled in school part-time (say, graduate studies). In most cases, a student loan deferment happens if you're serving the military or the Peace Corps.
However, a well-argued case for socio-economic difficulty (or economic hardship deferment) may also get your student loans deferred.
RT @CultOfMoney: Reasons to Defer Your Student Loan Payments via @attn https://t.co/gqTNnycDOZ

— Yes, I Am Cheap (@yesiamcheap) January 30, 2017
Subscribe to US Student Loan Center
3. Exceptions for Interest
When we ask how to defer student loans, it's understandable that we think about the interest involved when we put a pause on making payments.
Although federal student loan deferments don't require interest to be paid during the deferment period, there are still some exceptions.
Subsidized loans definitely don't make you pay the interest that accumulates. This is also true for Perkins loans. But if you have Direct unsubsidized loans or a PLUS loan, then you'll have to pay the interest that accrues during the deferment period.
You can read more about subsidized versus unsubsidized loans here.
Not everyone has federal student loans, and those who have private student loans also ask how to defer student loans.
The tricky thing about this is that private student loan lenders are not required to give you any sort of deferment (or even forbearance). If the federal government acknowledges reasons such as medical crisis, economic hardship, or unemployment, private student loan servicers simply do not.
However, asking them about how to defer student loans might still work. Even if not legally required to do so, it is possible to decide on an agreement for both parties.
Watch this video from thewildwong for more information on how to defer student loans:
https://www.youtube.com/watch?v=yiH1oS0EgmE&feature=youtu.be
Overall, do not hesitate to ask how to defer student loans!
The government is mandated to grant you a student loan deferment. But you have to do your part. Meet the qualifications, do the paperwork, and study your options.
Do you have any other information on how to defer student loans? Let us know in the comments below.
Up Next: Student Loan Questions | Top 10 Most Frequently Asked Questions
Editor's Note: This article was first published on June 8, 2017, and has been updated for quality and relevancy.