Do you have a student loan?
Are you finding the repayments on the loans tough to manage?
You may wish to consider the idea of student loan consolidation. This will help you deal with loans that come from multiple sources. While it is not the right step for everybody, it could shave a considerable amount off from your monthly expenses. 
Have you been wondering, what are the advantages of consolidating my student loans? We're here to tell you the benefits so you can decide if it is the right step for you.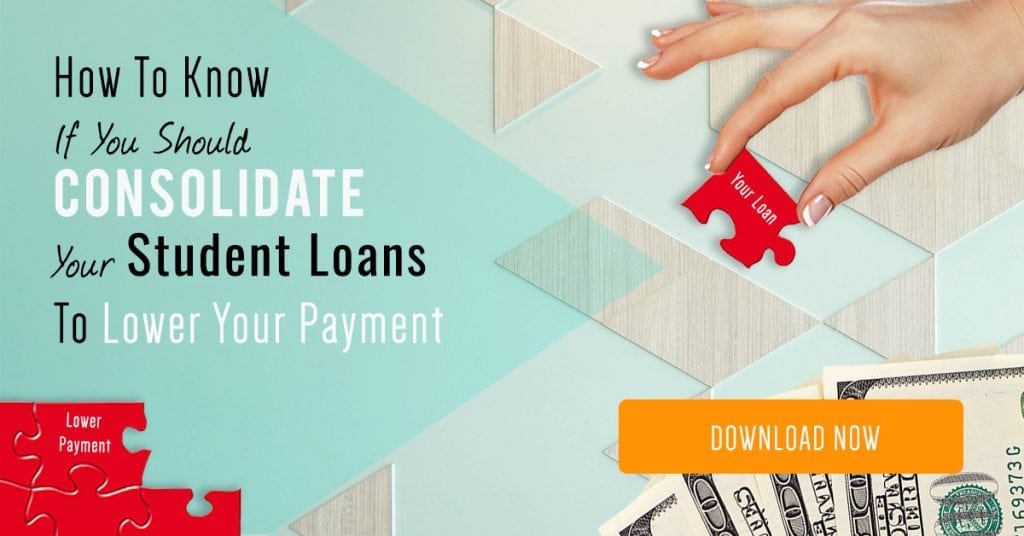 What is student loan consolidation?
The purpose of student loan consolidation is to combine multiple student loans into a single monthly payment. 
How much do people spend on student loans each month?
A considerable amount! The chart below demonstrates just how much the average person spends each month on their student loans. This is the amount that will be coming out of your paycheck for years.
Sure, it is going to be great when you free up that cash when all of your student loans have been paid off, but right now you are spending just as much on your loans as your healthcare. For some people, this is not plausible.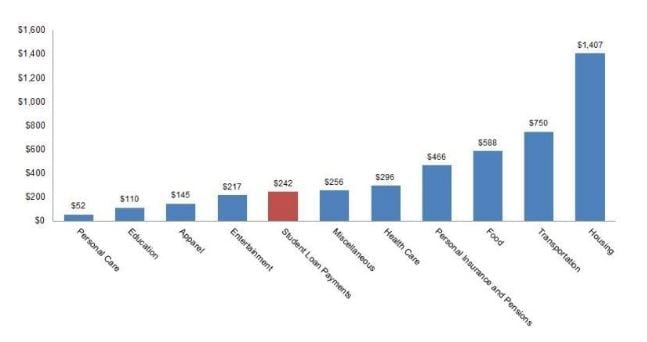 Source: https://www.brookings.edu/research/the-typical-household-with-student-loan-debt/
The graph below highlights the range of student loan repayments, just to demonstrate that not everybody is going to be parting with $242 a month, but a decent number of people will:


Source: https://www.brookings.edu/research/the-typical-household-with-student-loan-debt/
When should you use student loan consolidation?
As mentioned previously, student loan consolidation may not be the right path for everybody. According to US News, some people may benefit more from student loan consolidation than others:

You have multiple federal loans which you wish to combine into a single payment.

You want a fixed interest rate on a loan which currently has a variable interest rate.

You are on the verge of defaulting on your loans.

If you have Federal Family Education Loans and wish to benefit from Public Service Loan forgiveness in the future, then you will need to consolidate your loans.
Benefits of Consolidating Your Loans
Interest rates
If you have multiple student loans, then it is likely that they all have different interest rates. The chart that you see below shows the interest rates for various federal student loans.
It can be tough to keep track of, and it can be even tougher to work out where to divert your payments.
[tweet_box design="default" float="none"]If you combine your student loans, then there will be just a single interest rate that you will need to focus on. [/tweet_box]In many cases, this interest rate is going to be lower than the 'highest' interest rate that you were currently dealing with.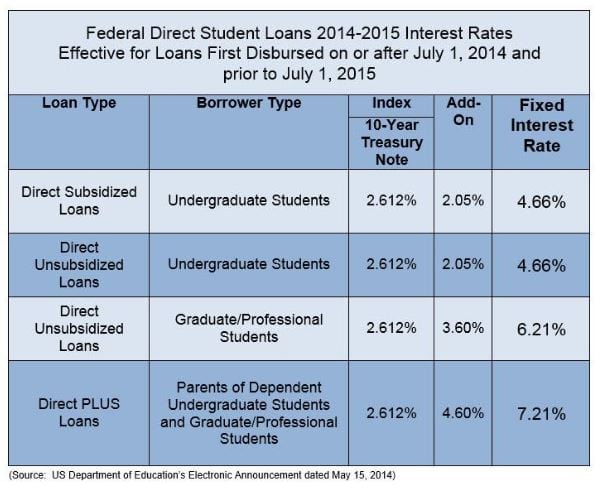 Source: https://www.fameinc.com/student-loan-interest-rates/
Obtain lower monthly repayments
If you default on your student loans, then it is going to cause several issues in the future for you. Therefore, it is in your best interests to avoid this. In most cases, the main reason as to why people default on their student loans is because the payments that they need to make are ever so slightly out of their income bracket.
If you consolidate your student loans, then this will not be an issue. You will be able to achieve a lower amount to pay back each month. This stops you from defaulting, and may even free up some extra cash.
If you have defaulted, then you may still wish to look into student loan consolidation. It won't remove the default from your record, but it will almost certainly make dealing with the default easier.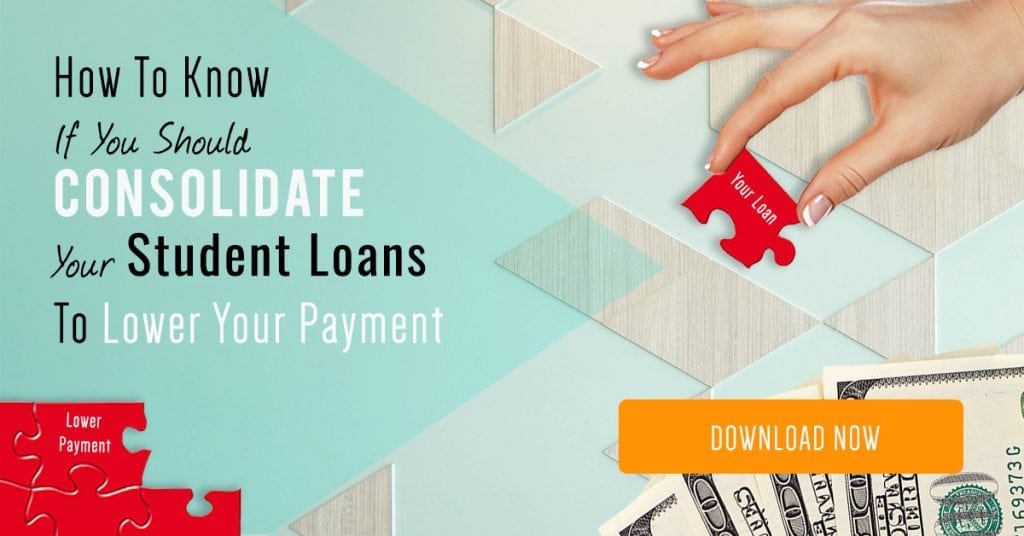 Avoiding variable interest rates
Many people are tempted by loans with variable interest rates. This is because the 'starting' interest rate tends to be quite low. In fact, they are very low.
However, do bear in mind that the interest rate is just going to climb. It will rise very high too. In many cases, people will find that in the future, the interest rate will be far higher than any 'fixed rate' loan that they could have had. If you opt for student loan consolidation, then you will be locking yourself into an interest rate which won't ever rise.
Easier to deal with repayments
It does make budgeting easier if you only need to remember one loan repayment each month, as opposed to two or three.
Final points to note
Finally, there are a few things that you should note before you apply for a student loan consolidation. This list is based on a list provided by Student Loan Hero:
You will need to determine whether you are eligible for consolidation. You can apply when you have graduated, left school for any reason, or if you are now studying part time.

You can't consolidate private loans into a Direct Consolidation Loan, but many private lenders out there will allow you to do this.
(Visited 58 times, 1 visits today)