Obama's Rule Would Discriminate Poor Students
When the Department of Education came up with the proposed rule of gainful employment, it seemed like a good idea at first, but in reality the department has received thousands of comments, most of which argue that the rules go too far, some say that they don't go far enough, but more importantly some say it can cause some discrimination against low-income students.
A recent report prepared for colleges and released last week, shows how nearly half of students who are currently attending for-profit colleges in the U.S. could lose their federal aid if the Obama administration manages to implement a new rule on "public disclosure" of the schools' performance and earnings.
Related: Obama's Cuts To Education Funding
It seems that the "gainful employment" rule would specifically target for-profit colleges and institutions and could disproportionately affect poor students, said the report prepared by the Association of Private Sector Colleges and Universities, a trade group representing the colleges.
The U.S. Education Department rule would require for-profit institutions to publicly disclose information including cost of attendance, student loan default rates, and student completion rates.
What does this all mean?
It means that for students to continue receiving federal financial aid at for-profit schools, the institutions need to show that the estimated annual loan payment of their typical graduates does not exceed 20 percent of their discretionary income or 8 percent of their total earnings, and that the default rate for former students does not exceed 30 percent.
The APSCU report, prepared by economist Jonathan Guryan and Matthew Thompson of the consulting firm Charles River Associates, said nearly 7.5 million students over a decade could be denied higher education if the rule goes into effect.
For-profit colleges have already spent millions of dollars fighting the proposed rule since its earliest version was released in 2010. The debt-to-income ratio used in the rule to determine continued eligibility for federal funding, APSCU said, could unfairly cause certain schools or programs to fail because it does not take into consideration that poor students typically have to borrow more for college than their wealthier counterparts.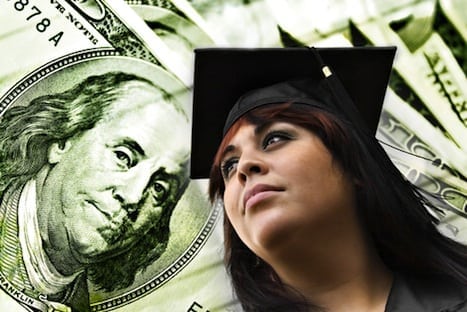 For-profit institutions tend to serve larger numbers of minorities, low-income students and non-traditional students such as single parents and veterans than traditional colleges.
State and federal regulators have accused the institutions for deceptive practices, including providing misleading information and poor-quality education at excessive costs. They have also criticized the institutions for having low completion rates and graduates with high student loan default rates.
According to the U.S. Department of Education, students at for-profit colleges represent 13 percent of the U.S. higher education population but account for about 31 percent of all student loans and nearly half of all loan defaults.
APSCU said the regulation runs contrary to President Barack Obama's goal of increasing the number of college graduates.
About 21.8 percent of programs in for-profit colleges could fail the rule's test, causing 44.2 percent of students in those institutions to lose access to postsecondary education, the report said. "It's going to be discriminative," Guryan, one of the reports co-authors, told Reuters.