It's no secret that there's a student loan crisis happening in the United States, with $1.56 trillion owed to the federal government, and another $7.8 billion held by private banks. But is what we're experiencing a student loan "bubble" that could pop at any time?
The most recent "popped" economic bubble was the housing crisis in 2007. When people were unable to pay their mortgages, banks foreclosed on their homes. But with a tangible asset like a house, the bank can possess and sell the home.
The same goes for other tangible assets, like cars that are repossessed. The lender can recoup at least some of the value of the investment.
There's no doubt that student loan debt is on the rise.
Just take a look at this graph from Bloomberg to see how student loans compare to mortgages, auto loans and credit card debt: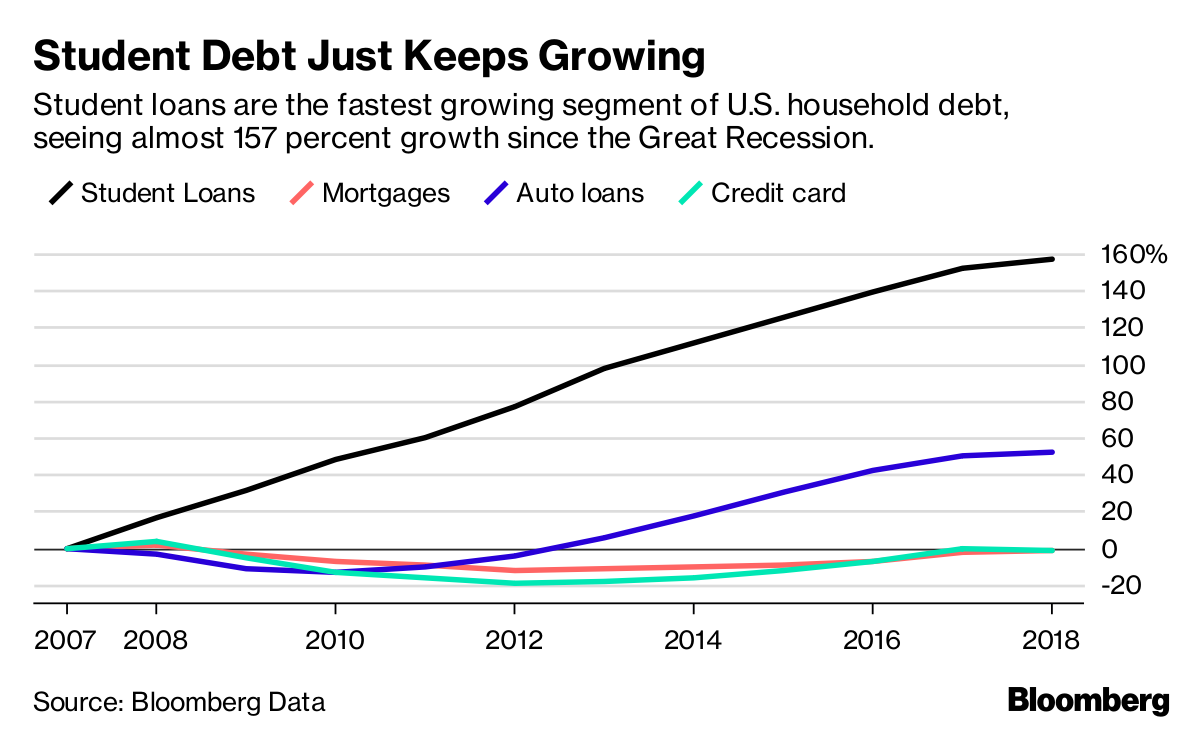 Even though student loan debt is increasing, few experts consider it a bubble that can be popped.
There are a few things that make student loans different than traditional loans:
The collateral on student loans isn't tangible; it's a borrower's future earnings.
It is very rare that student loans are discharged during a bankruptcy. Instead, the government will collect on them even after you lose your other assets.
In an effort to lower payments each month, borrowers are offered repayment terms that nearly triple the time it takes to pay loans off – also increasing the amount paid in interest.
Student borrowers are approved for loans that far exceed what private lenders would normally approve them for, and without credit or earnings to back up their loans.
The government is able to force loan repayment by garnishing wages, tax refunds, and Social Security benefits.
The average borrower can expect to leave college with $32,731 in federal student loans. The good news is that this number is still below the average salary for someone with a college degree – $50,000.
Once a student has graduated, their student loans are automatically placed on the Standard Repayment Plan, which allows 10 years until full repayment. A borrower can usually afford to repay their student loans in ten years or less when total student loan debt at graduation is less than the borrower's annual income.
This means that the average borrower should have no issue repaying their loans in the expected 10 years or less. But there are a lot of borrowers who are unable to do so, for a variety of reasons:
Many borrowers opt for income-driven repayment plans that artificially lower their monthly payments in exchange for higher interest rates over a much longer repayment term.
Students that dropout of college and do not complete their degree are left with loans, but not the increased wages to pay off those loans.
Many students at private colleges and with advanced degrees leave with debt that exceeds their annual income. For example, a dentist may have $200,000+ in student loans, with an annual salary of $120,000.
While tuition and costs associated with college have increased dramatically in recent years, starting salaries have not. The debt-to-income ratio is quickly approaching 100%.
All of these factors contribute to the student loan troubles plaguing our youth.
Will the Student Loan Bubble Pop? What Happens if it Does?
Unlike other financial bubbles, the student loan bubble has been described as more of a "leaky balloon" by Joseph Hogue, a former economist for the state of Iowa and finance writer at PeerFinance101.
The air does not come out of the balloon all at once, but instead has a slow but noticeable impact on the economy.
Millennials burdened by student loan debt will be forced to slow down on their contributions to the economy, including home ownership and buying cars. They will also have less discretionary income to purchase luxury items and vacations, and their retirement savings is expected to be lower and slower.
Over 10% of student loan borrowers are in default, and that number continues to grow. However, instead of walking away from their debt through foreclosure or bankruptcy, this debt is following them and garnishing their wages.
There is not expected to be a student loan bubble "pop," but the effects will be long-lasting.
How Rising Student Loan Debt Affects The Economy
Because student loan borrowers are saddled with an immediate high monthly payment for at least ten years, their spending ability is greatly diminished. GDP will see small losses for decades as these borrowers struggle to pay their loans in full.
Consumption in the economy will be limited as that money is spent towards loan payments for longer terms than ever before. This is already coming to fruition in the decrease of home ownership by age 30, despite periods of economic growth.
Millennials are in a Different Financial Position
Unlike their parents and grandparents before them, who may have worked through college to pay for courses in full, or taken out very small loans that could be paid off in a matter of months, Millennials are facing incredibly high tuition costs.
Did you know that college tuition has nearly tripled in the last 50 years?
A college degree is still considered a worthwhile investment, with the average college graduate starting at a salary of $50,000. This is 80% higher than those with a high school diploma. However, wages have not risen as quickly as inflation has. The cost of living is higher, but the wages have not increased.
With the debt-to-income ratio rising, Millennials are being forced to prioritize their debt service over advancement and investment. Home ownership is down, as well as spending on cars, vacations, and investment in the markets.
The median net worth of a Millennial is only $10,500.
Millennials are also much more likely to work for someone else than to pursue an entrepreneurial venture. The security of working for a large company is more attractive than taking a chance on their own business.
Those who are defaulting on their loans are also seeing their credit scores go down. This can have a negative effect on finances for years, including lowering borrowing power, increasing interest rates, and even affecting employment. This further delays large purchases for borrowers.
Student Loan Default Rates Are Up
More than 9 million borrowers are currently in default on their loans and that number continues to rise.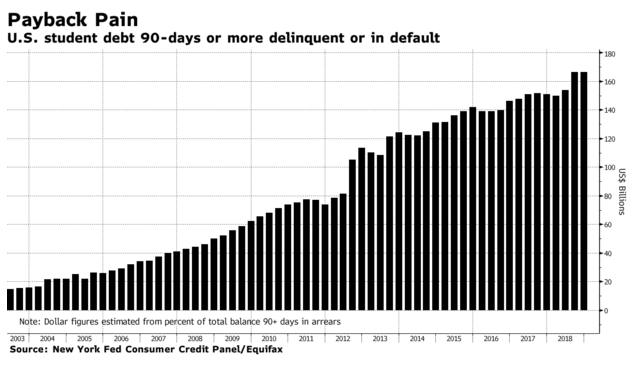 Some experts predict that 40% of borrowers will be in default by 2023. This means borrowers have stopped paying on their loans for at least 90 days.
Those that fail to complete a degree are much more likely to default on their loans.
Beginning, but not completing, a degree is most often due to:
Increased attendance at for-profit colleges and community colleges, with an inability to afford the tuition
Working full-time during school, with an inability to keep up and finish the degree
Low family financial support
What Can We Do About the Student Loan Bubble?
There is no shortage of suggestions on how to address the student loan crisis, but drastic measures by politicians could lead to financial distress for millions of people. Although ideas like "free" (taxpayer-funded) college and blanket student loan forgiveness have gained popularity in recent years, both would impact taxes in a major way.
Some other ways that we can improve the situation include:
Cap borrowing, which could lead to large price reductions, school closings, reduced class sizes, or all three
Reduce interest rates on federal student loans
Mandatory credit counseling for low-income borrowers
Incentivize loan servicers to put borrowers on income-driven repayment plans to reduce defaulting
Simplify income-based repayment and forgiveness programs
Force institutions to own a portion of their graduates' student debt
FAQs on the Student Loan Bubble
Q: What does "student loan bubble" mean?
A bubble is defined as a "market phenomenon characterized by surges in asset prices to levels significantly above the fundamental value of that asset." In the case of student loans, borrowers are taking out loans that exceed their borrowing power based on credit and earnings – however, there is no limit on their earnings potential, which is their collateral. Although they are defaulting on their loans, they cannot have them discharged as you could in a foreclosure or bankruptcy. This makes the student loan "bubble" different from a housing bubble or other economic bubble. Student loan debt is ballooning, but will not "pop" all at once.
Q: Are we in a student loan bubble?
Many people believe that we are in a student loan bubble. Student loan debt has ballooned to $1.56 trillion, making it 7.3% of the U.S. GDP. With tuition costs on the rise and a lack of meaningful reforms to tackle the student loan debt issue plaguing 45 million Americans, there is opportunity for the problem to continue to grow. While student loan debt will continue to impact the economy, it will not lessen or pop without major changes to the current system.
Q: What happens when the student loan bubble bursts?
Because student loan debt cannot be discharged (except in very rare cases), and even forgiveness programs take at least a decade, the student loan bubble will not burst like the housing bubble did. Instead, it will impact the economy for many years, as those paying off their debt put off other purchases, including homes, cars, and vacations.
Up Next: