Are you ready to win big this holiday season?
Just click here to enter the USSLC's 2017 $10,000 Holiday Giveaway. 
We're Throwing a HUGE Holiday Party!
Here at The U.S. Student Loan Center (USSLC), we were able to help over 10,000 student loan borrowers this year alone by processing over $30 Billion in Federal student loan consolidations.
Yes, $30 BILLION!
We helped 10,000 people lower their student loan payments, enroll in student loan forgiveness programs, and pick repayment plans. That's 10,000 people who were able to find relief from the stress of student loan debt.
So, we want to end the year by saying THANK YOU!
And we're doing that by throwing a huge $10,000 giveaway that is only open to student loan borrowers like you! The people who really need it most, because we know best that student loan debt can be extremely stressful and frustrating.
So, How Big of a Party Is It?
We're giving over $10,000 in prizes and cash out to 11 lucky student loan borrowers.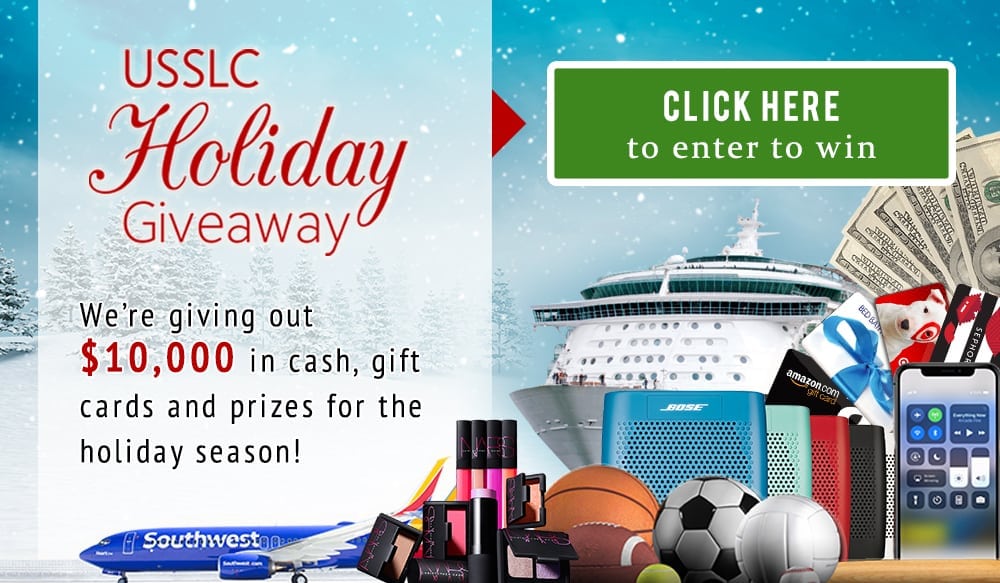 What Kind of Prizes are We Talking About?
$3,500 in cold, hard cash
$1,000 Amazon Gift Card
$750 Amazon Gift Card
$500 Sephora Gift Card
$1,000 Target Gift Card
$500 Royal Caribbean Cruise Line Vouchers
Apple iPhone X and Materials ($1370 value)
Bose Soundlink Color Bluetooth Speaker II
$500 Southwest Airline Certificate
$250 Dicks Sporting Goods Gift Card
$500 Bed, Bath & Beyond Gift Card
So, How Do You Enter?
The only qualification to enter the contest is that you have student loan debt.
Yes, we'll be verifying!
We're taking entries until December 31, 2017 so enter now and keep increasing your chances to win over the next couple of weeks.